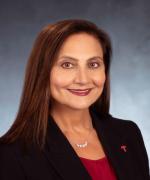 Executive Vice President, Chief Technology & Operations Officer
Biography
Mojgan Lefebvre is Executive Vice President, Chief Technology & Operations Officer for Travelers. She joined Travelers in October 2018 with over two decades of experience successfully leading both employee- and customer-facing technologies.
Prior to Travelers, Mojgan spent eight years at Liberty Mutual, where she was most recently Senior Vice President and Chief Information Officer for the Global Risk Solutions business. Previously, she held leadership positions across a variety of industries, from medical device company bioMérieux to strategy consulting firm Bain.
Mojgan earned her undergraduate degree in computer science from the Georgia Institute of Technology and her MBA from Harvard Business School. In 2017, she was honored by Digital Insurance with a "Women in Insurance Leadership" award, and in 2015, she was named a "Woman to Watch in Science and Technology" by the Boston Business Journal. She has lived in six countries and speaks three languages.
Company Brief
Travelers (travelers.com) has been around for more than 160 years and has earned a reputation as one of the best property casualty insurers in the industry. It is a leader in personal, business and specialty insurance and the only property casualty company in the Dow Jones Industrial Average. Its approximately 30,000 employees and 13,500 independent agents and brokers in the United States, Canada, the United Kingdom and Ireland help provide its customers with both peace of mind and the confidence to reach higher and do more.
Social media
https://www.linkedin.com/in/mojgan-lefebvre-02695
https://twitter.com/mojganlefebvre
Press mentions
https://www.dig-in.com/news/mojgan-lefebvre-transforms-liberty-mutual-while-supporting-gender-equality
https://enterprisersproject.com/article/2017/6/4-habits-revenue-generating-cios-new-harvard-business-review-research
http://business360.fortefoundation.org/271/the-new-cio-mojgan-lefebvre-on-building-an-international-career-in-technology
http://www.simmons.edu/news/leadership-and-change/2015/february/mojgan-lebebvre
https://www.computerworld.com/article/2502325/it-management/mojgan-lefebvre.html
https://www.wsj.com/articles/cios-share-their-priorities-for-2020-11577800800
https://www.wsj.com/articles/the-c-in-cio-stands-for-ch-ch-ch-changes-11577714401
https://www.wsj.com/articles/cios-look-to-boost-tech-teams-diversity-11577469868
https://www.wsj.com/articles/corporations-notched-gains-from-ai-in-2019-executives-say-11577183400