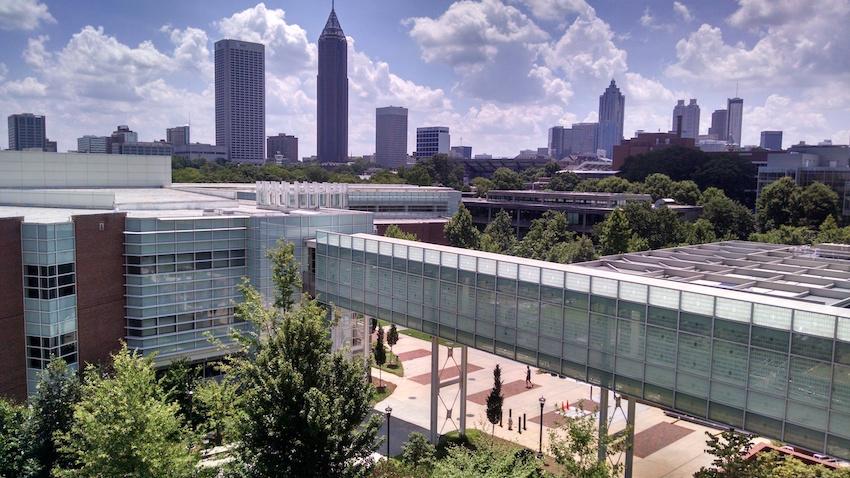 NSF Funded Project May Increase Water and Energy Supplies
In the not-too-distant future, water and energy harvested by individuals, communities, and other non-traditional systems – think rain barrels, greywater recycling, solar panels, and windmills – may be integrated into centralized municipal networks.
With these added resources flowing into existing municipal systems, water and energy supplies around the world could become more sustainable, more resilient, and more secure in the face of potential natural disasters and possible security threats.
However, according to School of Computational Science and Engineering Assistant Professor Bistra Dilkina, getting to a point where this is possible on a broad scale is not going to be easy.
"While the benefits of these integrated systems will be huge, there are also many potential problems to be solved," said Dilkina. "Without careful planning and design, there could be unintended consequences such as unexpected interdependencies, over-production, conflicts in resource acquisition, and an overall greater use of resources."
To better understand the complexities of integrating decentralized resources with existing resource networks, Dilkina, along with postdoctoral fellow Zhongming Lu of the Brook Byers Institute of Sustainable Systems and others, is undertaking a two-year, $246,500-plus project titled, "Sustainable and Resilient Design of Interdependent Water and Energy Systems at the Infrastructure-Human-Resource Nexus."
The project is funded by the National Science Foundation (NSF) and is one of 15 projects being funded this year as part of a recently announced $22.7 million investment to strengthen the nation's critical infrastructure. This is a collaborative project with a complementary grant led by a research team at the University of New Hampshire (UNH).
"The projects being funded…are making it possible to deeply embed computation into physical systems and improve the safety, security, and resilience of our critical infrastructures," said Jim Kurose, NSF's assistant director for Computer and Information Science and Engineering. "These 'smart' critical infrastructures will in turn positively impact many aspects of our daily lives and have profound benefits for our nation."
­­­According to Dilkina, the project's principal investigator, one of the primary goals of the Georgia Tech and the UNH projects is to be able to inform decision-makers about possible outcomes and tradeoffs in different decentralized water and energy adoption scenarios, taking into account the interdependence between water and energy infrastructures.
"The project facilitates the planning and design of decentralized systems, and informs policy development to create more sustainable and resilient infrastructure systems for urban communities," said Dilkina.
To achieve the project goals, the research team will use survey tools and a crowdsourcing platform to engage stakeholders and gather data. This information will be used to develop spatial agent-based models, spatial optimization models, and other machine learning and computational methods that can reveal patterns, trajectories, and anomalies in a variety of usage scenarios.
"The analysis will be done using future demographic, climate, and technology scenarios," said Dilkina. "In the end, we will better understand and be able to characterize possible best-case outcomes, inform policy decisions, and determine the impact of incentive/disincentive programs."
Atlanta and Boston have been selected to participate in this project as testbeds to develop the required modeling framework.