Image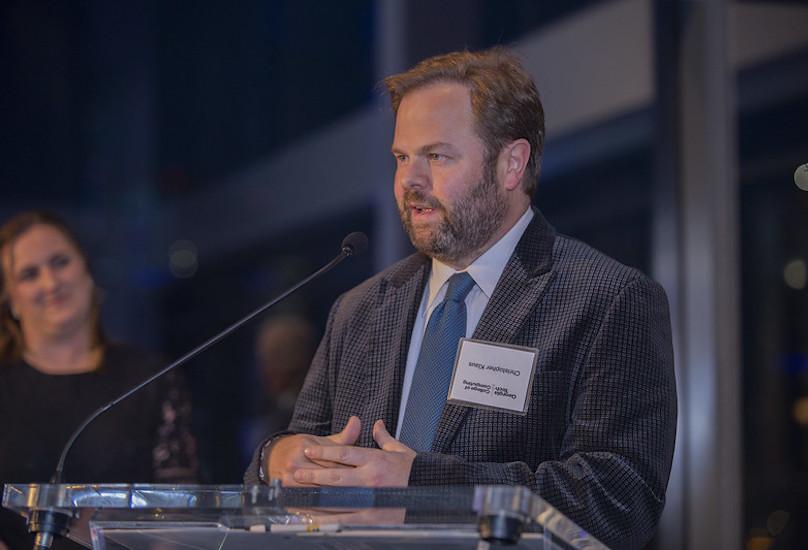 Image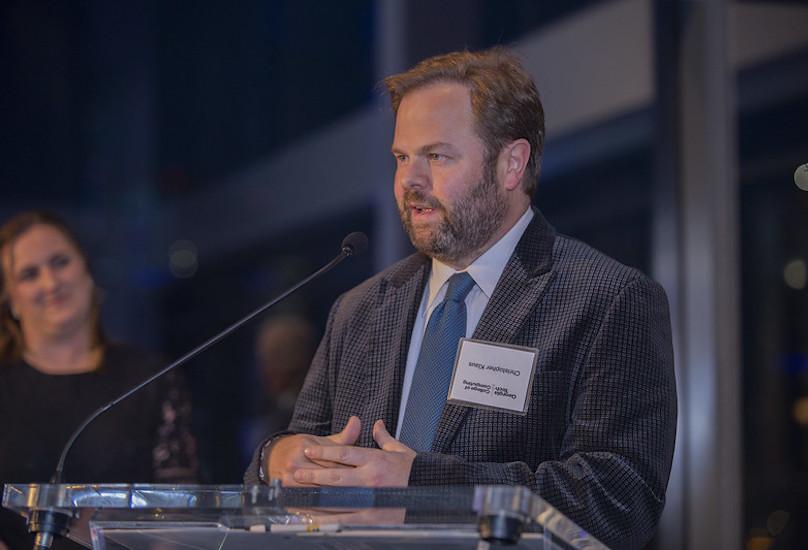 Image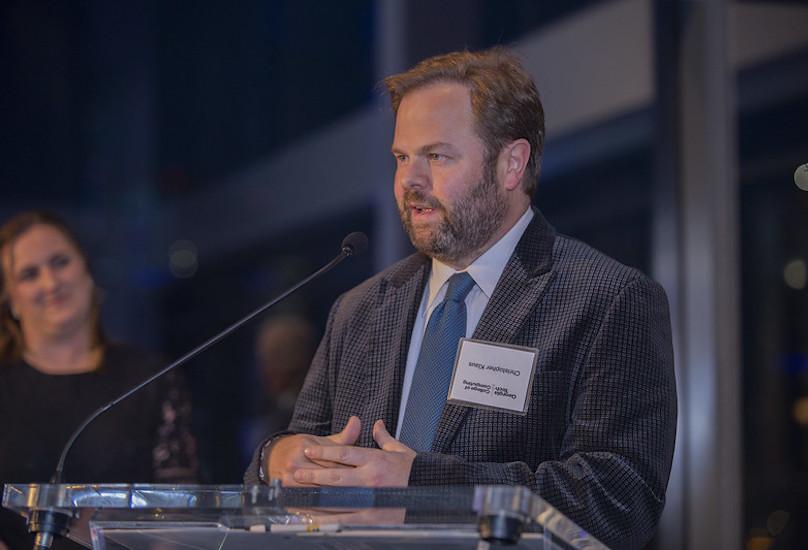 Hall of Fame
The College of Computing Hall of Fame seeks to recognize those alumni, faculty, and friends who have contributed significantly to our advancement and reputation through the years. We intend to recognize the impact of our community members on the world of computing and computing education.
We also recognize the contributions of our young alumni through our Rising Stars Award.
Inductees in the College of Computing Hall of Fame:
Class Three
Eugene Spafford, Executive Director Emeritus of CERIAS and Professor of Computer Science, Purdue University
Eugene H. Spafford (M.S. 1981, Ph.D. 1986) has been a professor of computer sciences at Purdue University for 34 years and is the founder and executive director emeritus of (CERIAS). His research underlies many technologies used in modern cybersecurity. His current research interests are in information security, cybercrime, professional ethics, and security policy.
Among other recognitions, Spafford is a fellow of the American Academy of Arts and Sciences (AAA&S), the Association for the Advancement of Science (AAAS), the ACM, the IEEE, and the (ISC)2; a distinguished fellow of the ISSA; and a member of the Cyber Security Hall of Fame.
Mary Jean Harrold, Professor of Computer Science, College of Computing
Mary Jean Harrold (1947-2013) joined the College of Computing in 1999, and founded the Aristotle Research Group, focusing on automated tools for software developing, testing and maintenance. Her research on static analysis and software testing is considered foundational. She was a fellow of the ACM and the IEEE.
Harrold was a fierce advocate for women in computing. She served as director of the Georgia State hub of the National Center for Women in Technology, and as the college's NSF ADVANCE professor for a decade. She also served on the CRA's Committee on the State of Women in Computing Research. She helped found the Software Engineering Educational Symposium, which forges ties between software engineers and faculty at minority-serving universities.
Shwetak Patel, Professor of Computer Science & Engineering and Electrical Engineering, University of Washington; Entrepreneur and Philanthropist
Shwetak Patel (B.S. 2003, Ph.D. 2008) is the Washington Research Foundation Endowed Professor in Electrical and Computer Engineering at the University of Washington, where he directs the Ubicomp Lab. He is also a director of health technologies at Google. His research is in the areas of human-computer interaction, ubiquitous computing, and sensor-enabled embedded systems, with a particular emphasis on the application of computing to health, sustainability, and interaction. He is a recipient of the MacArthur "Genius" Fellowship, the NSF Career Award, and the ACM Prize in Computing. He is also an ACM fellow. Shwetak was a co-founder of a home energy monitoring company called Zensi (acquired by Belkin in 2010), a low-power home wireless sensing company called SNUPI Technologies (acquired by Sears in 2015), and a mobile health company called Senosis Health (acquired by Google in 2017).
Class Two
William "gus" Baird
William "gus" Baird received his M.S. from the School of Information and Computer Sciences (later to be the College of Computing) in 1980. He returned to to teach, and spent 15 years as the College's most beloved undergraduate instructor. The spelling of his name is not a typo; he had no pretense whatsoever and never capitalized his name. The College's annual faculty teaching award is named in his honor.
Craig Mundie, President, Mundie & Associates, Chief Research and Strategy Officer, Microsoft (retired)
Craig J. Mundie (B.S. EE 1971, M.S. 1972) is President of Mundie & Associates. He joined Microsoft in 1992 and retired in 2014 as Chief Research and Strategy Officer (since 2007) and the Principal Technology-Policy Executive (since 1998). Previously he was the CEO and co-founder of Alliant Computer Systems. He was co-executive chair of Bridgewater Associates (2015-16). He is a Director of the Institute for Systems Biology. He advises Microsoft, Exicure, Ironnet Cybersecurity, SomaLogic, OpenAI and the Cleveland Clinic. Craig Mundie served presidents Clinton, Bush and Obama on the National Security Telecommunications Advisory Committee and was on Obama's President's Council of Advisors on Science and Technology.
Phyllis Schneck, Vice President, Chief Information Security Officer, Northrup Grumman Enterprise Services
Phyllis Schneck (Ph.D. 1999) is vice president and chief information security officer (CISO) for Northrop Grumman. In this role, she oversees the company's global cybersecurity strategy and policies.
Schneck has 20 years of government and private-sector experience in senior cybersecurity positions. She has also served as the deputy undersecretary for cybersecurity and communications for the Department of Homeland Security, and as chief technology officer for the global public sector at McAfee.
Schneck has been a member of the Center for Strategic and International Studies Commission on Cybersecurity. She was chair of the board of directors of the National Cyber-Forensics and Training Alliance, vice chair of the National Institute of Standards and Technology's advisory board on information security and privacy, and she served for eight years as national chair of the board of directors of the FBI's public-private InfraGard program. Schneck holds several information-security and technology patents. 
Wayne Wooten, Senior Rendering Software Engineer, Adobe, Inc.
Wayne Wooten (Ph.D. 1998) is a Senior Rendering Software Engineer at Adobe where he is developing a new interactive, physically based renderer. Prior to that, Wayne worked at Pixar Animation Studios in the RenderMan Products Group. During his 23 year career at Pixar he worked on many projects; from lighting technical director on "A Bug's Life", to architect of the Render Farm control software for "Toy Story 2" and "Monster's Inc".  Wayne then moved to developing jelly fish translucency effects for "Finding Nemo" and more efficient ways to render long, black hair for characters in "The Incredibles". Wayne has principally developed software for ray tracing algorithms, shading languages, textures, and the low level system architecture for the RenderMan renderer and has been credited on every movie Pixar has produced from "A Bug's Life" to "Soul".
Class One
James E. Allchin – Computer scientist, philanthropist, blues-rock guitarist
Ph.D. 1983, Information and Computer Science:  Allchin's distinguished career includes key leadership positions at Microsoft, where he helped to create many of the system platform components, including Windows Server, SQL server, and development technologies. He also managed the development of Windows NT, Windows XP, and all Windows Server products. Before that, he helped lead the development of the directory services technology Banyan VINES. He won the Technical Excellence Person of the Year Award in 2001. Allchin and his wife have endowed the Catherine M. and James E. Allchin Early Career Professorship in the College of Computing. He currently works as a professional musician.
Krishna A. Bharat – Research scientist and Google News creator
Ph.D. 1996, Human-Computer Interaction: Krishna Bharat is a technologist and innovator, focused on the intersection of computing and journalism. He is also an angel investor and founding adviser to technology startups in Silicon Valley. He earned a Ph.D. in Computer Science from Georgia Tech in 1996. In 1991, he received a B.Tech. in Computer Science from IIT Madras, where he is a Distinguished Alumnus.
Bharat, formerly a Distinguished Scientist at Google, is the founder of Google News -- an automated news aggregation and search service, with more than 100,000 sources and 72 editions worldwide, powering news results in Google Search.  Currently, Google News and related products transmit over 10 billion articles to a billion users monthly.
Bharat joined Google in 1999 to start their research group, Google Research. He helped define the group's charter and recruit the first batch of research scientists. He also founded Google's engineering operations in India in 2004 and served as the first director of the Bangalore R&D center.
Prior to joining Google, Bharat was a Staff Research Scientist at DEC System Research Center in Palo Alto, California. He worked on measuring the World Wide Web and developed ranking innovations for the AltaVista search engine
In 2003, Bharat won the World Technology Award for 'Media & Journalism.'  In the same year Google News won the Webby Award in the 'News' category. Dr. Bharat serves on the board of visitors of the Columbia School of Journalism, the John S. Knight Journalism Fellowships at Stanford, and the Committee to Protect Journalists. At Stanford, he co-leads the Journalism and Democracy Initiative and teaches courses on Computational Journalism.
James D. Foley – Professor Emeritus, former holder of the Stephen Fleming Chair in Telecommunications
Foley was the founder of GVU, and served as interim dean of the College of Computing from 2008-2010. He is a computer graphics researcher and is widely known as the co-author of multiple widely used textbooks in the field. Foley served as the chair of the Computing Research Association from 2001 to 2005. He was awarded a lifetime achievement award from ACM SIGCHI, and in 1997 was recognized by ACM SIGGRAPH with the prestigious Steven A. Coons Award. The Foley Scholars Endowment was established upon the 15th anniversary of GVU, and supports two scholars each year who demonstrate "overall brilliance and potential impact."
Alton P. "Pete" Jensen – computer science professor
Professor, Computer Science: Jensen served as the Acting Director of the School of Information and Computer Sciences from 1987 to 1990. Jensen co-chaired the committee that first conceived of a broad-based College of Computing, and also helped to guide the subsequent creation of the college. Jensen started at Georgia Tech as a research engineer in 1954 and in addition to his administrative duties taught computing for the next 37 years. He advised dozens of local entrepreneurs and politicians, including former Speaker of the House Newt Gingrich. Jensen also served on Jimmy Carter's Presidential Transition Team.
Janet L. Kolodner – Interactive Computing Regents' Professor Emeritus, cognitive learning 
Regents' Professor Emerita Janet L. Kolodner joined GA Tech's School of Information and Computer Science (ICS) in December 1980, and retired from the School of Interactive Computing in August 2014, with almost 34 years of service. She is a Fellow of the Association for Advancement of Artificial Intelligence, and an Inaugural Fellow of the International Society for the Learning Sciences. She was founding Director of Georgia Tech's EduTech Institute; founding Editor in Chief of The Journal of the Learning Sciences and Editor-in-Chief Emeritus; and a founder of the International Society for the Learning Sciences (ISLS) and its first Executive Officer. From 2010-2014, she was a program officer at the US National Science Foundation and led efforts to establish and sustain the Cyberlearning Program. 
Janet's research has addressed a wide variety of issues in learning, memory, and problem solving, both in computers and in people. During the 1980s, she and her students pioneered the computer method called case-based reasoning (CBR), which allows a computer to reason and learn from its experiences. The first case-based design aids (CBDA'S) came from her lab. Archie-2, for example, helped architecture students with conceptual design. During the early 1990s, she and her students used the cognitive model implied by case-based reasoning to address issues in creative design.  JULIA planned meals, Creative JULIA figured out what to do with leftover rice, and ALEC simulated Alexander Graham Bell in his invention of the telephone.  During the 1990s, she also became a designer of middle school science curriculum and learning technologies informed by CBR's cognitive model. The approach, developed in collaboration with a wide variety of post-doctoral fellows and research scientists, called  Learning by Design (LBD), is design-driven, inquiry-oriented, and project-based; children learn science in the context of design experiences. The sequencing of activities encourages students to reflect on their experiences in ways that CBR says are appropriate for productively integrating what they are learning into memory. LBD curriculum units and the sequencing structures from LBD are integrated into a published 3-year middle-school science curriculum called Project-Based Inquiry Science (PBIS).
In later work, Janet and her students investigated how to help pre-teens and young teens consider who they are as thinkers and come to value informed decision making and informed production and consumption of evidence in the context of design-based learning activities. In Kitchen Science Investigators, 5th and 6th graders came to think about themselves as scientific reasoners and kitchen scientists in the context of cooking and baking. In Hovering Around, they did so in the context of designing hovercraft. Those investigations and a recent investigation of the use of Harvard's EcoMUVE in middle-school classrooms are leading to suggestions about how to design project challenges and virtual worlds that support their achievement so that they afford deep learning, motivate and sustain engagement over time, and foster student identities as accomplished and comfortable scientific thinkers and problem solvers.
Since September 2017, Janet has been a half-time faculty member in the Lynch School of Education and Human Development at Boston College. She has been designing an MA Program in Learning Engineering, the design of effective and engaging learning experiences. It will educate the next generation of applied learning scientists who will, she hopes, help to make our formal and informal educational spaces places of joyful learning. The first cohort of students will join the program in Fall Semester, 2019.
Tom E. Noonan – Engineer, venture capitalist, and philanthropist
M.E. 1983: Noonan is a member of the College of Computing Advisory Board. He is the General Manager of Energywise Solutions for Cisco Systems and an active venture capitalist through his venture firm, Techoperators LLC. Earlier in his career, he founded JouleX, an energy management company, and ISS, an internet security company that pioneered the industry's first automated intrusion and vulnerability detection systems. He serves on the White House National Infrastructure Advisory Council, and on the board of directors for the Woodruff Arts Center, the Georgia Tech Foundation, the Georgia Tech Athletic Association, Georgia Research Alliance, and Children's Healthcare of Atlanta. Noonan is an active philanthropist through the work of the Thomas E. Noonan Family foundation.
---
Class Zero
Dorothy Murray Crosland - Founder of Information Science at Georgia Tech
Crosland was born on Sept. 13, 1903, in Stone Mountain, Georgia, the daughter of Robert and Lena Jones Murray. She graduated from Girls' High School in Atlanta in 1920 and earned her library degree in 1923 from the Library School of the Carnegie Library of Atlanta (later Emory University School of Library Science). After completing her education, she worked as an assistant cataloger and branch librarian at the Carnegie Library (now Atlanta- Fulton Public Library). In 1925, she became assistant librarian at the Georgia Institute of Technology, serving as acting librarian during Frances Newman's leaves of absence. She was appointed librarian in 1927, a position she held until 1953 when her title was changed to director of libraries. She retired from Georgia Tech in 1971.
Crosland belonged to numerous professional organizations and received many honors. In 1945, she was named Atlanta's Woman of the Year in Education, and in 1969, was named Woman of the Year in Professions. Georgia Tech made her an honorary alumna in 1961, and in 1962, the library staff association and friends presented an oil portrait of Crosland to the library. The governor proclaimed April 13, 1971, as Dorothy M. Crosland Day.
Crosland was instrumental in the founding of a graduate program in information science in 1963, which evolved into the College of Computing. She also played a key role in securing the admission of women to Georgia Tech.
At President Blake Van Leer's request, she surveyed colleges and universities to determine which offered engineering and architecture degrees to women.
Discovering that Georgia was the only state that did not have a private or public engineering or architecture school for women, she wrote a persuasive letter to Rutherford Ellis, Education Committee chair for the Board of Regents, urging them to permit women to attend Tech. As a result, Georgia Tech admitted its first women students. Crosland also became responsible for furnishing and decorating the women's dorm, then a house on Fifth Street.
Peter A. Freeman - Founding Dean and Professor Emeritus 
Freeman was the Founding Dean of the College of Computing in 1990 and served as the John P. Imlay Jr. Dean of Computing until 2002. From 2002 to 2007, he was Assistant Director of the National Science Foundation (NSF), heading the Computer & Information Science & Engineering (CISE) Directorate. He previously held positions at George Mason University, Johns Hopkins University, the University of California at Irvine, and Carnegie-Mellon.
At Georgia Tech, he began with a college of about 30 faculty, annual research of less than $2 million, and a few hundred students. Freeman transformed the college into a dynamic group of 65 faculty, annual research well in excess of $10 million, and almost 2,000 students. During Freeman's tenure, several of the research groups in the College became acknowledged national leaders in fields ranging from theory to Human- Computing Interaction.
As an assistant director of NSF, Freeman helped formulate national science policy., He was also responsible for a number of activities that continue to have major impacts on computing, including the Information Technology Research Program, cyberinfrastructure initiatives, the GENI Internet Research project, Broadening Participation in Computing, and the Computing Community Consortium.
Freeman is currently a co-principal investigator on an NSF grant to develop and analyze the history of CISE. He also engages in a variety of pro bono writing and speaking activities, serves on several advisory boards, and provides strategic and operational guidance for organizations involved in research, education, and development. He lives in Washington, DC.
Dr. Freeman is a Fellow of ACM, IEEE, and AAAS. He received his Ph.D. in computer science from Carnegie Mellon University (1970), his M.A. in mathematics and psychology from University of Texas at Austin (1965), and his B.A. in physics and mathematics from Rice University (1963).
John P. Imlay, Jr. - Technology pioneer, entrepreneur, philanthropist, sports enthusiast, loving family man
B.S. 1959 – Industrial Management - Imlay had many talents and many passions. Born in Jacksonville, Florida, and raised in Savannah, Georgia, Imlay moved to Atlanta in 1954 to attend the Georgia Institute of Technology and never looked back. His love of Atlanta influenced his career in software, his angel investing, his philanthropy, his friends, and his family.
Following early years at Honeywell and Univac, in 1970 Imlay took a bankrupt company, Management Science America (MSA), and built it into one of the nation's most successful software companies. MSA also became an incubator for technology executives whom Imlay mentored as they made their own way, spawning some 100 new companies.
MSA went into the public market in 1981 and in 1990, Imlay sold MSA to Dun & Bradstreet Corporation. To further mentor the burgeoning technology community in Atlanta, Imlay established Imlay Investments, Inc. Over the next 20 years, he worked with more than 120 technology companies as an angel investor.
In 1990, he established The Imlay Foundation, Inc., which continues to be a mainstay of philanthropy in Atlanta and Scotland, with an added emphasis on fostering small, entrepreneurial nonprofits, reflecting his business career.
Imlay was an avid golfer and sports fan, purchasing an interest in the Atlanta Falcons in 1991. He also helped build the legacy of his hero, Bobby Jones, through the support of the Bobby Jones Scholars, the Bobby Jones Ethics Program at Emory University, founding Friends of Bobby Jones, sponsoring The Art of Golf exhibit at The High Museum, and countless speaking engagements on his favorite subject – Bobby Jones.
As a golfer, Imlay was a member of seven golf clubs in Atlanta and Scotland. his love of Scotland was anchored in Westerdunes, the home he and his wife, Mary Ellen, restored and enjoyed in North Berwick for more than 25 years. The Imlays hosted hundreds of their favorite people in their Scottish home.
Christopher W. Klaus - Technology entrepreneur; Founder and CEO of Kaneva Founder of Internet Security Systems
Klaus is a successful entrepreneur, delivering 3D virtual worlds as the founder and CEO of Kaneva. He is a founder and partner in CyberLaunch, a startup accelerator focused on helping grow both security and machine-learning startups.
He also has a long relationship with Georgia Tech. Today Klaus invigorates the future of technology at Georgia Tech by supporting CREATE-X, a program that gives students a platform to connect with industry leaders and receive the guidance, support, and capital needed to launch their own startups.
In 2000, Klaus responded to the need to help sustain the technology revolution. With his generous financial support, Georgia Tech built the Christopher W. Klaus Advanced Computing Building, a three-story, 400,000 square-foot academic building that houses portions of the colleges of Computing and Engineering, along with other related units and programs.
Prior to founding Kaneva, Klaus founded and served as CTO of Internet Security Systems Inc. (ISS), a company he created in 1994, took public in 1998, and was acquired by IBM in 2006 for over $1.2 billion. He sits on the state's Film, Video, and Music Advisory Commission. Klaus serves on the Savannah College of Art and Design (SCAD) Board of Visitors, the Georgia Game Developers Association (GGDA), and the Georgia Tech Foundation. Klaus is also a member of the College of Computing's Advisory Board.