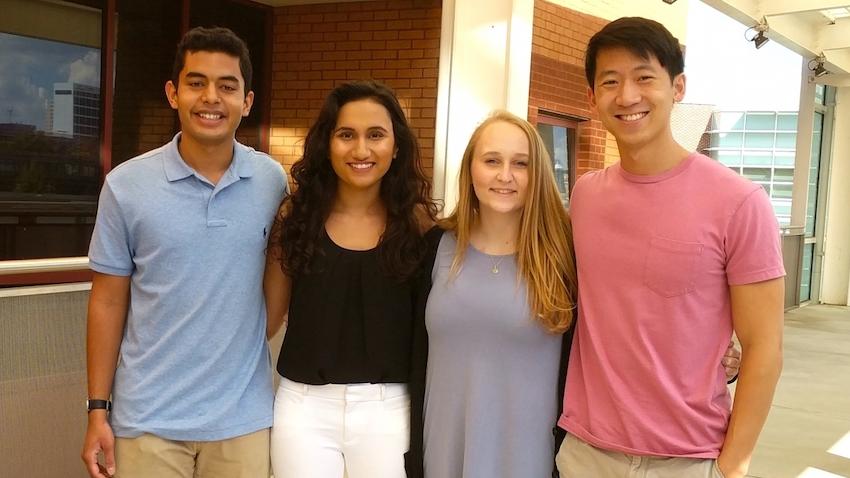 Tech Team Scores Big at NBA Hackathon
On September 23 and 24, the NBA hosted its second annual hackathon at Skylight Modern on 27th Street in New York City. Four Tech students — third-year computer science majors Nikki Cantrell and Mayuri Mamtani and industrial engineering majors Alan Lo and Nishant Reedy — competed in the basketball analytics competition and placed third out of more than 200 participants.
For the students, the road to New York began over the summer.
"I saw something about it on Twitter from one of the basketball writers I follow," Reddy said. "Then I told Alan about it because I know he's pretty into basketball analytics. And then he reached out to Nikki and Mayuri because they're pretty good friends and they're good with CS."
#GTComputing Lends a Hand
The NBA would receive 900 applicants, of which, only 207 were accepted. While parts of the application were optional, they were strongly encouraged.
In late August, the group heard back from the NBA that they had been accepted; however, the NBA did not provide travel, so the group asked the College of Computing to sponsor their travel.
After arriving early Friday morning to explore the city, the team began their new project Saturday morning. The team decided to tackle a possible rule change dealing with offensive fouling, specifically dealing with collisions around the restricted area. Currently, the restricted area, designated by a small arc inside the paint, is four feet from the basket. It is restrictive in that no defender can force a charging foul in the area, save for some occasional exceptions.
"What we planned to do was expand that restricted area for three reasons," Lo said. "First, to decrease the number of injuries that might occur." More offensive fouls mean more charges being called, which can lead to an increased risk of injury.
"Second," he continued, "was to improve game watchability, in the sense that nobody wants to watch people drawing charges, that's really boring. You'd rather watch someone play defense. Third, was to shorten game duration a bit because for people who aren't as familiar with basketball the game seems kind of long and boring and drawn out."
The Proof is in the Data
This was particularly apparent to Cantrell and Mamtani, who were not devout fans of the sport.
While the idea was solid on paper, the team needed data to back it up. This data came from the large data pool the NBA had given them a few days before.
"We were given a bunch of data and .csv files," Cantrell said.
"And we used … play-by-plays of each game since 2007. We did two things with it. First, we went through and parsed the data and looked at the number of offensive fouls per game and the actual time of the game, and we plotted that to show that there was a steady increase in offensive fouls as game time increased."
With a clear relationship in place, the group needed to show where those fouls were occurring to justify their arguments.
"They gave us .xml files of SportVU data which gives the players' location in the game every half second," Cantrell said.
That Foul is Offensive
"We looked at the time the offensive foul occurred and then went into the .xml file and got the location of the player at that instance and then wrote it back to an Excel file so that we could graph that and overlay it on top of a basketball court. That gave us a heat map of where all the offensive fouls occurred."
Their heat map pointed to almost all offensive fouls occurring just outside the restricted area. They presented their findings in front of a group that included such figures as ESPN writer Zach Lowe, members of senior management for a few NBA teams and FiveThirtyEight editor-in-chief, Nate Silver.
"It wasn't really nerve-racking for [Nikki and Mayuri]," Lo said. "Because they didn't know anybody. But, it was nerve-racking for [Nishant and me] because we actually knew who we were talking to."
The third-place finish not only won them a gift card to the NBA Store and merchandise from JBL but also the chance to meet NBA Commissioner Adam Silver, former player Shane Battier, and a host of league insiders. Not bad for a weekend's work.
This story originally published in technique.