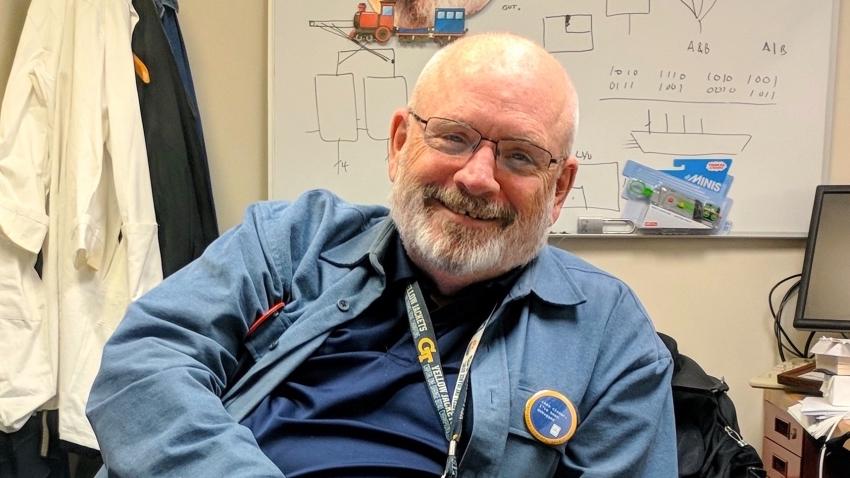 Legendary GT Computing Instructor Bill Leahy Retires
Director of the Division of Computing Instruction (DCI) and Senior Lecturer Bill Leahy is retiring this month, closing a career that began as a College of Computing graduate student teaching assistant in 1998.
For thousands of CS majors over the past two decades, Leahy has been the face of GT Computing. His sense of humor, his knowledge, and his passion for teaching computer science have all had a lasting impact on majors and non-majors alike.
"Bill is very much loved by the student community. Over the past 20 years, whenever I meet alumni, more often than not, his name comes up," said College of Computing Dean Zvi Galil. "They always tell me that their favorite instructor was Bill Leahy."
Although he's loved and admired now for his wit and ease in the classroom, Leahy was a bit stiff when he began teaching introductory computer science (CS) at the College in January 2000.
"It may be hard to believe, but I have a bit of stage fright. So, I would walk into class with a set of PowerPoint slides, and that was the script," said Leahy. "That is what I was going to present. It was all sort of rehearsed."
The power of improv
His approach changed when one of his daughters started acting with the well-known Atlanta improv company, Dad's Garage. Through what Leahy referred to as "a series of weird events," he started doing lighting for shows at Dad's.
One evening a friend suggested that Leahy should take an improv class for kicks. One class led to several more, both at Dad's Garage and elsewhere in Atlanta. Everything changed from there.
"I can't tell you how much improv helped me in the classroom," said Leahy. "I can't say it enough that, if you're a teacher, you should take an improv class."
Along with using improv exercises to "wake up" sleepy undergraduates, Leahy's new skills allowed him to relax in the classroom and engage with his students in more meaningful ways.
"I would go into class and stuff would just pop into my mind. I don't know where it comes from," he explained. "The other day in a class, talking about C programming, I said, 'Nobody came down from the mountain and gave Moses the laws of C programming. I know because I was there!'"
Letting students in on a secret
Along with providing him a more stream-of-consciousness approach in the classroom, working at Dad's Garage and on plays around the city helped Leahy realize just how important storytelling is.
"I try to make my lectures a story," he explained. "'Here's a situation and a problem people faced, and here's how they solved it.' I was surprised at first, but the students responded very positively. I think they like the presentation like they've just heard this cool story and they're in on a secret."
To say that students have responded well to Leahy's approach over the years is an understatement.
In fact, many undergraduates claim Leahy as their favorite teacher at Georgia Tech, citing his humor and patience as inspiring them to either pursue a minor in CS or to switch majors altogether. Many more developed strong emotional bonds with him.
This last sentiment is probably best captured by a student posting to a popular professor rating site, who wrote, "I'm a grown-ass man and I haven't cried in years, but realizing I was done with Bill's class made me curl up in the fetal position and cry a river."
"You know, it's not like we're teaching them how to disarm a bomb, where if they cut the blue wire the thing will explode," said Leahy. "There's no need for it not to be fun. When you really love what you're doing, you try to find ways to do it that people like."
Early experience comes in handy
Prior to his career at Georgia Tech, Leahy was finding ways to teach and inspire his coworkers at Corning, the longstanding U.S. manufacturing company.
With B.S. and M.S. degrees in ceramics engineering from Virginia Tech, Leahy began his career with Corning in 1973 as a product engineer in the television products division, making TV tubes for RCA, Zenith, Philips, and other manufacturers.
It was around this time that the company introduced a new management software system that no one could figure out how to use. No one except Leahy.
"I had always been interested in computers and I started out in electrical engineering at Virginia Tech, so I had some programming experience and background," said Leahy.
Before long, Leahy was training employees how to use the new system and writing the training protocols the company would use to train others. "Anytime I had a chance to teach I would take it, so anytime there was new tech to be introduced, I was involved in the training rollout."
After a series of promotions in different divisions at Corning from lead control engineer to lead process engineer to plant chief engineer, Leahy's division was sold to a French company.
Bon voyage
At this point, Leahy had the opportunity to take a job in France. He jumped at the chance and spent four years living and working abroad, picking up fluent French along the way.
Following his stint in France, Bill returned to the U.S. corporate office. Not long after, he saw a flyer advertising a plant manager's position to oversee construction of a new manufacturing plant in the Southeast.
"The sign said you had to have manufacturing experience and you had to have something else that I don't remember, and it said you had to be able to speak French. I looked at this and thought, 'I'm the only person in the entire company that meets these requirements," said Bill.
Bill got the job and moved his family to Georgia. In his new role, Leahy was the lead in a $50 million gas furnace plant in Covington that manufactures perfume and cosmetic bottles.
"They wanted an American to build the plant and someone French to run it. There were jobs in Massachusetts and New Jersey, but at this point, I was ready for something different. My wife said, 'Why don't you do something fun?"
Looking for a new direction
Leahy had always enjoyed working with computers, but he felt that he didn't have the right degree or job experience to switch careers.
"So I thought, if I go back to school for a master's degree, then I'd be exposed to the job market and I could network and meet people, and I could find a job and have a wonderful time."
He went for it.
A Georgia Tech alum and friend of Leahy's working with oilfield services company Schlumberger suggested that he call Peter Freeman, then-dean of the College of Computing.
"I call and get the person whose job it was to keep people from talking to Peter Freeman. I said, 'My friend from Schlumberger said I should call…' Immediately, I was put on the phone with Peter Freeman who told me to come down to campus," said Leahy.
Turns out, Schlumberger is a friend of the College. "I came down and met with a few folks, and next thing I knew I was enrolled in the College."
Leahy started his M.S. program in January of 1998 taking CS1, was hired as a paid TA shortly thereafter, and the rest, as they say, is history.
Evolving GT Computing
Perhaps one of the biggest changes during Leahy's time at the College was the launch of its three schools and the introduction of the Threads curriculum about a decade ago.
With students moving on different tracks and professors now attached to the schools, the College also moved at this time to recognize the importance of the foundational work Leahy and his fellow lecturers and instructors were doing.
So, what started as the Foundations Group was soon elevated and became the Division of Computing Instruction in 2012. "At the time, we were an amorphous collective of people, non-tenure faculty mostly with industry backgrounds, that just wanted to teach," said Lecturer David Smith.
"Since Bill took the helm he has been our voice and our advocate with the College administration and the Institute," said Smith who was also one of Leahy's original instructors during his M.S. program.
Another big change he has seen is the mainstreaming of computer science.
"With so many more people being interested in CS, we've had to go through an exercise of, how do we handle very large classes with many, many students, but we're figuring it out and maintaining very high standards along the way."
For Leahy, leveraging technology is the way to go.
"One of my former students – now an Online Master of Science in Computer Science (OMSCS) student – was so excited when she told me, 'The ability to rewind five minutes on a lecture is the most incredible thing.'
This ability for students to watch lectures at their own pace is a game-changer, as far as Leahy is concerned. "The time you free-up, you can spend with students in person or via some online tool, where they can ask individual questions and get individual answers."
"I'm not suggesting we need to put everyone in the same box. If someone prefers lectures, then we need to have lectures, but there are lots of opportunities to do cool stuff and find innovative ways to reduce class sizes. We need to embrace technology and be leaders, not followers," said Leahy.
Saying goodbye
Like many, deciding to retire was not an easy decision for Leahy. "The College of Computing is such a wonderful place with just the best people and the best community, so it was a really tough decision for me to make, but I'm ready to go and looking forward to what comes next!"
Leahy has a lot to keep him busy once he closes his laptop for good this semester. He plans to stay active in Dad's Garage, spend more time working with his railroad club, and travel more with his wife visiting friends and family across the country. And he hasn't ruled out brushing up on his French for another visit to France.
Leahy's retirement celebration is set for Dec. 13, from 4 p.m. to 7 p.m. in the Klaus Atrium. RSVPs are required and costumes are encouraged!