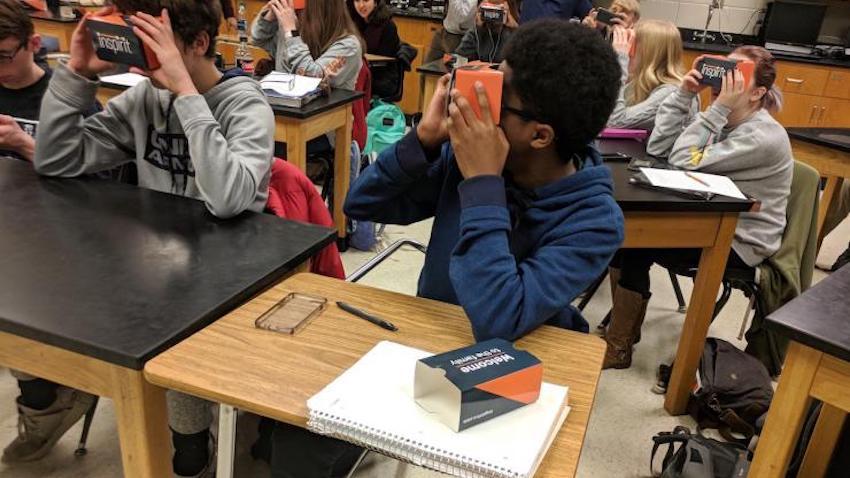 Team of Researchers Headed to SXSW EDU to Discuss VR in Education
Classrooms in Cobb County, Ga., are using virtual reality (VR) to venture inside plant cells. Students in Mumbai, India, are using VR to explore the Louvre Museum. But are the learning outcomes actually better for the kids?
Georgia Tech and Stanford University researchers will discuss this and other crucial questions about the benefits and challenges of using VR in the classroom during a panel next month at South by Southwest EDU (SXSW EDU) 2019.
The panel, Virtually Real: Using Immersive Tech in Education, is set for 5 p.m. March 4 in Room 11AB of the Austin Convention Center. Further information about the panel can be found here. It will feature Georgia Tech's Neha Kumar and Tamara Pearson, Stanford's Aditya Vishwanath, and Cobb County Schools' Sally Creel.
Teachers, school administrators, and others attending the panel can expect a lively and insightful discussion. The panelists will use their research findings from the Cobb County and Mumbai projects as a springboard to discuss:
Social implications of using VR in the classroom
Implications for resource-constrained populations
Physical challenges like dizziness or nausea that can affect users of VR or other immersive technologies
How to maintain engagement when VR is no longer a novel technology
Along with sharing their research and lessons learned, the panelists hope to have an open conversation with attendees about their experiences, questions, or concerns about using VR in the classroom to improve learning outcomes.
The SXSW EDU Conference & Festival is an annual event that "cultivates and empowers a community of engaged stakeholders to advance teaching and learning." Along with panel sessions for leading educational experts, the four-day event offers attendees workshops, interactive learning experiences, film screenings, early-stage startups, and business and networking opportunities.
Panelists
Neha Kumar is an assistant professor, jointly appointed in Georgia Tech's College of Computing and Sam Nunn School of International Affairs. Her research lies at the intersection of human-centered computing and global development.
Aditya Vishwanath is a Knight-Hennessy Scholar at Stanford University, pursuing his Ph.D. in learning sciences and technology design. He completed his undergraduate degree at Georgia Tech's College of Computing.
Tamara Pearson is the associate director of school and community engagement at the Center for Education Integrating Science, Mathematics and Computing (CEISMC) at Georgia Tech. Her current work focuses on partnering with schools and districts to help develop innovative curriculum and programs, as well as understanding how to best engage populations historically underrepresented in STEM fields.
Sally Creel is the STEM and Innovation supervisor at Cobb County Schools. She coordinated implementation of VR resources in the local schools for the team's study, including recruiting classrooms and teachers to participate.