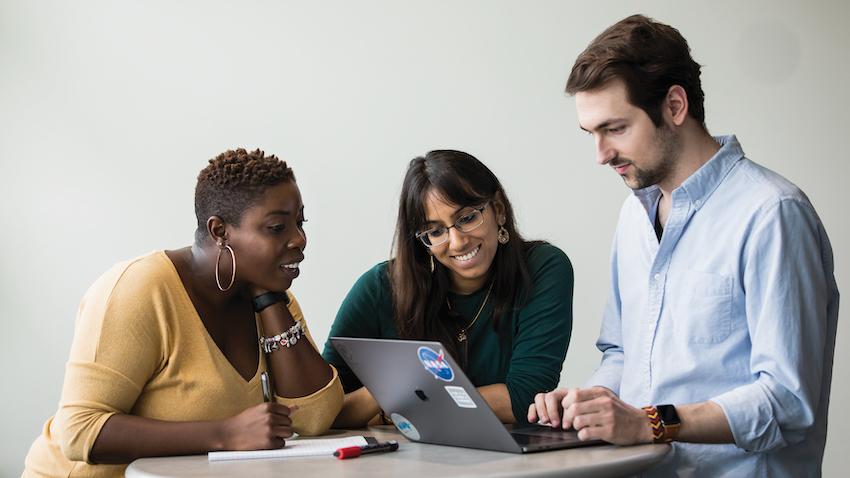 Machine Learning Fuels Campus Romance
The old adage about there being a lot of fish in the sea is certainly true at Georgia Tech. But, with more than 30,000 students enrolled, it can be a challenge to find the right fish for you.
Taking this challenge for action, The Agency, Georgia Tech's student machine learning club, jumped into the online dating pool earlier this year with the launch of Love Machine (Learning). LM(L) is a matchmaking survey to help connect Georgia Tech students with their ideal partner.
Inspired by her studies in a social psychology course, fourth-year computer science major Valentine Wilson initially brought the idea to a club meeting in fall 2018.
"In class we learned about four key relationship indicators. The researcher was able to quantify what makes a relationship fail, so we decided to find out if we could quantify what makes a relationship succeed," said Wilson.
Finding Love in a 'Swipe Right' Culture
While ideas like this exist at Stanford University and Harvard University, Georgia Tech wanted to put their own spin on campus matchmaking.
The club crafted a 32-question survey that asks students a variety of questions about their demographics, personality, and interests. For the survey, the team looked at questions from online matchmaking sites like Match.com and debated about which questions their survey should ask. Though the LM(L) questions are written in a joking manner, Wilson explained that the team spent a great deal of time thinking about what the answers might mean for finding someone's soulmate.
"We debated a lot about questions like, 'is it important to you to date someone of the same ethnicity as you?' or 'how important is it that your partner is of the same political party as you?,'" said Wilson, who was one of 24 students that worked on the project.
Once collected, the survey results were analyzed using an unsupervised machine-learning method and a genetic algorithm that is inspired by natural selection and genetic crossover.
E-Love Note Delivered
The LM(L) survey was promoted last spring through posters, emails, fraternity and sorority GroupMe's, and the @GTStudents Twitter handle. While the project was first intended to be a joke, and a fun first project for novice machine learning students, more than 780 undergraduate and graduate students filled out the survey.
Students completing the survey received their match the week before finals last May – a time frame Wilson says they will work to avoid in the future – and love was in the air from there.
Matches included only the ideal partner's email address. Names and photos were excluded from the survey to prevent bias and students felt like their peers would be more honest if their identities were initially kept anonymous.
The club says they are looking into adding social media handles, photos, and a short bio into next year's iteration. They're also considering alternatives to email for delivering matches.
To date, The Agency has record of one couple that is still dating as a result of the survey. There might be more happy couples, but the club did not issue a follow-up survey to evaluate their success. Wilson stumbled upon the lovebirds via the Georgia Tech Reddit feed.
The couple, which wants to remain anonymous, admits that they may have met sometime in the next three years, but it was unlikely, and that it would have taken them a lot longer to start dating had it not been for the survey.
When asked about her perspective on love after conducting this research, Wilson said, "I don't necessarily think that there is 'The One', but there are many people who are good for you in different ways. That's what I saw from the data, though I'm not sure I should base my opinion on love from data even though that is a very Georgia Tech thing to do!"
The club aims to distribute the survey again in Spring 2020.
For analysis of the survey results, check out Wilson's blog post.
Interested in joining The Agency? Contact them at https://gtagency.github.io/