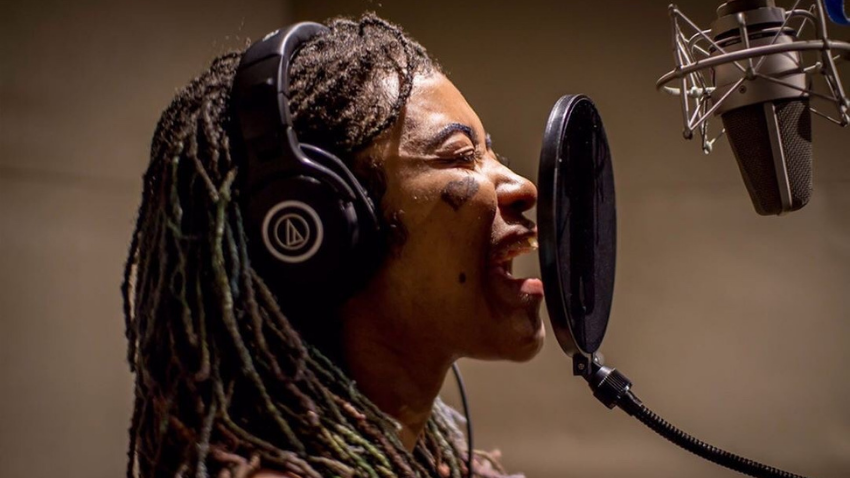 Startup is Remixing How Musicians Connect and Collaborate
With a steady rise in the number of independent artists and more musicians demanding more ownership of their work, collaboration and community have never been more crucial for up and coming artists in the music industry.  
Georgia Tech students Abhinav Goyal and Saribek (Bek) Hovakimian are working on a platform that could help aspiring musicians build both. Passionate about music, these second-year computer science majors have co-founded the music startup 808, a project they have cultivated through Georgia Tech's CREATE-X startup programs.
808 might be viewed as a mashup of LinkedIn and Fiverr - which build job networks and support professionals with particular skills. Its goal is to help musicians, songwriters, producers, engineers, and managers connect and collaborate on projects.
"Our mission is to revolutionize the music industry. The way the industry currently works, some people feel like they have to steal a song or give a producer less credit than they deserve, or that signing a deal with a major label is the only way to succeed," said Goyal. "We want to enable people to find a community, own their work, and make great art together instead of going it alone."
[VIDEO: 808 Pitch From 2019 Create-X Demo Day]
808 is still in development and likely won't launch its mobile or website app for at least another year. When the platform is ready, artists will be able to search profiles of other artists near them, listen to their beats or vocals, and find someone who is the right match for their project. Ultimately, the developers would like the platform to encourage artists from around the world to collaborate with each other.
When they're not developing code for the platform itself, Goyal and Hovakimian are hard at work connecting artists and building awareness for their startup.
By attending performances around Atlanta, hosting networking events at CREATE-X's headquarters and studio sessions at Patchwerk Recording Studios – a favorite of Beyoncé, Outkast, and Akon – Hovakimian and Goyal are developing relationships with their future users. So far, 808 has hosted three studio sessions at Patchwerk with around 30 artists collaborating on new music. Their first song, Scary Movie, was recently released on Soundcloud.
Peace Up A-Town Down
Hip-hop is the number one music genre in the world right now, and one-third of the music streamed in 2018 was hip-hop or rap. With these trends in mind, Goyal and Hovakimian felt that focusing on underground hip-hop would be the right entry point into the market.
"Colleges are always fertile ground for music, so even though Georgia Tech is more of a technical school, we still feel like we have a good opportunity to introduce our artists to more fans and create more of a music culture on campus," said Goyal.
Nailing down a market entry point and learning how to create a successful business was a challenge, but the pair received great advice from Joyelle Harris, associate director of the CREATE-X LEARN program.
"She's works with a lot of start-ups and also has an engineering background so she really knows both sides of what we're trying to do. She's been a great coach and has been very generous with her time," said Hovakimian.
Embracing the Entrepreneurial Spirit
When they met as freshmen in their dorm, Goyal and Hovakimian had no idea that they would form a company later that year. So far, they have learned a lot about themselves and what it takes to build a company from the ground up.
"As a co-founder, it's really interesting to see how you're touching all of the different aspects of a business and how much is needed to get something off the ground. Sometimes I'm working on marketing, or sales, or developing the platform…it's been a fun journey so far," said Hovakimian.
For Goyal, entrepreneurship is his passion but he feels that having a computer science degree will benefit him in the long run.
"I've been coding since I was a kid, but I'm realizing how much I can do with those skills. I have a lot of ideas on how to change music, sports, and finance, but it's computer science that brings those ideas to life," said Goyal.
The company name is a common nickname for an electronic drum machine, the Roland TR-808 Rhythm Composer that was popular in the 1980s. It was one of the first programmable drum machines and it eventually changed the sound of pop music. Goyal and Hovakimian hope that their version of 808 once again makes a key change in the music industry.