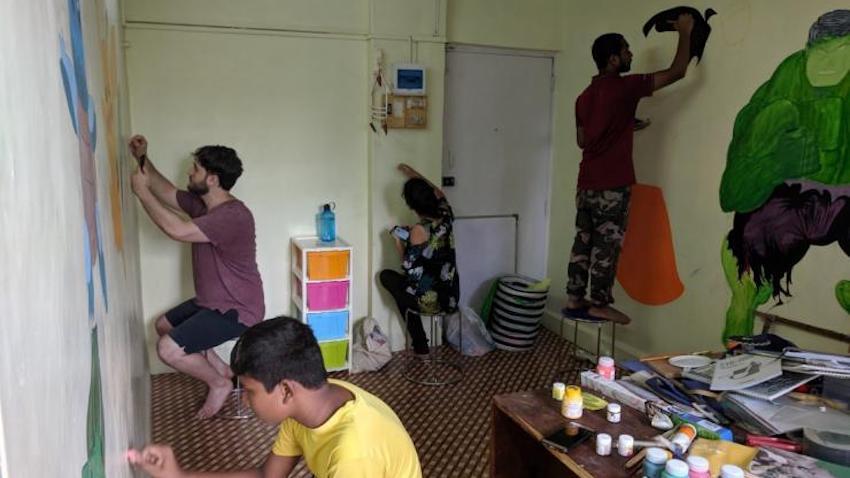 IC Students Support Innovation in India through 'MakerGhat'
Azra Ismail was working with health workers in Delhi, India, when she had a realization. What she saw from locals in the community was that there was an intense desire for societal impact from many workers – and the ideas to go with it – but an absence of resources necessary to fully realize the innovation.
"The experience that these health workers had in these communities provided unique perspectives and ideas that produced the kinds of ideas that could be relevant," said Ismail, now a Ph.D. student in Georgia Tech's School of Interactive Computing.
"But because they were the lowest rung on the health infrastructure and were low income or low social class, those ideas weren't recognized and represented."
Around the same time, College of Computing alumnus Aditya Vishwanath, now a doctoral student at Stanford University, had a similar realization. He was working with Asha Mumbai, a non-profit in a low-resourced slum in India's biggest city, using virtual reality to see how students appropriated and made sense of it. Like Ismail, he recognized a group of students who had unique viewpoints and drive, but too few resources to realize them.
Knowing how important it is to support innovation from those who understand the specific needs of a community, the two of them founded MakerGhat, a non-profit with the mission to take ideas from concept to creation and application where they are needed most: the communities they serve.
Situated in an impoverished neighborhood in Mumbai, MakerGhat is a community lab in which local students, young and old, can join to receive education and resources to put their ideas into practice. Makers join through subscription or scholarships if they are unable to afford membership. In exchange, they receive access to support ranging from an electronics room, a 3D printing and PC workstation, a science lab, a woodworking shop, and a design and workshop studio.
The space is intentionally unsophisticated. Enter the space, and you may find a mish-mash of supplies and painting on the walls, a far cry from the labs of the nearby Indian Institute of Technology-Bombay, one of the top technological universities in India.
"We want people to be encouraged to try things and not afraid to break it," Ismail said. "We don't want something that people are afraid to use."
If a maker can't find what they are looking for, they can turn to connections within the community to meet the need. Heavier equipment, for example, might require a trip to the local smith for welding.
"Students coming in have family members in these other industries, so it sets up an informal infrastructure where the students know where to go for a specific need," Ismail said.
The model has resulted in a number of tangible outputs. In Summer 2019, a handful of interns from Georgia Tech, Stanford, and Smith College were able to take advantage of the Denning Global Engagement Seed Fund to fund their travel to India. Interns were there not just to teach or run the lab, but to co-learn with locals. Collaborations between the technical expertise of the interns and the locally-significant knowledge of the makers resulted in a handful of innovations that addressed local needs.
One collaboration resulted in a system that could compact plastic bottles to assist in a waste management challenge in Mumbai. Workers who collect waste locally and transport to recycling plants to sell to companies or government institutions face challenges transporting plastic bottles, the most common waste item, which take up a lot of space.
Another created a community mapping platform to help identify local resources. Makers and interns went into the community and conducted surveys to find needs specific to different geographies.
"A big part of this is engaging with the community to identify needs, current status quos, and how to approach the challenge," Ismail said. "This happens in the schools too. What are the gaps that need to be addressed, and how can we help address them?"
MakerGhat serves about 300 students weekly, ranging from young to old – it is open to any age or background. Many come from STEM fields, but others may be interested in math or art or fashion design.
"It's a melting pot," Ismail said.
The goal is to turn MakerGhat into an incubator. As the first class of students graduates from the program, they will move on to other sources of education or work. Ismail said that she and her collaborators – which includes Vishwanath, a team programmer, local leaders in finances and project resources, and a group of 10 or so volunteers – want to help build companies from the ideas and innovations that formed at MakerGhat.
"The mission is to actually transform these students and community members into entrepreneurs," Ismail said. "We want to take these creations to the next level and help them scale beyond their own community."
That might mean launching new MakerGhat centers elsewhere. The goal is to make the model of the original open-source so that other communities can replicate – in India and beyond. While it may play out different in each location depending on the community's needs, the organizational structure would be the same.
"There's a misconception that great innovation only comes from these big tech companies or big universities," Ismail said. "But we want to challenge that narrative. Many of the great ideas that can make significant impacts on society come from the people in these communities of need themselves."
Other members of the Georgia Tech community have contributed to the project. Neha Kumar, an assistant professor joint between the School of Interactive Computing and the Sam Nunn School of International Affiars, is an advisor. Students involved in a Makers-in-Residence program last summer were Ritesh Bhatt, Solum Onwuchekwa, and Josiah Mangiameli. Vishal Sharma, an incoming IC Ph.D. student, was also involved.