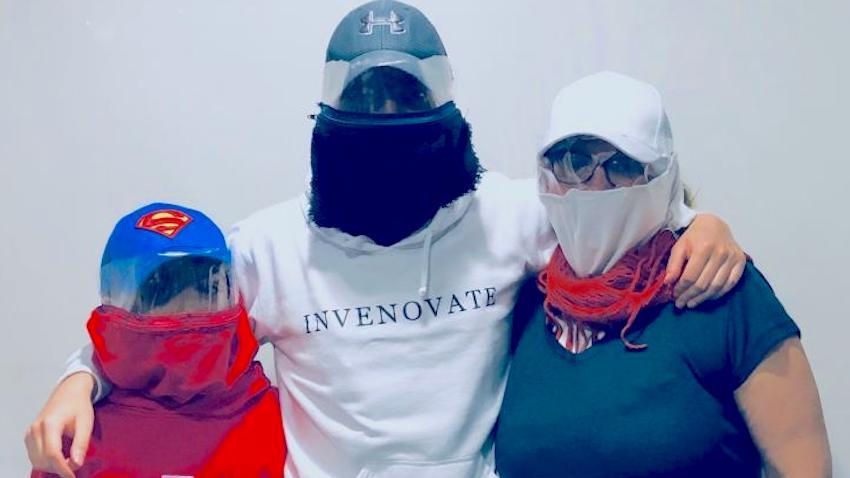 This Hybrid Mask is Easy to Make and Helps Prevent Disease Spread
A team of student entrepreneurs at Georgia Tech has developed a do-it-yourself hybrid mask and face shield to help people stay safe during the Covid-19 pandemic.
Using household items, the DIY mask/face shield can be made in 30 minutes or less and requires no 3D printing.
According to Tillson Galloway, a second-year computer science student and one of the creators, the hybrid mask/face shield is designed to be comfortable, convenient, and protect against micro-particles.
"Medical studies indicate that people touch their faces an average of 23 times an hour, which is one of the leading causes of infection. But, there is a shortage of medical-grade masks and most of the DIY masks people are using are uncomfortable, ill-fitting, and provide a false sense of security," said Galloway, who is from Charleston, South Carolina.
"Our hybrid approach prevents people from inadvertently touching their faces because it fully covers the face."
Dubbed 'Project FREE: Face Masks Reducing Exposure for Everyone' by the developers, the hybrid DIY mask/face shield is made using a baseball cap, a jacket zipper, a cotton blend t-shirt, and a clear plastic book cover.
Tools needed for the project include:
• Scissors
• Stapler
• Needle and thread
• Marker
• Ruler
"Using a ball cap creates much less strain than using elastic bands and the cloth prevents the shield from fogging up in humid conditions. The cloth can also be unzipped and is machine washable," said Galloway.
FREE was submitted to a recent hackathon sponsored by Emory Global Health Institute and Georgia Tech. Although they did not win, Galloway says the team – which includes mechanical engineering students Alejandro Campos and Mark Saad, and Emory University neuroscience and behavioral biology student Aditya Jhaveri – received a lot of positive feedback.
With this feedback, the team is now working to refine the design, including evaluating the use of different types of household fabrics such as towels. Team members are also asking their friends and families to build the mask so they can evaluate the functionality, aesthetics, and simplicity of the product.
Along with improving its product the team is also incorporating in order to be able to legally accept donations. "We are partnering with local organizations in Atlanta, Charleston, and in Quito, Ecuador and will use donations to provide our hybrid mask/face shields to homeless people in these communities," said Galloway.
According to Galloway, Quito is in the mix because it's home to Andre Prieto, a member of another team that he, Campos, and Saad are a part of.
"Andre is an industrial design student at Universidad de las Américas in Quito. He is part of Invenovate, our team that is participating in this year's CREATE-X Launch program at Georgia Tech," said Galloway.
"Invenovate is a startup creating GPS enabled wristbands to assist parents in locating their loved ones with special needs. We're in Create-X Launch this summer. But, COVID-19 has created a roadblock with our customer discovery and acquisition strategy, so we're temporarily applying our skills to Project FREE so we can help promote public health and safety."
For more coverage of Georgia Tech's response to the coronavirus pandemic, please visit our Responding to COVID-19 page.