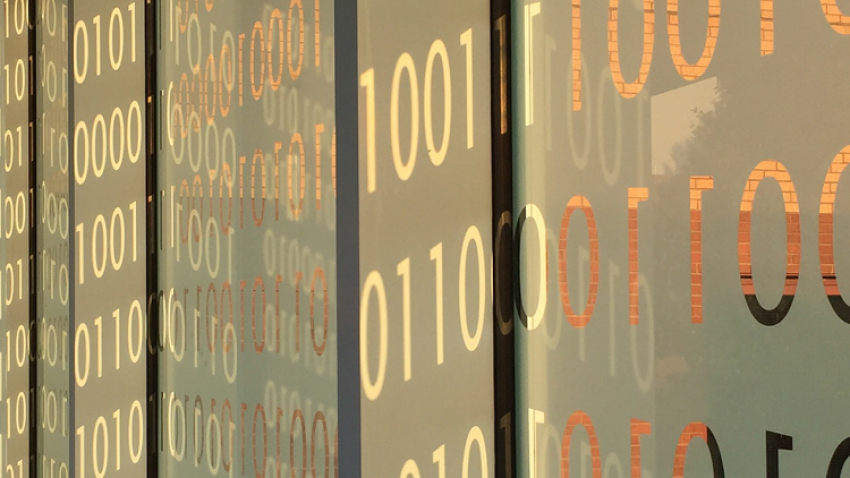 Predicting Hate Crimes Targeting Asian Americans Amid Covid-19 Outbreak
As Covid-19 has spread across the globe, reports of harassment and cases of violent attacks aimed towards Asians and Asian Americans have dramatically increased.
Fortunately, researchers from Georgia Tech have found a way to track and predict these cases as, and potentially even before, they happen.
"In many unfortunate documented cases, xenophobic behaviors excited by the coronavirus have led to extreme physical harm to the victims and mental distress for others in the community. We are developing methods that leverage social media and news signals to measure how targeted hate and racism has spread worldwide, and use data-driven solutions to forecast future attacks," said School of Computational Science and Engineering (CSE) Assistant Professor Srijan Kumar.
Tracking Disease Spread and Monitoring Social Media to Predict Hate 
Kumar and his lab, CLAWS, are developing a data science pipeline that uses epidemiological models of disease spread together with a database of social media and news reports to predict how online anti-Asian rhetoric spreads and how real-world cases of harassment will happen over time and in different places.
The data pipeline will combine online sources from news and social media platforms with offline sources, such as reports of physical abuse and racial incidents, to measure how targeted harassment is spreading in online and physical communities while comparing the spread side-by-side with the disease coverage.
There are five levels of harassment, with the first level being the least damaging. Each level after is subsequently more aggressive, with the fifth level including fatalities caused by hate crimes. 
"We are coding up each incident with a corresponding number and then scraping news websites, collecting all the race incidents and physical abuse incidents in the real world, and essentially creating a timeline of how things have progressed," said Kumar.
"Another piece of offline data we are collecting is the epidemiological spread of how the virus has progressed throughout the U.S. and the world. Our hypothesis is as this virus is spreading through different cities and different states, people get more alarmed and scared, and that anxiety leads to more online and offline hate and harassment in those particular cities," he said.
Kumar's team is the first ever to create a real-time database and pipeline that can forecast deviant behaviors using disease spread as an indicator.
"People are worried about their loved ones. The coronavirus has disrupted everyone's daily routines. People have experienced loss of employment. There is a lot of economic, societal, and health hardship. These bring out very strong negative emotions in people and we see that both in the online platforms and also in the real world," said Kumar.
http://claws.cc.gatech.edu/covid/#key-findings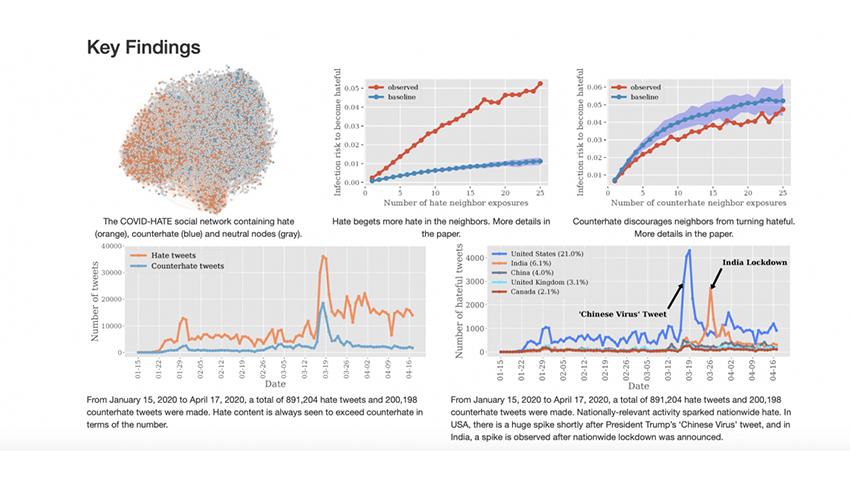 Future Use Cases: Public Safety for Marginalized Communities
Recently, the FBI sent out warnings of potential hate crimes against Asian Americans and Minnesota opened a hotline to report such incidents after seeing a dramatic increase of cases since coronavirus began spreading in the U.S. 
Kumar said, "We started seeing a lot of hate, harassment, and incidents against Asians and Asian-looking Americans very early on in the news cycle surrounding the coronavirus. It got us thinking how we could use these tools and technologies that we are developing in the lab to combat this phenomenon which is impacting everyone's life. This is essentially about public safety for marginalized communities, which is a big issue." 
The pipeline Kumar's team developed is general enough to be customizable to different actives, such as monitoring and predicting harassment of other minority groups, drug use, child abuse, suicides, and more.
"When pandemics or crises happen, there is an increase of public health and safety issues. So, we are using this particular framework as a first-use case to track and predict these problems and we plan to expand to others," said Kumar.
As of this time, Kumar's team is particularly interested in researching local Georgia cases and hope to work alongside and share their technology with local agencies, organizations, non-governmental organizations, and law enforcement in the future. 
"This is a very sensitive and very important topic that can impact people around the world. And we are seeing these incidents not just in the U.S. but also in other countries such as India and Australia," he said. "We hope that our tech can help improve people's lives everywhere."
For more coverage of Georgia Tech's response to the coronavirus pandemic, please visit our Responding to COVID-19 page.