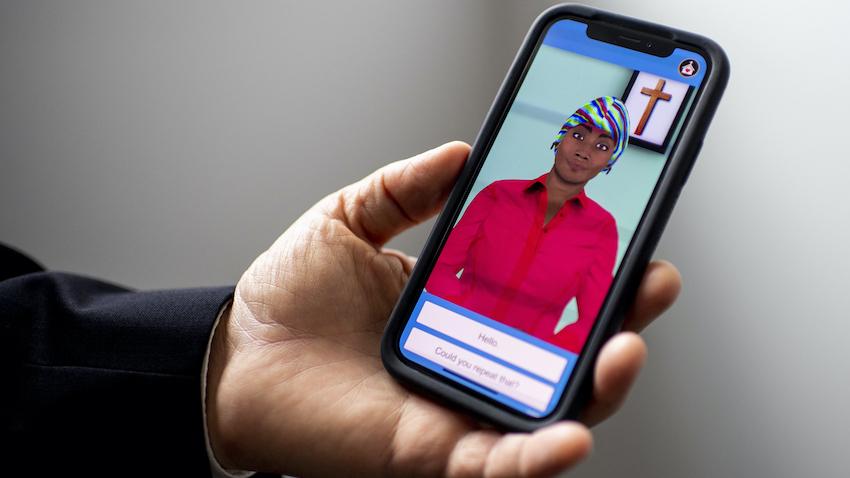 Virtual Counselor to Help Address Vaccination Hesitancy in Black Communities
A new partnership is using a multi-million, multi-year award from the National Institutes of Health (NIH) to help address vaccination hesitancy and increase Covid-19 vaccination rates in Black communities.
With the $2.4 million, four-year NIH award researchers from Georgia Tech, Northeastern University, and the Boston Medical Center are collaborating with the Black Ministerial Alliance of Greater Boston TenPoint to develop a virtual healthcare counselor that answers questions and addresses concerns specifically related to the Covid-19 vaccine.
The counselor, known as Clara, is an animated character that simulates face-to-face counseling sessions using verbal and non-verbal communication cues. Along with the ability to share relevant Biblical scripture or recall details from previous conversations with an individual, Clara delivers personally relevant information about the vaccine and engages users about their specific hesitations about getting the vaccine.
According to the researchers, there are a number of benefits to this technology. Along with being available 24 hours a day, seven days a week, no insurance is needed and it may help people feel less inhibited asking questions about the Covid-19 vaccine.
Ultimately, the goal is to create a dialogue that empowers users to move toward making more informed healthcare decisions.
Clara, technically known as an embodied conversational agent (ECA), is based on an existing platform that is designed to promote spiritual and physical wellbeing in underserved communities. More than 600 people from 12 Boston churches are expected to participate in the study, which is the first of its kind to explore mobile health interventions using ECAs in a Black community church context.
"Churches are well known as effective sites for health intervention for this demographic because of the historically important role the church has played in Black communities," said Andrea Grimes Parker, a co-primary investigator and an associate professor in the Georgia Tech School of Interactive Computing.
Despite this history, Parker says very little research has been done examining how technology that is similar to Clara might amplify existing church efforts to address higher mortality rates, lower vaccination rates, and other disproportional impacts that Covid-19 has had in Black communities.
"This intervention is about giving people space where they feel safe and comfortable to explore their questions and concerns around the vaccine. We are deliberately recruiting folks that haven't had the Covid-19 vaccine and that have concerns so we can look into questions like, 'have you felt stigmatized in your community because you haven't gotten the vaccine,' or 'what has inhibited you from getting the shot,'" said Parker.
Parker's role in the project is leading the community-based design of the app and user experience evaluation of the program. She is also leading qualitative data collection with church members, pastors, and health leaders to better understand the barriers to vaccine uptake, as well as the existing strengths in church communities that can support vaccine uptake.
"The dialogue is being developed in partnership with the community to ensure everything makes sense in the specific church context, and that it is culturally relevant," said Parker, who is a Georgia Tech alumna (Ph.D. HCC 11).
The program is off to a good start. According to co-primary investigator and Northeastern University computer science professor Timothy Bickmore, the feedback so far has been positive.
"Even for individuals who don't have high computer literacy, the program is still easy to use. We've gotten great feedback. It seems to be working, and most people like it," Bickmore said in an article from Northeastern University.
Although expanding beyond the current scope is not in the plans for the program now, Parker thinks using ECAs to improve vaccination uptake rates would translate well to other communities.
"Being in Atlanta and seeing even lower vaccine uptake here, I personally would love to explore adapting the intervention for Georgia. Much of the hesitation and concerns we're seeing around the vaccine as part of the study are not specific to Massachusetts," said Parker.
The project is formally titled Community-based Design and Evaluation of a Conversational Agent to Promote SARS-COV2 Vaccination in Black Churches. The funding for the project (1R01MD016882-01) is administered by the National Institute on Minority Health and Health Disparities.