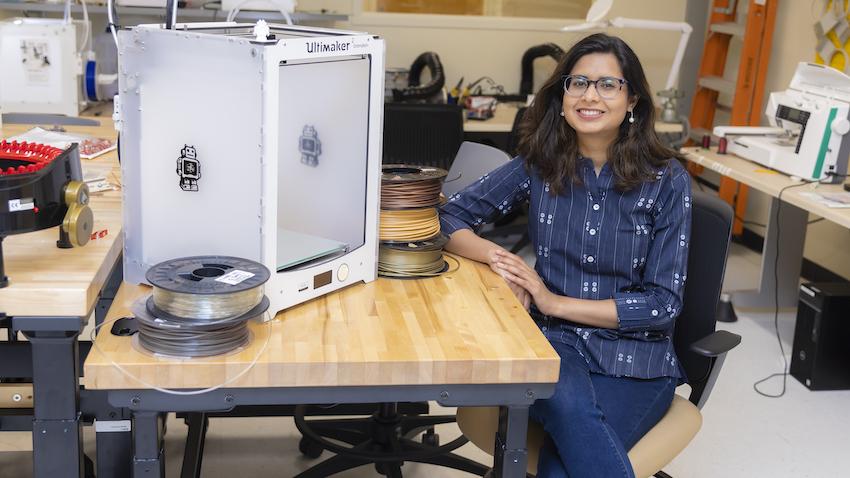 Alumna Named to Forbes' 30 Under 30 Provides Makerspaces to Youth in India
As Azra Ismail moves on from Georgia Tech with a Ph.D. in human-centered computing, she leaves behind a legacy that's steeped in far more than research.
That legacy is more than 8,000 miles away in Ismail's native India, where she's helped more than 300,000 youths in six states become better equipped for an increasingly competitive job market.
Ismail's ongoing efforts to promote entrepreneurship and innovation among India's disadvantaged youth were recently recognized. Just before she graduated in May, Ismail received the news she had been named to Forbes' 30 Under 30 list for Social Impact in Asia.
When she began working on her Ph.D. in 2018 with her advisor, Associate Professor Neha Kumar, Ismail traveled to India to conduct field research. Working in Kumar's Tandem Lab, she engaged in the design of data-driven technologies to improve maternal and child health care.
In her spare time, she started what would become her her passion project with former Georgia Tech student Aditya Vishwanath. With the help of a few volunteers, Ismail established a small community makerspace in Mumbai, and MakerGhat was born.
MakerGhat is a nonprofit organization that creates makerspaces for underserved youth in India. It prepares them for the workforce by providing hands-on learning.  According to MakerGhat's website, Ismail is devoted to solving a looming problem within India's workforce — 54% of young adults are not employable, and 37% who have college degrees are unemployed.
"Our long-term goal is two-fold: Create a movement that sustains itself, and create a change in education policy," Ismail said. "Right now, the education system in India is very top-down. We want to challenge that because you're trying to prepare young people to live in a world of uncertainty."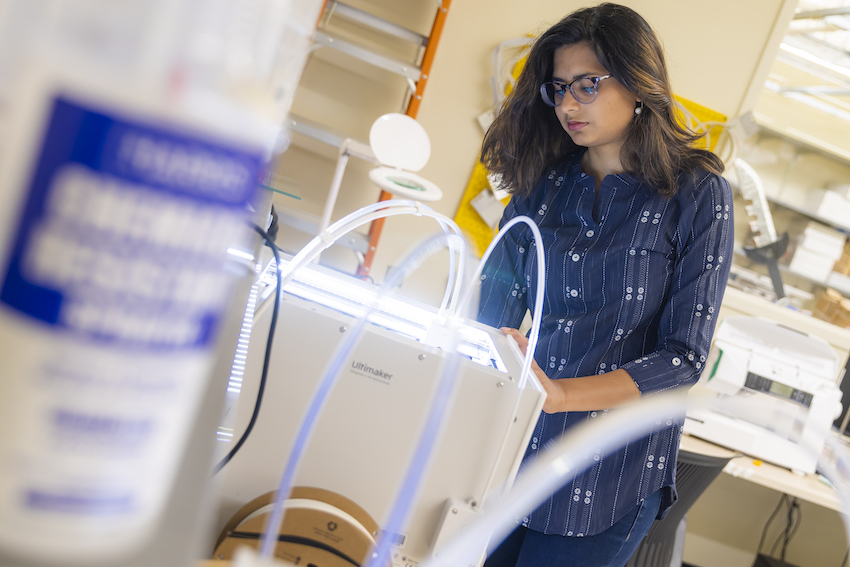 The mission, however, doesn't end at improving statistics. Ismail seeks to turn the current status quo on its head by transforming Indian youth from jobless to employees to job creators.
"It shouldn't be that they are just competing for jobs that have been created by large companies," she said. "They are the ones who should be creating jobs for themselves and their communities because they understand those needs the best. We're not just creating young people who are ready for the future of work, but who can become the ones who are shaping it."
Since Ismail broke ground on the original location in Mumbai, MakerGhat has expanded into schools, libraries, and museums throughout India. The idea, Ismail said, is for MakerGhat to make resources available to anyone who needs them no matter where they are.
"We've evolved to set up a model so that anyone anywhere can get access to resources to set up a community in their own neighborhood," she said.
Ismail said she won't forget the early days of laying the groundwork for MakerGhat and balancing that with being a full-time Ph.D. student. While working with the first group of MakerGhat students, she said a young woman came to her who had just started college and needed confidence and assurance.
Ismail said that woman now has a job as a computer scientist for a company in Bengaluru, India. Two others who belonged to that first cohort of students are now videogame developers.
"All of them are inspirations for their community and aspire to do more, with some hoping to build their own enterprises or pursue advanced degrees," Ismail said.
Since its inception, MakerGhat has earned government funding as well as funding from various partners. The team has grown to 15 full-time staff members. Ismail said the endeavor has been a team effort that allows her to manage and organize resources from the U.S. while she begins her new role as an assistant professor at Emory University in September.
"MakerGhat provides a sense of openness and opportunity in an intergenerational space," she said. "It's this interesting mix of people from different backgrounds working together with a shared sense of community. It's a space that's ripe for interesting things to happen."