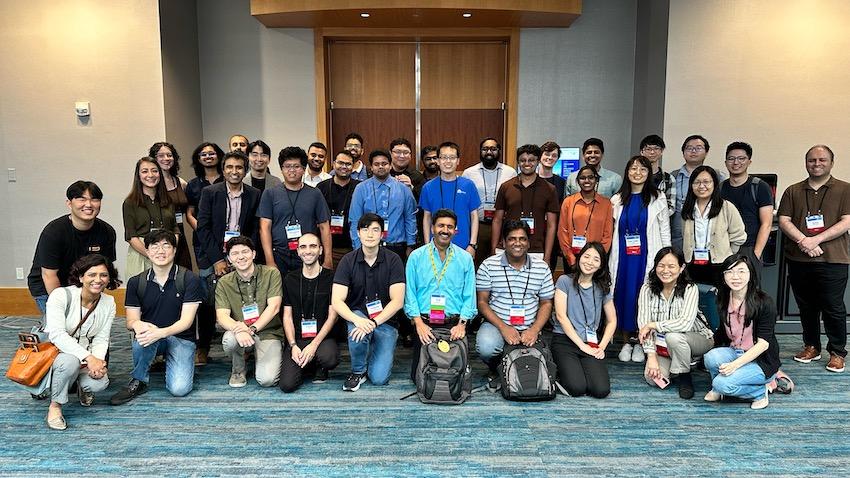 Celebrating ISCA's 50th: Georgia Tech's Contributions, Impact, and Reflections on 50 Years of Computer Architecture Innovation 
This year the International Symposium on Computer Architecture (ISCA) celebrated 50 years as the premier forum for innovative ideas and experimental results in computer architecture. 
Georgia Tech's dedication — both past and present — to advancing computer architecture and fostering collaboration among researchers worldwide was well showcased at this year's milestone symposium.  
"ISCA-50 represents a significant milestone in the field of computer architecture, and as the program chair, I am incredibly proud to contribute to this landmark event," said School of Computer Science (SCS) Professor and Associate Chair Hyesoon Kim. "The Georgia Tech community has consistently been a driving force in this field, making substantial contributions over the years. As we look to the future, I have no doubt about the escalating role and impact our community will exhibit."  
Leading from the Start  
ISCA-50 was held in Orlando, Fla. from June 17–21, 2023 as part of the Association for Computer Machinery (AMC) Federated Computing Research Conference (FCRC). Every four years FCRC assembles a spectrum of affiliated computer science research conferences and workshops into a week-long, co-located, meeting. 
In addition to Kim, many members of the Georgia Tech community were instrumental in organizing ISCA-50.   
Associate Professor Tushar Krishna in the School of Electrical and Computer Engineering (ECE) served as program vice-chair. Ph.D. candidates Geonhwa Jeong and Anurag Kar were submission co-chairs for the conference. 
Additionally, Yingyan (Celine) Lin (SCS) and Moin Qureshi (ECE/SCS), along with his students, helped plan workshops and tutorials.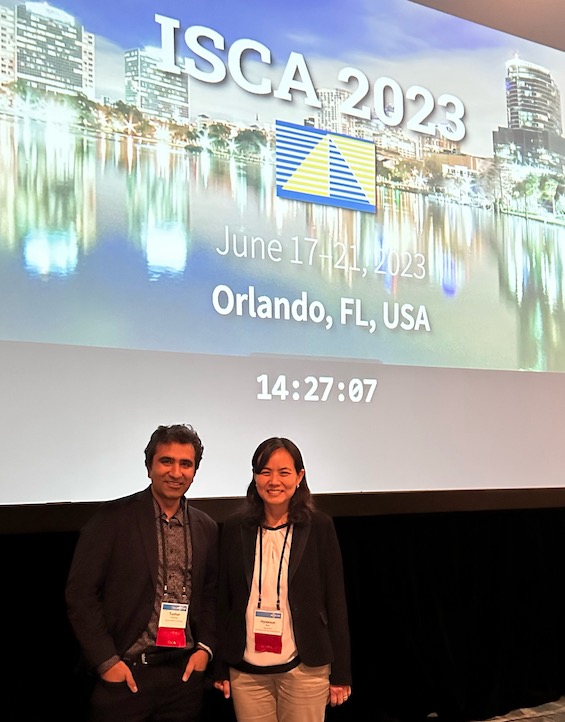 Retrospective and Celebration  
ISCA-50 set out to analyze the past half century and understand who and what has been driving and innovating computing systems. The ISCA@50 Retrospective acknowledged the top 50 papers that have made significant contributions to the field. Kim's GPU paper (ISCA'09) and Qureshi's works on PCM (ISCA'09) and DIP (ISCA'07) were honored. 
Kim and Qureshi were also recognized for being "prolific authors" during the conference's fourth decade (2003-2012).   
Qureshi, Krishna, and ECE Professor Sudhakar Yalamanchili, who passed away in 2019, were acknowledged for their contribution during the conference's fifth decade (2013-2023).  
ISCA-50 also showcased influential papers from the last 25 years. Among the honorees were Qureshi's contributions on cache replacement policy (ISCA'07), phase change memory (ISCA'09), and secure caches (ISCA'19), Kim's GPU analytical model (ISCA'09), SCS Associate Professor Ada Gavrilovska's HeteroOS (ISCA'17), and ECE Professor Saibal Mukhopadhyay and Yalamanchilli's paper on Neurocube (ISCA'16).  
Prestigious Awards  
Georgia tech faculty members and students were also presented with multiple awards and recognized for significant career achievements during ISCA-50. They included:  
Gabriel Loh, a former Georgia Tech faculty member, received the Influential Paper Award for his groundbreaking work on "3D-stacked memory architectures for multi-core processors." 

Gururaj Saileshwar, a recent ECE Ph.D. graduate, received Honorable Mention for the ACM (Association for Computing Machinery) SIGARCH/IEEE CS TCCA Outstanding Dissertation Award. 

Qureshi's contributions were acknowledged with his induction as an IEEE Fellow and ACM Fellow, recognizing his significant impact on the field. 
Showcasing Research Excellence  
Throughout ISCA's five days, Georgia Tech faculty members and students frequently presented cutting-edge research solidifying Georgia Tech's prominence within the computer architecture community. Some conference research highlights included: 
Qureshi organized two tutorials for the conference, gave the keynote address for the Quantum Classical Cooperative Computing workshop, and presented his paper, "Astrea: Accurate Quantum Error-Decoding via Practical Minimum-Weight Perfect-Matching." 

Lin presented two papers, "Instant-3D: Instant Neural Radiance Field Training Towards On-Device AR/VR 3D Reconstruction and Gen-NeRF: Efficient" and "Generalizable Neural Radiance Fields via Algorithm-Hardware Co-Design." 

Krishna was a keynote speaker at the CogArch Workshop where he discussed "Modeling and Mitigating Communication Bottlenecks for Large Model Training at Scale." His insights offered valuable strategies for optimizing communication and enhancing the efficiency of training complex models.  
  
His paper at the ASSYST workshop, "Accelerating Attention Based Models via HW-SW Co-Design using Fine-Grained Sparsification," explored methods for accelerating attention-based models through hardware-software co-design, utilizing fine-grained sparsification techniques. The research provids valuable insights into optimizing attention mechanisms in neural networks.    
Krishna and SCS Assistant Professor Alex Daglis's research, "Exploring Memory Expansion Designs for Training Mixture-of-Experts Models" was presented by Taekyung Heo, a postdoc under Krishna. The research highlights innovative approaches to address memory limitations and optimize training processes. 

ECE Assistant Professor Callie Hao gave a talk on the topic, "INR-DSP: FPGA Acceleration of Arbitrary-Order Gradient Computations for Implicit Neural Representation Processing" during the DOSSA-5 session. Hao explored FPGA acceleration techniques to enhance gradient computations in neural representation processing, that sought to improve efficiency and performance.  

Zishen Wan, a Ph.D. candidate advised by Arijit Raychowdhury, the Steve Chaddick Chair of ECE, contributed to the DOSSA-5 session with a talk on, "VPP: The Vulnerability-Proportional Protection Paradigm Towards Reliable Autonomous Machines." Wan discussed the development of a novel protection paradigm for ensuring the reliability of autonomous systems in the face of vulnerabilities.  
SCS Chair Vivek Sarkar extended his congratulations to all students, faculty, and alumni who contributed to ISCA's 50th year. 
"The computer architecture community at Georgia Tech enjoys an unparalleled collegiality with SCS and ECE researchers being intellectually and physically co-located despite belonging to different schools and research groups.  The results of this sustained collegiality and collaboration is evident in their successes at ISCA 2023 and other research venues," said Sarkar, also the Stephen Fleming Chair for Telecommunications in the College of Computing.
Story by Morgan Usry & Martina Lindo