Climate Action Teams Supporting United Nations' Sustainable Development Goals
More than 110 Georgia Tech computing students are taking action to fight climate change and environmental injustice. The students are members of 10 climate action teams participating in Tech's Vertically Integrated Projects (VIP) program.
The teams work to address climate and environmental concerns that align with sustainable development goals (SDGs) adopted by the UN General Assembly in 2015.
Climate action initiatives are being spotlighted by Georgia Tech and other University Global Coalition institutions as part of this year's United Nations Action and Awareness Week, which runs through March 10. Along with the VIP teams, the Institute is showcasing work in teaching, research, and operations that positively impacts climate issues.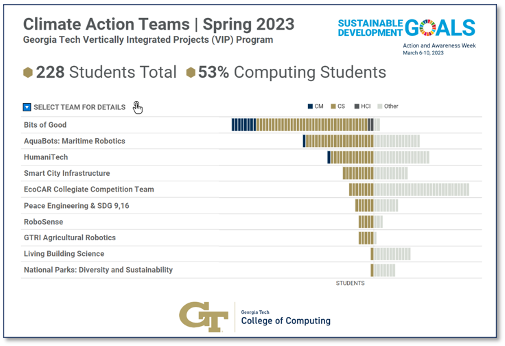 The UN's SDGs were developed to address the world's most monumental challenges including poverty, social justice, and climate change. Some of the objectives are cleaner air and water, cleaner energy, and sustainable communities.
Several different majors are represented on 10 VIP teams that are supporting the UN's sustainability goals. However, of the 228 total students, 53% are computing students. These include computer science (CS), computational media (CM), and human-computer interaction (HCI) students.
The team with the highest concentration of computing students is Bits of Good. The team works with community organizations to develop customized software solutions and scalable web applications. The team's projects correlate to five UN sustainable development goals:
No Poverty

Zero Hunger

Good Health and Wellbeing

Quality Education

Gender Equality
"Bits of Good develops software for nonprofits, so while non-computing students do participate as designers or product managers, the work is a great match for computing students," said Ellen Zegura, computer science professor and faculty advisor for the Bits of Good VIP team.
"Several current Bits of Good projects are related to SDGs, and one has a particular focus on sustainable building practices."
For the sustainable building project, the Bits of Good VIP team is working with Southface Institute, a nonprofit based in Atlanta. The team is developing an efficient online library and project-plan builder for Southface's EarthCraft Program. This program trains teams on building standards and provides a blueprint for sustainable development.
Another VIP team working on climate action goals that consists of mostly computing students is HumaniTech. The group has been working on several projects with the Beverly School of Kenya. The team has been working with the school for more than a year to help make the school an education resource for students and the community. Some of the projects include conducting energy audits, installing solar panels, and developing sustainable agriculture and renewable energy initiatives.
A data visualization is available for more details about the VIP teams working to support the SDGs. Several campus events are scheduled this week as part of Georgia Tech's participation in SDG Action and Awareness Week.