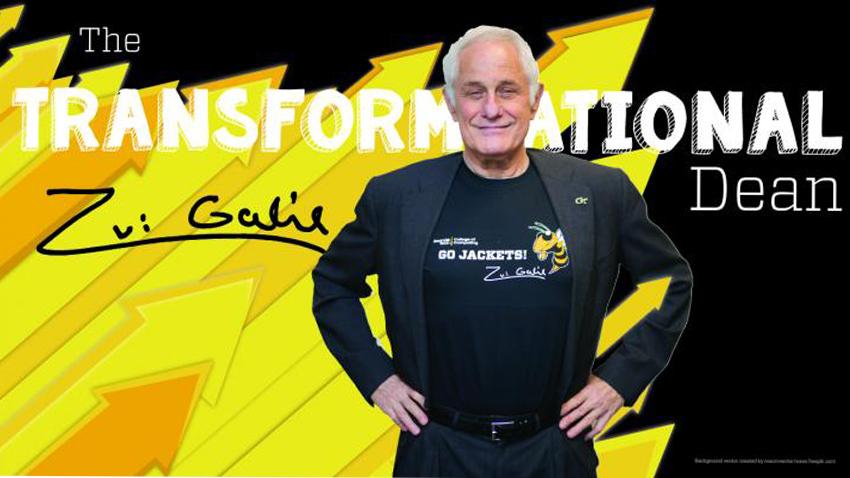 College's Skyrocketing Stature, Global Impact Highlight Galil's Legacy
Zvi Galil, the John P. Imlay Jr. Dean of Computing at the Georgia Institute of Technology, will be stepping down from the deanship on June 30, concluding nine years of transformational achievement and numerous successes at the College. He will be returning to the faculty to teach, research, and serve as an ambassador of Georgia Tech's online programs. 
Galil's deanship was marked by accomplishments on many fronts. Under his leadership the College has risen into the top eight nationally, top seven internationally – the only top 10 computer science program to rise either in rank or in score in the last ranking (2018).
In a measure of the College's public perception, applications to the College have grown ten-fold, and enrollment in on-campus degree programs has nearly doubled during Galil's tenure as dean. Computing is now the largest major at the university, and the most selective – our majors average higher than 1500 on the SATs.
The College's reputation among employers and alumni has seen dramatic enhancement, as well. As a result, the College's career fairs and its corporate affiliates program have grown in stature in recent years. The GT Computing Career Fair regularly sets new attendance records with more than 160 companies participating (with nearly 20 companies wait-listed) this year in the Klaus Building Atrium. Several hundred students from across campus attended each day of the four-day event.
More and more companies are also participating in the College's corporate affiliates program (CAP). During Galil's tenure as dean, CAP grew from 14 companies generating $280,000 in membership fees in 2010, to 63 companies raising $1.13 million in the current academic year. Galil exceeded the fundraising campaign goal by 40 percent – the largest percentage above the goal of any unit at Georgia Tech. Alumnus James Liang's gift of $1.5 million for an endowed chair was at the time the largest international gift in Georgia Tech history, and the only endowed chair by an international donor.
The successful fundraising provided the resources for continued investment in the College and its faculty, and also helped fund four Interdisciplinary Research Institutes and four Interdisciplinary Research Centers led by the College. Galil doubled the number of endowed senior faculty chairs to 10, in addition to four new junior faculty chairs. Faculty rose from 85 to 102, with six or more to join later this year.
It is a testament to the values and productivity of the College's faculty that, with just 8 percent of Georgia Tech faculty, GT Computing teaches about 18 percent of the Institute's credit hours (about 13 percent of undergraduate and about 24 percent of graduate credit hours).
"Under Zvi's leadership the standing of the college has improved along a host of traditional metrics – but truly great universities are in the center of the important issues of the day," said Executive Associate Dean Charles Isbell, who will take over as dean on July 1. "Through OMSCS, Zvi has led the way in moving the college to the center of perhaps the most important of national discussions: the role of affordability and access in computing. That is a transformative accomplishment."
OMSCS
Creating the College's now-famous Online Master of Science in Computer Science (OMSCS) program took years of labor from dozens of faculty and staff members. Galil's vision was the driving force behind the entire project, however, and guided many of the decisions that make the program so distinctive.
One of the most significant was OMSCS' unique admissions policy. Instead of admitting only a few of the highest-achieving applicants, Galil insisted that the program be open to anyone who had met the requirements. Those online students have been just as successful as the on-campus students admitted through a much more selective process.
Now, five years after its founding, the online master's has nearly 9,000 students and an international reputation for changing the game in online education. The OMSCS program embodies Georgia Tech's motto of Progress and Service with its unique combination of prestige, accessibility, and affordability. Its launch has changed national and international perspectives on Georgia Tech.
"OMSCS offers wider access to the high quality of our residential program at a substantially lower cost. It helps realign today's workforce with the requirements of a thriving 21st-century economy. This is a fundamental, revolutionary shift from the prevailing paradigm of higher education, in which a brand is bolstered by exclusion and high tuition fees," Galil said.
Building a community
"Being a dean is about community building, about involvement, support, and empowerment," Galil said. "You're closer to students, you're closer to staff and faculty. I view my role as dean as working to inspire our community by helping them to connect, encouraging them to excel, increasing their confidence."
Galil has made particular efforts to integrate staff members into the community – through regular meetings and an annual staff retreat – and is well known for matching high standards with a collaborative approach and approachability.
"Zvi pushes for excellence in a way that stretches everyone," said Alan Katz, assistant dean for finances and administration. "He believes in sharing information, serving others, and providing incentives – he's a carrot person, not a stick person."
"You would never know Zvi has such a high status because he's so down to earth," said Pam Ruffin, director of human resources for the college. "You can walk up to his door and he'll take time to talk to you."
Even those who don't make it to his office hear from Galil regularly, through a steady stream of e-mails he sends out to the entire GT Computing community. Although he is known as "the e-mail dean," he almost never mentions himself in his missives. "I love to brag about the achievements of faculty, staff, and students," he said. "I want everyone to know they are the most important part of the College."
In parting
Galil – a highly influential scholar in the fields of algorithmic design and analysis, and computational complexity and cryptography – is a member of the National Academy of Engineering, and a fellow of the Association for Computing Machinery and of the American Academy of Arts & Sciences. Prior to coming to Georgia Tech, he served as the dean of engineering at Columbia University and the president of Tel Aviv University.
Yet, he views his deanship at GT Computing as the most satisfying period of his career.
"In OMSCS, we pioneered a program that proved high-quality, cost-reduced online education at scale is doable, and that it satisfies an unmet need – being radically more accessible and affordable than on-campus options," Galil said. "I view it as my greatest achievement."
As for his message to GT Computing faculty, staff, students, and alumni, "GO JACKETS!"