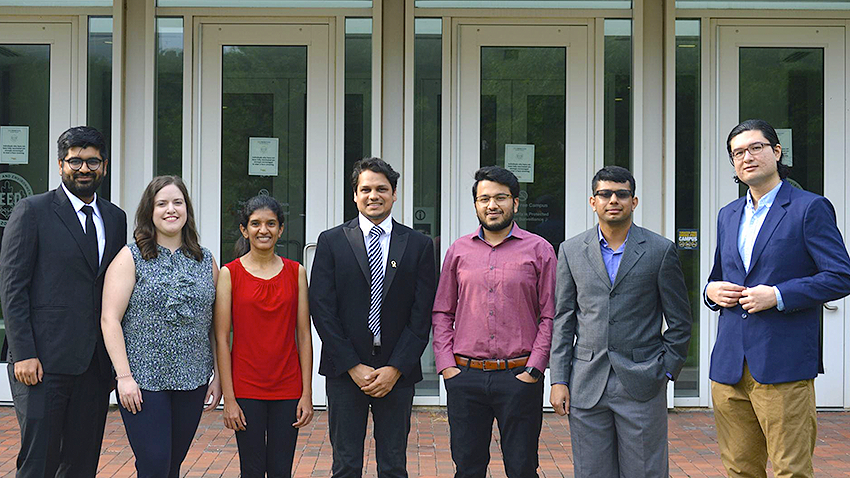 Computer Science Graduate Students Foster Community
Graduate students in the School of Computer Science (SCS) have formed a new student association, the SCS Graduate Student Association. The group hosts social events, career workshops, and provides support for SCS students.
After the faculty held a graduate student listening session in December 2020, it was clear students wanted more peer support.
To this end, a group of graduate students started creating programing to connect to their fellow students. The first event was a game night and photo contest judged by Professor Alexandra Boldyreva held on Gathertown, a participatory video chat platform that creates a virtual party environment. Next they hosted a panel called "Things nobody told me about a Ph.D.!"
With the success of early programming, the group formed and officially registered as the first-ever School of Computer Science Graduate Student Association (SCS GSA), which officially launched in August.
"It's great to see our students take the initiative to come together and form this organization," SCS Chair Vivek Sarkar said. "I look forward to the SCS GSA contributing to an increased vitality in our school's community."
The founders of the association say they hope to create a sense of belonging for students, improve student – faculty relationships, and provide students with an opportunity to give back and become leaders.
"I see it as an avenue to create cherished memories of our graduate school journeys beyond the walls of our research and labs," said Harshit Daga, SCS GSA president and final-year Ph.D. student.
With this in mind,  SCS GSA's programing is tailored to be both practical and personable. The group recently helped the school with onboarding the incoming master's and Ph.D. students by combining them on a single Slack platform. For the semester the team has planned events such as a Ph.D. welcoming event, monthly TGIF gatherings, and townhalls.
"I envision GSA to better the lives of graduate students by improving the mental health and well-being of the student body and providing opportunities for them to succeed," said third-year Ph.D. student and treasurer Sharjeel Khan.
Along with Daga and Khan, the GSA leadership team includes: fourth-year Ph.D. student Bhuvesh Kumar as vice president, second-year Ph.D. student Manasvini Sethuraman as events chair, second-year Ph.D. student Mehrdad Ghadiri as student and faculty affairs chair, and third-year Ph.D. student Dhruv Kuchhal as communications chair. SCS alumna Thaleia Dimitra Doudali (CS Ph.D. 21) serves as alumni liaison.