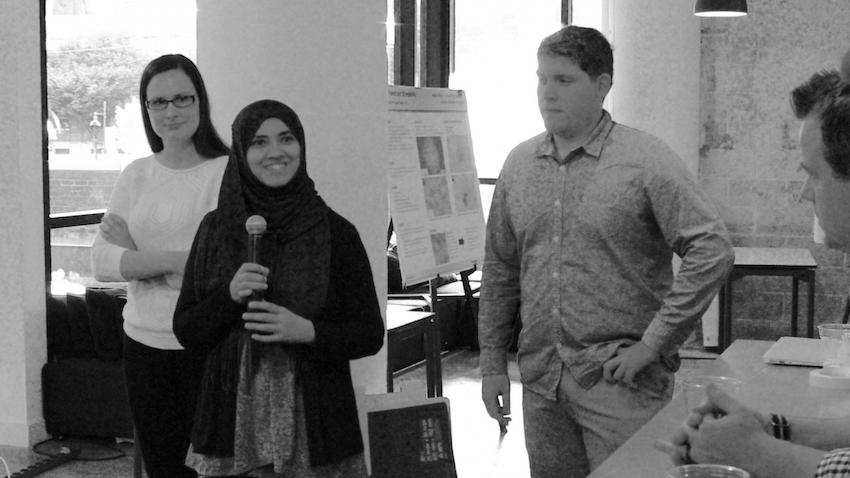 Data Science Fellowship Delivers Results for Refugees Resettling in Atlanta
Data Science for Social Good (DSSG) Atlanta is living up to its name. The summer intern fellowship program hosted by Georgia Tech recently held its annual student showcase.
Nearly 70 people attended the event, held July 14 at Ponce City Market, as three student teams presented the results of their data-driven projects benefiting communities across Atlanta.
DSSG Atlanta connects college students with nonprofit organizations and community groups to create solutions for real-world problems using innovative approaches to data analysis. The students hail from across the country and study in a variety of fields. A Georgia Tech faculty member mentors each team of three students during the intensive, 10-week paid internship.
"This is a very competitive internship designed to tackle tough problems," said Ellen Zegura, DSSG mentor and Stephen Fleming Chair of Telecommunications in the Georgia Tech School of Computer Science. "More than 100 students from the United States and abroad at all academic levels applied for DSSG this summer, but only nine were chosen to participate."
Among those nine is Unaiza Ahsan, a Georgia Tech computer science Ph.D. student working with Professor Irfan Essa. Her team worked with New American Pathways (New AP) to develop a tool to help find adequate housing for refugees resettling in metro Atlanta.
"I've always been interested in applying technological skills to a social cause, and when I heard about the past projects that DSSG interns had worked with, I was very excited," said Ahsan. "I am highly affected by the ongoing refugee crises in the world and therefore I was very willing to do anything I can to help."
New American Pathways assists nearly 3,500 refugees a year, providing them with access to housing, educational services, employment opportunities, health care, and more. To date, Clarkston, a small city in DeKalb County, is the primary relocation area for many of these families.
Ahsan and her teammates on the New AP project—Wes Stayton, a Ph.D. student in the Sam Nunn School of International Affairs, and Oleksandra Sopova, a computer science MS student and Fulbright Scholar at Kansas State University—set out to develop a data-driven way to effectively identify other potential areas within metro Atlanta suitable for refugee resettlement.
Creating a one-stop-shop experience
To achieve this goal, the team combined publicly available application program interfaces (APIs) for a number of data sets, including real estate listings, store locators, public school reports, and others, with information about international grocery stores and faith centers that might not be readily available to users.
"One challenge we experienced when using free API is that it always has limitations," said Ahsan. "You can bypass these limitations by paying, but this is for a nonprofit so this was a bit of a struggle. The code we developed had to take these limitations into account. We were able to overcome these challenges to create a useful tool."
With this tool, New AP coordinators can visually search for housing that meets the specific needs of each family. Users are presented with a variety of considerations—affordability, job availability, proximity to public transit, faith communities, grocery stores, crime statistics, language-support resources, and more—and rank them according to what's most important to them. The team's algorithm then generates a comprehensive color-coded map that provides an ordered list of desirable housing choices for each family.
According to the group's mentor, Georgia Tech College of Computing Assistant Professor Bistra Dilkina, the team has developed a convenient, one-stop-shop way of visualizing and cross-referencing the information.
"The team spent a great deal of time with New American Pathways to develop a workflow for their web-based tool," said Dilkina. "It was vitally important to the success of the project for the team to determine what data is needed, in what form and what order, and to determine how users will engage with the end product."
Following the showcase, the New AP team spent the final week of the DSSG fellowship turning over the tool to New American Pathways. They trained several New AP users, provided training materials and system update documentation, and released the code and open-source API details.    
"We are very impressed with what the DSSG fellows have achieved on this project," said New American Pathways CEO Paedia Mixon. "They had a clear vision of what was needed and worked closely with us to create a potent tool that is helping individual refugees and refugee families find safe and affordable resettlement in the Atlanta area."­­­
Leveraging data science for other community projects
Along with New American Pathways, this year's DSSG Atlanta project partners include the Westside Community Alliance and the Atlanta Regional Commission.
DSSG fellows worked with the Westside Community Alliance (WCA) to create an interactive public safety mapping tool. This tool has been integrated into the WCA's existing community data dashboard, which launched in February 2016. The new feature visualizes data previously available only to law enforcement. With this tool, community leaders and other stakeholders can gain new insights and context for crime trends in the area, which allows them to make more informed, data-driven decisions.
For the Atlanta Regional Commission (ARC) project, DSSG fellows sought to identify metro Atlanta neighborhoods that most need reliable public transit access to jobs. ARC planners are using the tool developed by this team to visualize access to employment-based on income level from any point in metro Atlanta. According to a blog entry from Samuel Plank, a DSSG Atlanta 2016 fellow and Harvard University undergraduate student, using data provided by ARC, MARTA, and other sources "…we created a mapping tool to visualize the intersection between poverty, jobs, and public transit in Atlanta."