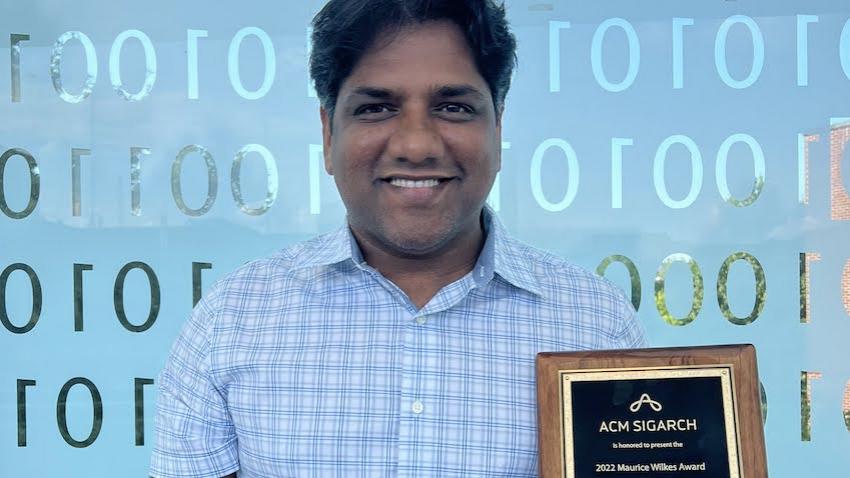 Dual Fellowship Awards Underscore Computer Science Professor's Research Impact
A Georgia Tech computer science professor is being recognized with back-to-back fellowships for his research impact on computer architecture and memory systems.
Moinuddin Qureshi has been named as a 2022 Association for Computing Machinery (ACM) Fellow and as a 2023 Institute of Electrical and Electronics Engineers (IEEE) Fellow.
Qureshi, a professor in the School of Computer Science, was recognized as an ACM fellow for "contributions to memory hierarchy design" and as an IEEE Fellow for "contributions to scalable memory systems."
Over the past two decades, Qureshi's research has focused on improving the memory system of modern processors, ranging from multi-level caches during his Ph.D. at the University of Texas at Austin to phase change memory systems at IBM Research, and to 3D memory systems and other reliable and secure memory systems at Georgia Tech.
"As the saying goes, it takes a village to raise a child," Qureshi said. "Similarly, it takes a supportive community to groom a researcher. I am grateful for the amazing students, wonderful mentors, and fantastic collaborators and friends who have been a part of this journey. This recognition is as much a reflection of their effort."
Along with these two achievements, Qureshi also recently received the prestigious 2022 ACM SIGARCH Maurice Wilkes Award for "contributions to high-performance memory systems."
Qureshi's research has had an "outstanding impact" on the field of computer architecture, according to School of Computer Science Chair Vivek Sarkar.
"It's gratifying to see him receive these well-deserved world-class awards. These recognitions reflect positively on him and on Georgia Tech. My heartiest congratulations go to Moin as well as to his mentors and collaborators." said Sarkar, who is also the Stephen Fleming Chair for Telecommunications in the College of Computing.
ACM is the world's largest computing society and is dedicated to advancing the field. Each year, the organization honors members that have made a significant contribution to the field of computing and information technology. ACM Fellows are considered to be the organization's most prestigious member grade, comprising the top 1% of the association's members.
IEEE is the world's largest technical professional organization dedicated to advancing technology for the benefit of humanity. The IEEE Fellow Award is a special recognition for members with extraordinary accomplishments in the IEEE technical fields. IEEE Fellow is the highest grade of membership, given each year to at most 0.1% of the total higher-grade members, and is regarded as a prestigious honor and an important career achievement.