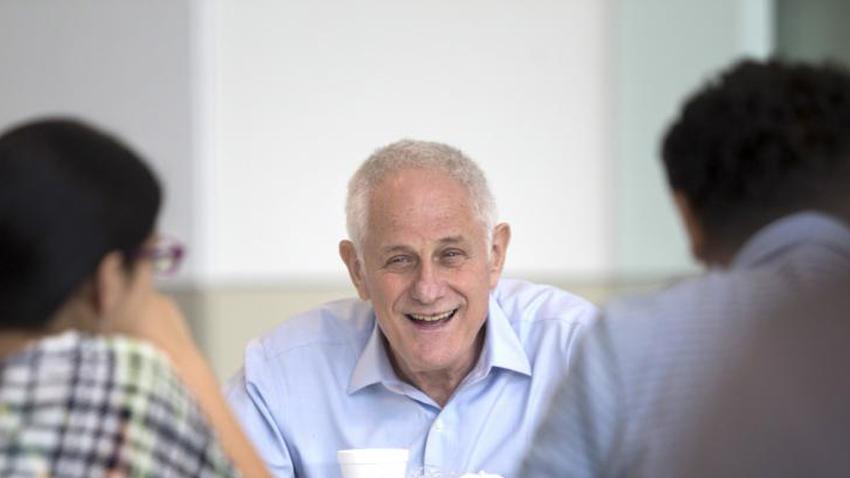 Former Dean Recognized for Impact on Computer Science
Zvi Galil, the previous dean of the College of Computing, has been named the seventh most influential computer scientist of the past decade by Academic Influence.
Galil, who served as dean from 2010 to 2019, stands out among the top 10 because he was chosen for his research and for his leadership, in particular for his vital role in founding Georgia Tech's Online Master of Science in Computer Science (OMSCS) program. Since its founding in 2014, OMSCS has grown to an enrollment of more than 10,000 students, making it the largest computing master's program in the country.
"I am indebted to our faculty for approving and executing the program," Galil said.
Galil is also a groundbreaking and prolific researcher with more than 200 papers to his name. Some of his string and graph algorithms are mathematically speaking, the best possible. He coined two important terms that are widely used:
Stringology – the subfield of string algorithms, where he has made numerous contributions.
Sparsification – a method of replacing a dense graph with a sparse graph that leads to faster algorithms. Galil and others have used it to speed up graph algorithms.
He is a fellow of the Association for Computing Machinery and the American Academy of Arts and Sciences and a member of the National Academy of Engineering.
He also has an impressive leadership record. Before coming to Georgia Tech, Galil served as the president of Tel Aviv University and as the Morris and Alma A. Schapiro Dean of Engineering at Columbia University.
Before the onset of the pandemic, Galil traveled the world giving dozens of talks about OMSCS and lessons learned from the program. He is now, of course, giving these talks online. Later this month he will give a keynote lecture to the iConference (the conference of the iSchools), a public webinar, and a private roundtable discussion with academic leaders in the Netherlands. The webinar and roundtable are sponsored by StudyPortals.
"I have been extremely fortunate to initiate and to lead the creation of OMSCS, and that its high quality and low price enabled many – 16,000 so far – to fulfill their aspirations and improve their lives," Galil said. The number includes OMSCS graduates, which as of next month will exceed 5,000.