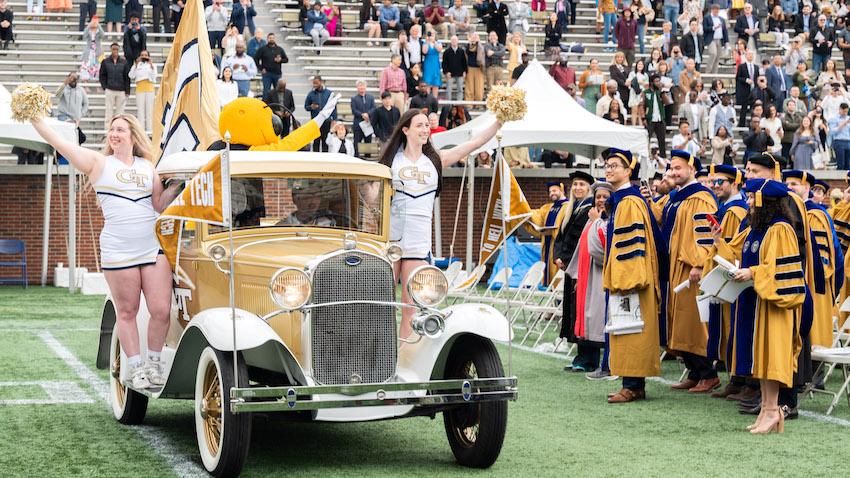 Large, Interdisciplinary Class is 'Ramblin On' with Tech Degrees in Hand
Another semester is in the books for the School of Computational Science and Engineering (CSE). The term concluded on May 5 with Spring Commencement festivities as the finale to what was a spectacular 2022-2023 academic year.
"This semester's graduating class embodies the diverse, interdisciplinary nature of the School of CSE," said Regents' Professor and School of CSE Chair Haesun Park. "We are immensely proud of all of this year's CSE graduates. They are innovators and problem solvers, ready to take on pressing challenges in the scientific, engineering, social, and medical fields."
Two School of CSE doctoral candidates walked across the stage at Bobby Dodd Stadium to receive their degrees during the Ph.D. Ceremony.
For Tianfan Fu (Ph.D. CS 2023) and Apaar Shanker (Ph.D. CSE 2023), Commencement was a curtain call for years of vigorous graduate-level research, teaching assistantships and internships, and conference presentations. Fu was advised by School of CSE Adjunct Professor Jimeng Sun. Shanker was advised by Regents' Professor Surya Kalidindi, joint with the George W. Woodruff School of Mechanical Engineering and School of CSE.
At the master's ceremony, three CSE Ph.D. students received diplomas for completing M.S. degrees while in pursuit of their doctorates.
William Kamerow (M.S. CSE 2023) will continue research in high-performance computing, machine learning, and electric propulsion. He is advised by Professor Mitchell Walker, faculty in the Daniel Guggenheim School of Aerospace Engineering and the College of Engineering's associate dean for academic affairs.
Shruti Shivakumar (M.S. CSE 2023) is near completion of her Ph.D. in which she researches performant, parallel algorithms for hypergraph analytics. She studies under School of CSE Professor Srinivas Aluru, who is also the executive director of the Institute for Data Engineering and Science (IDEaS).
Ziyi (Francis) Yin (M.S. CSE 2023) will continue studying under Felix Herrmann, a joint appointment professor with the School of Earth and Atmospheric Sciences, School of Electrical and Computer Engineering, and School of CSE. Their group specializes in developing machine learning tools for seismic data acquisition, modeling, imaging, and inversion.
Joining Kamerow, Shivakumar, and Yin are 68 CSE graduates who also completed their M.S. degrees.
Along with students whose home unit is the School of CSE, the School also administers CSE graduate programs for students studying in 12 schools and departments spanning three colleges at Georgia Tech. These affiliations with the School of CSE demonstrate the interdisciplinary and collaborative threads inherently woven into the fabric of a Georgia Tech CSE degree.
College of Computing M.S. graduates included:
Mengzhen Chen (M.S. CSE-CS 2023)
Yuqi Jia (M.S. CSE-CS 2023)
Zihan Xu (M.S. CSE-CS 2023)
Shoale Badr (M.S. CSE-CSE 2023)
Guanming Chen (M.S. CSE-CSE 2023)
Jiayuan Chen (M.S. CSE-CSE 2023)
Yi-Ming Chen (M.S. CSE-CSE 2023)
Jin Guo (M.S. CSE-CSE 2023)
Gautham Gururajan (M.S. CSE-CSE 2023)
Vishal Hariharan (M.S. CSE-CSE 2023)
Christopher Hillenbrand (M.S. CSE-CSE 2023)
Yung-An Hsieh (M.S. CSE-CSE 2023)
Huilin Jin (M.S. CSE-CSE 2023)
Zongen Li (M.S. CSE-CSE 2023)
Ziyan Liu (M.S. CSE-CSE 2023)
Jonathan Nativ (M.S. CSE-CSE 2023)
Kshitij Pisal (M.S. CSE-CSE 2023)
Yanan Qiao (M.S. CSE-CSE 2023)
Haosu Ren (M.S. CSE-CSE 2023)
Haodan Tan (M.S. CSE-CSE 2023)
Abhijeet Tomar (M.S. CSE-CSE 2023)
Mayank Vanani (M.S. CSE-CSE 2023)
Vasistha Vinod (M.S. CSE-CSE 2023)
Yijia Wang (M.S. CSE-CSE 2023)
Shuyang Wu (M.S. CSE-CSE 2023)
Tianqi Xiao (M.S. CSE-CSE 2023)
Qingrong Yang (M.S. CSE-CSE 2023)
Zhenzi Yu (M.S. CSE-CSE 2023)
Ziqihong Yue (M.S. CSE-CSE 2023)
Chukang Zhong (M.S. CSE-CSE 2023)
CSE students in home units under the College of Engineering that received M.S. degrees were:
Yicong Fu (M.S. CSE-AE 2023)
Oojas Salunke (M.S. CSE-AE 2023)
Jiacheng Xie (M.S. CSE-AE 2023)
Jong In Bae (M.S. CSE-CEE 2023)
Yuming Chang (M.S. CSE-CEE 2023)
Ziyi Dai (M.S. CSE-CEE 2023)
Ziqi Gao (M.S. CSE-CEE 2023)
Jiaojun Liu (M.S. CSE-CEE 2023)
Mugundhan Murugesan (M.S. CSE-CEE 2023)
Huadong Pang (M.S. CSE-CEE 2023)
Sanshrit Singhai (M.S. CSE-CEE 2023)
Xiaomeng Zhang (M.S. CSE-CEE 2023)
Ziwei Cao (M.S. CSE-ISYE 2023)
Tianyi Chai (M.S. CSE-ISYE 2023)
David Giles (M.S. CSE-ISYE 2023)
Troy Heinzmann (M.S. CSE-ISYE 2023)
Beichen Liang (M.S. CSE-ISYE 2023)
Tianzi Ren (M.S. CSE-ISYE 2023)
Qiyang Sun (M.S. CSE-ISYE 2023)
Junbai Tian (M.S. CSE-ISYE 2023)
Sven Voigt (M.S. CSE-ISYE 2023)
Shunxian Wang (M.S. CSE-ISYE 2023)
Jaylen Williams (M.S. CSE-ISYE 2023)
Sili Zeng (M.S. CSE-ISYE 2023)
Hanwen Zeng (M.S. CSE-ISYE 2023)
Zixi Zhao (M.S. CSE-ISYE 2023)
Yanxiang Zhou (M.S. CSE-ISYE 2023)
Shikai Jin (M.S. CSE-ME)
Junbo Peng (M.S. CSE-ME)
Stefan Quaadgras (M.S. CSE-ME)
This semester, the School of Mathematics represented all M.S. CSE graduates from the College of Sciences. They were:
Abhishek Dhawan (M.S. CSE-MATH 2023)
Alecsander Falk (M.S. CSE-MATH 2023)
Hao Hu (M.S. CSE-MATH 2023)
Xuejing Ji (M.S. CSE-MATH 2023)
Chi-Nuo Lee (M.S. CSE-MATH 2023)
Chengzhai Wang (M.S. CSE-MATH 2023)
Hao Wu (M.S. CSE-MATH 2023)