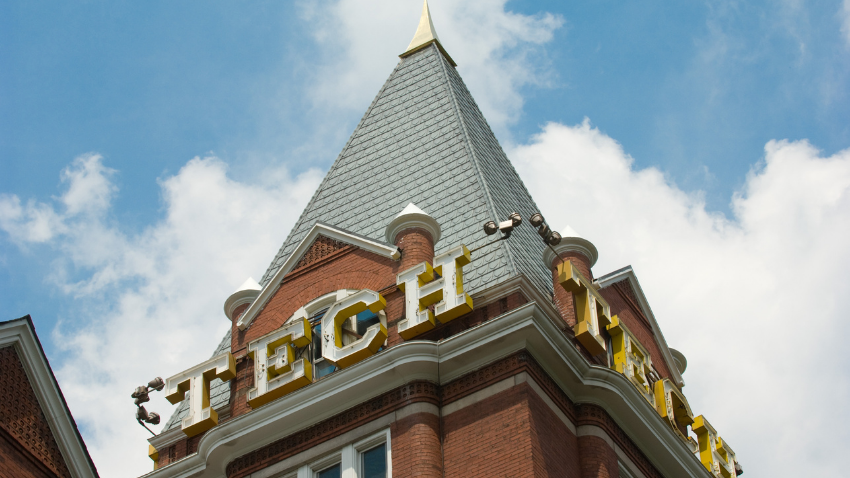 Machine Learning Center Welcomes Eight New Faculty Members
The Machine Learning Center at Georgia Tech (ML@GT) will welcome eight new faculty members to campus this fall. The center has grown steadily since it was created in 2016 and continues to emerge as a leader in machine learning.
With over 100 associated faculty members, these new affiliates represent the schools of Mathematics, Interactive Computing, ISyE and Georgia Tech Research Institute (GTRI). ML@GT offers world-class education, training, and advising to machine learning Ph.D. students and collaboration with industry partners.
"We are thrilled to welcome these new members to the Machine Learning Center at Georgia Tech family. Their expertise and commitment to innovation and creating the next great discovery is crucial to our success and we look forward to working with them," said Machine Learning Center Director, Irfan Essa.
Below are the eight newest ML@GT faculty. To see a full list of Machine Learning Center faculty, please visit http://ml.gatech.edu/people.
Pascal Van Hentenryck – A. Russell Chandler III Chair and Professor, H. Milton Stewart School of Industrial and Systems Engineering
Pascal Van Hentenryck is the A. Russell Chandler III Chair and Professor in the H. Milton Stewart School of Industrial and Systems Engineering at the Georgia Institute of Technology. Prior to this appointment, Van Hentenryck was a Professor of Computer Science at Brown University for 20 years, the leader of the Optimization Research Group at National ICT Australia (about 70 people), and the Seth Bonder Collegiate Professor at the University of Michigan. Van Hentenryck is an INFORMS Fellow and a Fellow of the Association for the Advancement of Artificial Intelligence (AAAI).
Van Hentenryck's current research focuses on artificial intelligence, data science, and operations research with applications in energy systems, mobility, and privacy. In particular, he leads the RITMO project in mobility, the Grid Research For Good project on energy systems, and the CBDP project in Constraint-based Differential Privacy. Van Hentenryck is particularly interested in the integration of machine learning, optimization, and differential privacy.
Ionel Popescu – Associate Professor, School of Mathematics
Ionel Popescu's research encompasses three areas. These include stochastic analysis on manifolds, random matrices that connect mathematics and physics, and. free probability, which is based on the concept of freeness (similar to the one of independence in classical probability). He has introduced novel approaches and tools, which revealed new and surprising phenomena that are different, or not even present, in the classical world. 
Popescu received his Ph.D. from the Massachusetts Institute of Technology in 2004. In 2001, he received a Romanian Academy award for "Contributions to Free and Non-Commutative Probability."
Heinrich Matzinger – Associate Professor, School of Mathematics
Heinrich Matzinger has mainly worked on algorithms to recover hidden information in random structures, as well as the mathematical structure of optimal alignments of random strings. He first started in his thesis on reconstructing a random text that had been mixed up by a random walk. The thesis was completed in 1999 under the supervision of Harry Kesten from Cornell University. 
After completing his thesis, Matzinger continued his work on the random text reconstruction problem, also called scenery reconstruction. He has worked with Ionel Popescu from Georgia Tech and Raphael Hauser from Oxford University on problems related to real life big data sets.
Tiffany Huang – Research Scientist II, Georgia Tech Research Institute (GTRI)
Huang joined the Georgia Tech Research Institute as a research scientist in 2009. Her current research is aimed at data analytics and machine learning/data mining algorithms such as clustering, classification, adaptive filtering/estimation techniques, and performance measures of the algorithms. Part of her work surrounds in data visualizations as well. She also has programming experiences in Python, Matlab, R, C++, SQL, and MySQL.
Huang earned her Bachelor of Science degree in Applied Mathematics from Auburn University in May 2009. She obtained her Master of Science degree in Statistics from Georgia Tech in May 2013.
Her current fields of interest include machine learning, data mining, artificial intelligence, adaptive filtering algorithms, data analytics, and visualizations.
Peter Anderson – Research Scientist, School of Interactive Computing
Anderson is a research scientist at Georgia Tech and is also associated with the Australian Centre for Robotic Vision. He recently submitted his Ph.D. thesis in computer science at the Australian National University, where he worked on deep learning, combining visual, and linguistic understanding, supervised by Stephen Gould.
Anderson was part of the team that won first place in the 2017 visual question answering (VQA) challenge at Computer Vision and Pattern Recognition (CVPR). He has published at conferences including CVPR, European Vision on Computer Vision (ECCV), International Conference on Robotics and Automation (ICRA), Conference on Empirical Methods in Natural Language Processing (EMNLP), and Association for Computational Linguistics (ACL).
Prior to studying computer science, Peter was a securities analyst. He holds undergraduate university degrees in finance and computer engineering.
Negar Kiyavash – Associate Professor, School of Electrical and Computer Engineering
Kiyavash joins Georgia Tech from the University of Illinois at Urbana-Champaign where she was a Willet Faculty Scholar in their Department of Industrial and Enterprise Systems Engineering and Department of Electrical and Computer Engineering. She attended Sharif University of Technology in Iran for her undergraduate degree before earning both her masters and Ph.D. from the University of Illinois at Urbana-Champaign.
Kiyavash's research interests are in learning and statistical signal processing with applications to privacy and security. She also joins the IySE and ECE faculty at Georgia Tech.
Swati Gupta – Assistant Professor, H. Milton Stewart School of Industrial and Systems Engineering
Gupta joined the H. Milton Stewart School of Industrial & Systems Engineering as an assistant professor in July. Prior to joining ISyE, she received the Simons-Berkeley Research Fellowship for two semester long programs on Bridging Continuous and Discrete Optimization and Real-Time Decision Making at the Simons Institute for the Theory of Computing in the academic year 2017-18.
Her research interests lie primarily in combinatorial, convex and robust optimization with applications in online learning and data-driven decision-making under partial information. Her work focuses on speeding up fundamental bottlenecks that arise in learning problems due to the combinatorial nature of the decisions, as well as drawing from machine learning to improve traditional optimization methods. Gupta is also interested in exploring the strategic behavior of customers, fairness and bias in decisions, and unintended consequences of optimization.
Gupta received a Ph.D. in Operations Research from Massachusetts Institute of Technology in 2017. Prior to that, she earned a Dual Degree (B.Tech and M.Tech) in Computer Science and Engineering from the Indian Institute of Technology, Delhi.
Her collaborative work on systematically evaluating heuristics and predicting the most promising heuristic for solving Max-Cut on any new problem instance received a special recognition in the INFORMS Computing Society Student Paper Competition in 2016. She was also a finalist for the INFORMS Service Science Student Paper Competition for her collaborative work on optimizing profits using promotions in retail. Gupta received the Google Women in Engineering Award in India in 2011.
Kyriakos Vamvoudakis – Assistant Professor, The Daniel Guggenheim School of Aerospace Engineering
Born in Athens, Greece, Vamvoudakis received the Diploma (a 5-year degree, equivalent to a Master of Science) in Electronic and Computer Engineering from Technical University of Crete, Greece in 2006 with highest honors. After moving to the United States, he studied at The University of Texas and he received his M.S. and Ph.D. in Electrical Engineering in 2008 and 2011 respectively. From 2012 to 2016, he was a project research scientist at the Center for Control, Dynamical Systems and Computation at the University of California, Santa Barbara. Vamvoudakis was an assistant professor at the Kevin T. Crofton Department of Aerospace and Ocean Engineering at Virginia Tech until 2018. He is now an assistant professor at The Daniel Guggenheim School of Aerospace Engineering at Georgia Tech.
His research interests include optimal control, reinforcement learning, and game theory. Recently, his research has focused on cyber-physical security, and safe autonomy.
Vamvoudakis is the recipient of a 2018 National Science Foundation CAREER Award, the 2016 International Neural Network Society Young Investigator (INNS) Award, the Best Paper Award for Autonomous/Unmanned Vehicles at the 27th Army Science Conference in 2010, the Best Presentation Award at the World Congress of Computational Intelligence in 2010, and the Best Researcher Award from the Automation and Robotics Research Institute in 2011.
He is a co-author of one patent, more than 110 technical publications, and two books. He is the Program Chair, of the 8th International Conference on the Internet of Things (IoT 2018). Vamvoudakis is currently an associate editor of Automatica, an associate editor of the IEEE Computational Intelligent Magazine, an associate editor of Journal of Optimization Theory and Applications, an associate editor of Control Theory and Technology, a registered electrical/computer engineer (PE) and a member of the Technical Chamber of Greece. He is a Senior Member of IEEE.