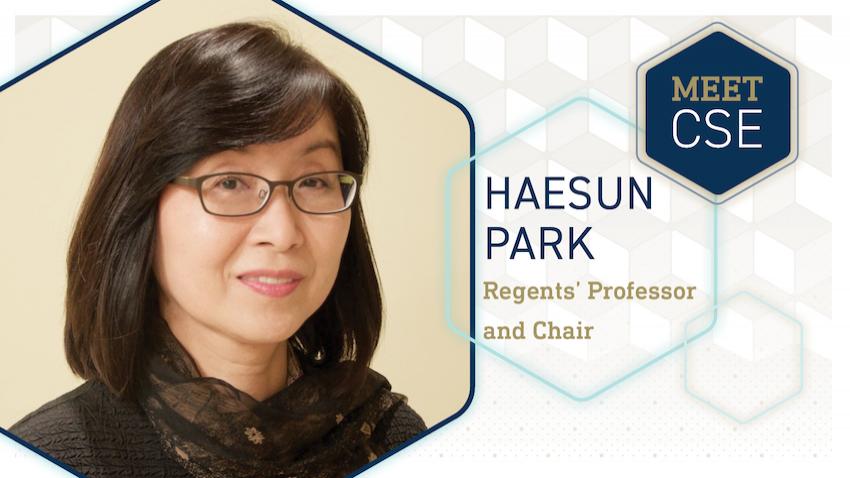 Meet CSE Profile: Regents' Professor and Chair Haesun Park
If there is one person that knows the most about the School of Computational Science and Engineering (CSE), it would be Regents' Professor and Chair Haesun Park.
Image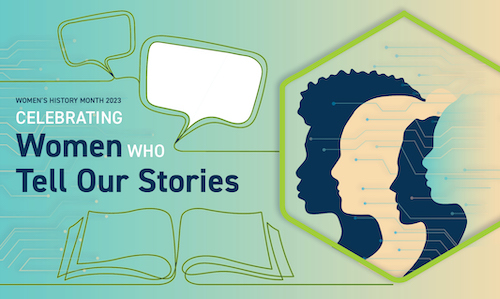 When Park arrived at Georgia Tech in July 2005, CSE was in its infancy. Degree programs weren't approved until 2007, and the Division of CSE, as it was known at the time, was not promoted to school status until 2010.
Park has seen a lot of firsts working at the School of CSE since its founding. In fact, she is personally responsible for a number of firsts in the School's history.
Just to list a few, Park was the School's first external hire. She was appointed as the first associate chair upon her arrival. And when Park accepted the chair position in 2020, she became the first woman in School history to ascend the role.
As part of our celebration of Women's History Month 2023, we sat down with Park to learn about what's kept her at Georgia Tech for nearly two decades, what's changed in the School, how she manages her professional and personal schedules, and much more.
Faculty: Haesun Park
Position: Regents' Professor and Chair of School of CSE
Research Interests: Numerical Computing, Data Analytics, Visual Analytics, Text Analysis, Social Network Analysis, Parallel Computing, Bioinformatics
Hometown: Seoul, South Korea
Let's start at the very beginning. What interested you about coming to Georgia Tech in 2005? When I was at NSF [National Science Foundation] as a Program Director, I learned that Georgia Tech was starting a new school of computational science and engineering. I thought that fit my background in numerical computing and my interest in data analytics at the same time. I thought it was a great opportunity. I applied and came for an interview, and it worked out; I have been here ever since.
And what has kept you here for the past 18 years? The collaborative culture. It was one of the factors that attracted me in the first place. This kind of culture is not easy to find but seemed to come naturally at Georgia Tech. Here, people always pursue innovative directions, are open-minded, and collaborate not only within the school and college, but also across campus. CSE is intrinsically a multidisciplinary area, so the collaborative culture is essential to be successful and I cherish that at Georgia Tech.
What is the biggest difference or change in the School of CSE between 2005 and 2023? We are at the stage that we are growing fast. This creates some challenges, like we don't have many senior faculty members. But at the same time, our junior faculty members are full of new ideas, volunteer and become more involved in organizing and improving the School. We're very young right now, dynamic and energetic, and I really enjoy that aspect about us.
What has been the most important constant in the School since 2005? A major factor that attracted me here was the fact that Georgia Tech started CSE as a school. Among all R1 doctoral universities to this day, Georgia Tech remains the only one where CSE exists as an academic unit, like a department or school. While CSE exists in the form of graduate programs or centers or so on at other research-intensive universities, theirs are not departments like ours. That means the faculty here decide our future, we do things based on our own vision, and we have our own faculty lines. We have always been at the forefront of creating and advancing the CSE discipline and that has stayed the same since the beginning.  
What do think is the School of CSE's greatest achievement? CSE research and education programs are built around the five core foundational areas, but at the same time we emphasize working on application areas with real-life impact. The beauty of CSE research is in the virtuous cycle where our foundational methods impact real-life applications and the applications motivate development of new foundational methods. That is one of our biggest strengths.
As mentioned earlier, we're also on the forefront of leading CSE as an independent academic discipline. There are still open discussions within our field, like what CSE graduate education curriculum should look like, and so on. We have already successfully implemented that, so we're working on spreading the word that we have created, and are further developing, a successful model.
You are the first woman to be chair of the School. What does this mean to you? I want to be a good role model and source of encouragement for women and underrepresented people, and for everyone in the School for that matter. I think we have been successful in improving diversity and I hope to do even better going forward. Most importantly, diversity does not end just with recruiting people. We will continue to develop better environments where everyone can flourish to their maximum potential as a member of CSE.
On top of being a world-leading researcher and long-standing leader of the School of CSE, you also are married and have a family. What has been the key to success in managing so many aspects of life? In our family, we have very open conversations. Our boys were exposed early to stories and conversations about work, family, whatever is going on, so they understand about what I do in academia and my workload. Sometimes, my professional life becomes hectic because of workload and deadlines, but we're able to adapt as a family through open communication. My family was pivotal for me to achieve what I wanted to do, and I am very thankful for their patience and love.
Continuing with work-life balance, what are your hobbies or things you do to relax? I have lots of hobbies and I like outdoor activities. My husband and I used to enjoy cross-country skiing, even in five-degree temperature, when we lived in Minnesota. We also like hiking. I like making things, so cooking, fixing things in the house, and learning things online while adding my own ideas to create something new. I also love playing piano, although my skills are becoming rusty in recent years.
Being a resident to the Atlanta area for nearly two decades, what do you like most about living and working in Georgia? I like the nature here and the variety of tree and flowers. The biodiversity is just amazing here. Every time we go hiking, the scenery is different, which is really special. I also like the people here. I find people jovial, open, and easy to talk to, and that gives me a sense of belonging. These aspects make living and working in Georgia enjoyable.
And of course, I love meeting my family on campus. My husband works at Georgia Tech Research Institute and our two sons, who completed undergraduate degrees at Tech, are now doing graduate work here.