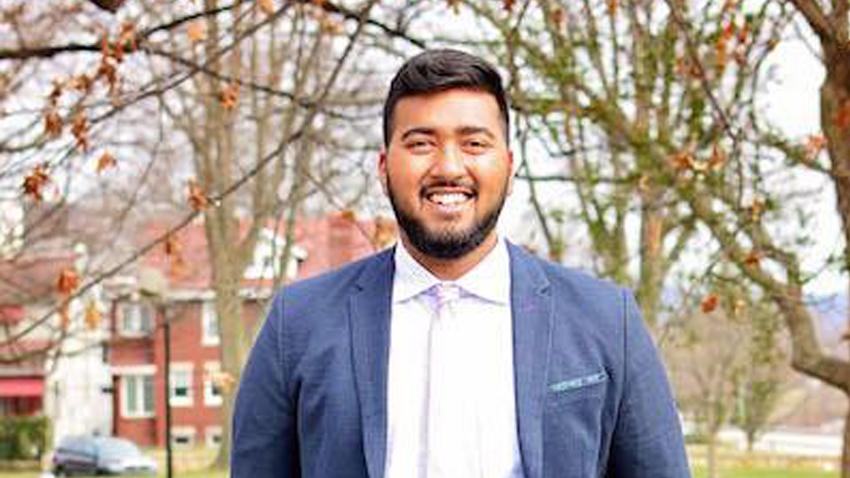 In Memoriam: Scholarship Honors Alumnus Sanat Moningi
When Sanat Moningi died in 2018 at the age of 24, his friends and family were not the only ones who felt like the world lost a unique spirit.
Everyone he worked with, helped, or even spoke to knew that there was never going to be another Sanat.
He was one of those people that you couldn't describe with a word or two. His qualities were unlike most. His actions, thoughts, and words made an impact on this world that many cannot do.
He had three separate memorial services: one held by his family in West Virginia, where he grew up, one at Georgia Tech, where he went to college, and one in San Francisco, where he moved to work afterward. There were many different gatherings and events to honor Sanat.
"That paints a true picture of how many people he impacted," said Ryan Merklen, who knew Sanat from their time together in Chi Phi. "He always asked what he could do to help those around him."
In fact, everyone who knew Sanat says the same things about him. The words brilliant, caring, trustworthy, reliable, hilarious, and beautiful were used to describe Sanat. One crucial thing that separated Sanat from others was that he always, from his earliest childhood, knew exactly what he wanted to do in the world: help others.
For the caring person he was, his family is honoring his spirit by endowing the Sanat Moningi Memorial Scholarship, which is being offered for the first time this fall. The scholarship, worth $4,000, will support a student who shares Sanat's commitment to hard work and to using serving their community.
[APPLY: Sanat Moningi Memorial Scholarship Application Deadline is Nov. 3]
"We think Sanat would be proud of us for doing this for Georgia Tech students," said his sister, Shalini Moningi.
"This scholarship represents who he was."
Growing Up Generous
Sanat's burning curiosity and selfless qualities were already seen at a young age. He offered to build a helper robot for his mother, Dr. Prasuna Jami, so that she could see more patients and spend more time with her children.
"Mom, I don't want to work like you, all day and all night," she remembers him saying. "I want to change the world."
Even at school, Sanat was noticed for his selflessness. In 2011, he attended the American Legion's Mountaineer Boys' State program and won the Frank Taylor, Jr. Award for his enthusiastic interest in the law and for displaying high moral character with honor, respect, and integrity.
"San Francisco was blessed to have Sanat for the time we did. He contributed hundreds of hours of volunteer time applying his skills to help others. His contributions will surely impact others for years to come." - Joy Bonaguro, City of San Francisco chief data officer
When his sister was having a tough time adjusting to college, Sanat decided to cheer her up.
"He planned a complete surprise birthday party with our family and friends," Shalini Moningi said. "I still don't know how — I mean, he was in eighth grade, he didn't even have a car."
"It really meant a lot to me," she said. "He was a little boy genius, but he was also a lot more. He really cared for people."
Sanat always made sure to make everyone as happy as they could ever be.
"I remember when I was about 6 or 7, at a family gathering everyone was having fun and all the kids were older than me so they left me out," his cousin Meenal explained. "As I was sitting in the corner bored, Sanat comes over to me. He starts making jokes and playing with me. Though he was 6 years older than me, he made sure I was having the best time I could have"
The Tech Years
It was obvious that Sanat blossomed at Georgia Tech, both socially and academically. He was the top student in the class and was named the Outstanding Freshman in Computing after his first year. In 2014, he won the ConocoPhillips Innovation Challenge before graduating with honors in 2015. These awards that Sanat got throughout his life are just symbols of the great kid Sanat was.
After his first semester, he joined Chi Phi. His parents were suspicious of fraternities at first, but Sanat's enthusiasm and success changed their minds.
"I'm very impressed with how much support his friends gave him," Dr. Jami said. In return, Sanat gave a lot of his time and talents as the fraternity's philanthropy chair. In his senior year, he won a national award from Chi Phi for his leadership and altruism.
"He set a new standard," said Merklen. "He connected us to the Boys and Girls Club, to Habitat for Humanity. He encouraged us to always try to place ourselves in our community."
Sanat's drive to help also took him into less conventional channels. He spent time tutoring a local high school student in the basics of computing. One Thanksgiving, he and a friend were grabbing dinner when they ran into a homeless man. They brought him back to their dorm and shared their food. This stands for the caring man Sanat was and the love he had towards others.
"He was very empathetically aware," Merklen said. "It bothered him when he saw someone he couldn't help."
The Real World
After graduation, Sanat Moningi moved to San Francisco for a job with Salesforce, where he was quickly promoted to the position of product owner. He moved in with another Salesforce employee, Ryan Flood, and their shared house became the center of a vibrant social scene.
"We had a lot of barbecues," Flood said. "Sanat would invite anyone and everyone." Once, a friend showed up at a barbecue in a suit, having come straight from a work function. The next thing Flood saw was that Sanat had changed into a suit to make his friend feel welcome.
He found time to do good as a member of Code for San Francisco, a nonprofit that finds ways to use technology to improve life in the city. Sanat co-founded the nonprofit's Data Science Working Group, which worked on issues including energy efficiency and housing approvals.
"A couple of years into that, we decided we wanted to do something in the government and politics space full-time," said Catherine Zhang, a fellow working group member. The two went on to found Voterly, a nonprofit that provided data services to local political campaigns.
They were a couple of months into their new venture when Sanat died accidentally and unexpectedly on April 21, 2018. More than a year later, his parents still hear from people who were touched by Sanat's kindness.
"He was so intelligent, so successful," said his sister Shalini. "But the best word to describe him would be caring."
Sanat used his data science skills since he was in college and developed his knowledge and talent to help the homeless all throughout the nation. He created data science working groups in San Francisco to better care for everyone, as well as projects for the environment and global state. He did all of this as part of his non-profit work.
Moving Forward
Sanat loved Georgia Tech, and Sanat loved to help other people. He truly made a change and to honor his work, dedication, and love, his family, endowing a scholarship in his memory just seemed right.
The Sanat Moningi Memorial Scholarship is for students with at least a 3.0 GPA and a drive to use technology to improve society and help others.
"Sanat wanted to use his intelligence and technical skills to do good for society," his mother said. "We are looking for someone with a passion to create who also wants to serve society in a creative way."
Jami said that applicants should know a few other things about Sanat.
"He was selfless, and he never cared about publicity," she said. "He was goofy sometimes, and other times he was hilarious. He saw problems and solved them on a large scale. He wanted to make a lasting impact in this world and that is just what he did.
"He wanted to use his intelligence to do some good."