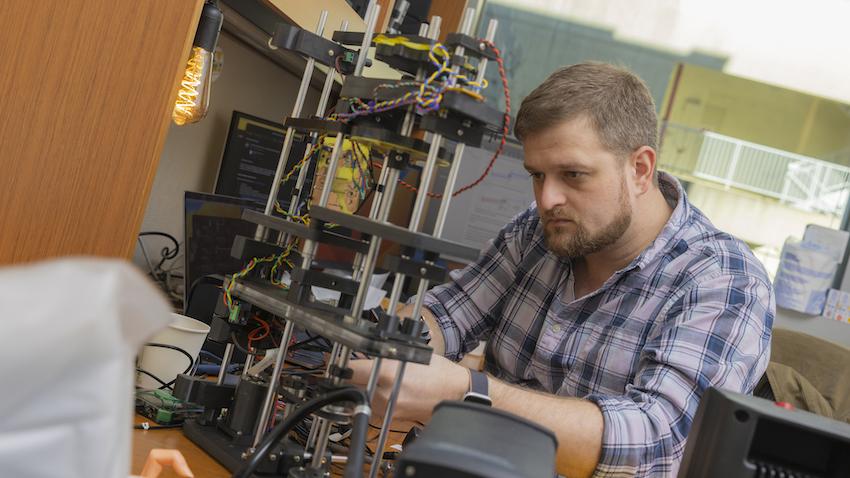 New Faculty Member Brings a Fearless Approach to Ubiquitous Computing
Alexander Adams has made the transition from full-time musician to full-time assistant professor in ubiquitous computing. His interest in learning how to build the tools and instruments he used as a musician led him back to school and set him on a path toward building wearable sensing devices.
Adams arrives at Georgia Tech after receiving his Ph.D. from Cornell University in 2021. After serving as a research scientist for the Precision Behavioral Health Initiative at Cornell Tech, Adams brings to the School of Interactive Computing a passion for developing equitable ubiquitous computing and wearable devices within the healthcare industry.
Adams is in the process of setting up his Uncommon Sense Lab, which will center around the development of hardware-based ubiquitous technology. Adams said the lab will be a place where the students he works with won't have to be afraid of throwing around big ideas.
"That's really what's exciting right now," Adams said. "In the short time I've been here, the undergrad and masters students are really sharp and unafraid to try stuff."
Adams will spend the spring semester completing the construction of his lab and recruiting students.
What interests you about working at Georgia Tech?
I was looking at interdisciplinary schools and schools that support interdisciplinary research. Georgia Tech is huge in ubiquitous computing. I've had lots of colleagues that worked here and students who worked with me who did their masters here. After interviewing, I just realized how much more Georgia Tech offered — not just in support for my type of work but people that complemented my work. I'm not a person who wants to do research and then stick it on a shelf and move on. I want to do research and hand it to someone who's an expert and start the next phase of what needs to happen, whether that be human-centered design or the psychology behind it, and then be there to hopefully see it in the hands of people in live scenarios.
What will your research consist of?
I'm a hardware guy. I build systems for feedback or sensing. My research agenda is on equity and accessibility in healthcare and addressing health disparities from a device. How can we make cheap devices that can attach to people's computers or phones that can give laboratory results at their home for more continuous care?
What inspired you to pursue this field of research?
It was a long road to get there. I was a professional musician before I was a scientist, and I went back to school to learn how to build the tools that I was using as a musician. My first project related to health was at Cornell, and some people heard that I had an audio background. They said they wanted to build a microphone to listen to the human body. That really hooked me — being able to build something and listening to different aspects of the human body and seeing how that connects to different things like chewing or swallowing or heart conditions. There are some really fulfilling solutions that come out of it.
What do you hope to accomplish in your research?
I'd like to see the stuff that comes out of this lab go out into the world and have an impact and to see startups come out of it and influence new standards in healthcare.
What are you looking forward to about teaching your students and how do you plan on working with them?
The plan is for me to teach ubiquitous computing. I love teaching. I get engaged by engaging students, so I make my courses interactive with a lot of back and forth. I'm looking for a different type of student and learning what they want and how they receive information. I'm looking forward to getting them involved in the research that's going on, getting them engaged in some of these processes, and teaching them it's okay to try and build something, it's okay to break stuff. I want to teach them to fail fast and be exploratory. Don't be restricted by what you read in one paper.
The following semester after next fall (2023), I'll be getting my boutique course together, which will be more focused on health technology.