Partnership with Meta Brings New Online Machine Learning Resources to HBCUs
Georgia Tech and Meta have launched a new co-teaching initiative, the Artificial Intelligence Learning Alliance (AILA), with the goal of bringing graduate-level machine learning educational opportunities to historically black colleges and universities (HBCUs) and other minority-serving institutions (MSIs).
For context, only 3.8 percent of computing Ph.D. graduates in 2020 were Black, Hispanic, or Native American, in a time when the field is desperately short of labor. And without a diverse machine learning workforce, it is less likely that artificial intelligence products and projects will serve diverse audiences well. Finally, machine learning is a topic that changes constantly, making it difficult for many institutions to stay on the cutting edge of the field.
AILA builds on an online deep learning course co-taught by Facebook researchers and Zsolt Kira, assistant professor of machine learning and co-director of the Machine Learning Center at Georgia Tech (ML@GT). That course combines theory and practice using current examples from Facebook's ongoing research and has been taught to 2,400 Georgia Tech students so far.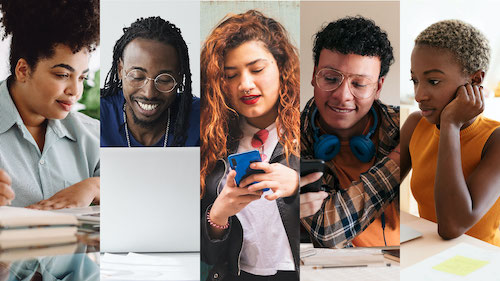 "The Facebook lectures provide students with real-world examples and techniques that are needed to deploy and scale algorithms," Kira said. "This is something that students always ask me for and being able to provide them this information from a large, well-known company that uses these algorithms to process billions of pieces of data per day is invaluable."
AILA is creating a consortium of HBCUs and other MSIs to build on that success. The courses will be available online, for free, through online learning platform Meta Blueprint. Faculty at member institutions will have access to a series of webinars on how to teach some or all the course content as part of their curriculum. Students will have the opportunity to work on real-life projects with Meta researchers. Grant funding will also be available.
"Teaming up with Georgia Tech to create AILA was a deeply thought out partnership that took a lot of effort We were looking to collaborate with a university known for producing large numbers of graduates from diverse backgrounds, and OMSCS, Tech's Online Master of Science in Computer Science, is one of the country's leading programs in doing just that," according to Meta's blog post announcing the partnership.
"The Machine Learning Center at Georgia Tech is committed to creating the next generation of leadership in innovative, sustainable and ethical AI," said Irfan Essa, senior associate dean of computing and ML@GT director. AILA allows us to reach out beyond our own degree programs and help to train future AI experts across the state and the nation."
AILA launches with Georgia Tech and eight other member universities from across the country:
Florida Agricultural and Mechanical University

Morgan State University

Alabama A&M University

University of Central Florida

Georgia State University

Florida International University

University of California Irvine

North Carolina A&T State University
"We have already seen algorithmic bias in AI systems in areas including health care, banking, hiring, and criminal justice," said Charles Isbell, Dean and John P. Imlay Jr. Chair of Computing. "We need a larger and more diverse machine learning workforce to identify and eliminate those biases, and to make sure that AI is responsive to all of the communities it affects."