PITAS Puts Physical Communication at the Center of Technology
Image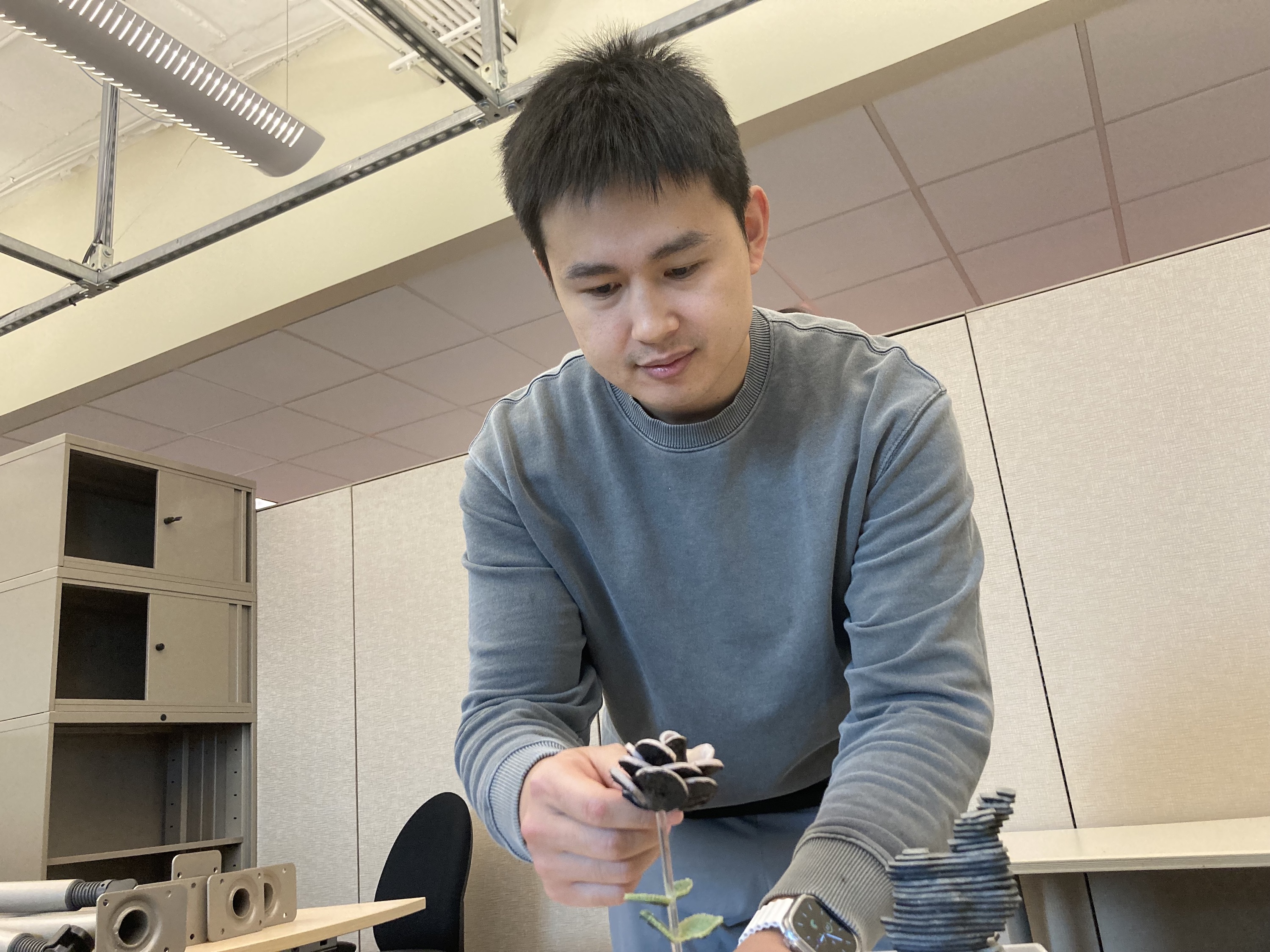 Tingyu Cheng, a Ph.D. student in the School of Interactive Computing, hasn't seen his family since right before the Covid-19 pandemic began. Cheng is from the Shenyang, Liaoning province in China, but he has been living and studying in the U.S. since 2011.
Zoom calls allowed him to communicate with his parents and let them know he was okay, but something was missing. The virtual connection just wasn't enough. But the problem went beyond missing the physical presence of his parents. He had limited contact with his friends as well.
That's how Cheng, who has specialized in developing smart materials in the field of human-computer interaction throughout his post-graduate career, came up with the idea for PITAS — an elastic, dual-layered thin-sheet material that can locally or remotely convey physical information such as shape, color, temperature, and texture.
Each of these types of physical information can be translated into how a person is feeling at any given moment. A change in shape, for instance, may mean someone is feeling well, while a change in color could mean someone is feeling lonely.
"We were trying to develop a new type of material that can deliver physical information to users either in the same location or across multiple locations," Cheng said. "We were largely motivated by the lack of physical touch during the pandemic. We were on Zoom all the time, but we did not have the physical contact that we had in our normal daily lives. We wanted to have a smart material system to bridge that gap to let people use our system to deliver different types of information."
PITAS was named a finalist in Fast Company's 2022 Innovation by Design Awards and will also receive international recognition at the Prototypes for Humanity (formerly known as the Global Grad Show), Nov. 16-17, in Dubai, United Arab Emirates.
Cheng describes PITAS as an input/output robotic sheet. Each sheet has a top and a bottom layer. The top layer is the actuating layer and is made of silicone and ethanol, and it responds to changes in pressure or temperature made to the bottom layer, which is composed of silicone and conductive carbon nanotubes.
Cheng said by adding an increase in temperature to the bottom layer through a power supply, the ethanol expands and causes the top layer to change shape.
"When ethanol starts to heat up, it changes phase from liquid to gas, but it's encapsulated inside the silicone material and cannot escape," he said. "That's how it causes the shape change."
When the temperature is reduced back to normal, the sheet flattens out to its original state.
To get the top surface to change color, Cheng inserts a thermochromic pigment that will change from one color to another at a certain temperature
There is as much craft as there is science surrounding PITAS. Users can cut the sheets into whatever shape they desire, whether through manual cutting with scissors or through a more advanced approach such as laser cutting and 3D printing.
Image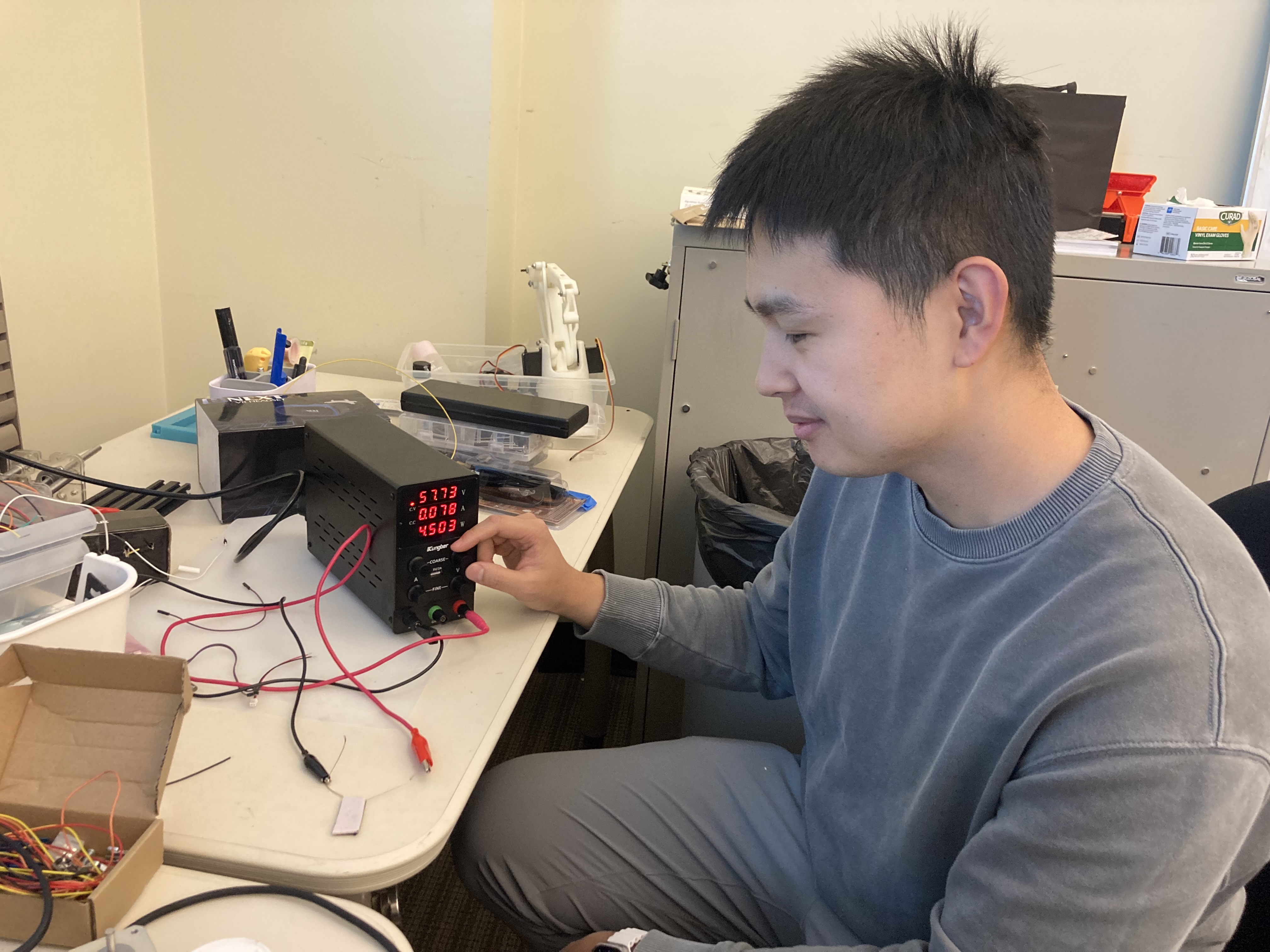 "Most soft smart materials are really hard to control and difficult for novice users to use," Cheng said. "We are the first smart material system that allows users to easily customize into different shapes."
This allows for the possibility to create 3D objects, such as plants or flowers for home décor.
Cheng created two artificial roses that can connect to each other through WIFI. Two people could each have one of the roses and be in different locations across the world but could still use the roses to communicate with each other.
When one person touches the leaf of the rose, causing it to change from green to yellow, the same leaf on the other rose will also change from green to yellow. This could be used as a signal for them to communicate to each other how they are feeling — whether they are depressed or lonely.
"When you see a flower blossom, that's normally positive information," Cheng said. "When you see the leaves turning green or a vivid color like yellow, and they're shrinking in size because lack of water, that's more negative information."
Cheng said PITAS could be mass produced at low cost and sold at an affordable price.
"We envision that users can store this material at home," he said. "We want to develop a very affordable and accessible system. That's another driving force."
Cheng and his collaborators are exploring other methods of communication through PITAS such as building a physical task management system for an office environment. An array of Post-it Notes with PITAS sheets attached to the backs could be used for an employee to communicate to their supervisor when a task is completed. The employee touches a Post-it Note, causing it to change shape along with the one it is remotely connected to at the desk of the supervisor.
"That's something we're still investigating," Cheng said. "We've gotten a lot of positive feedback in our user study for this project. They think it's useful and different. When it comes to task management, everything is digital, but all our users agree it's nice to have some physicality in certain scenarios."
While isolation has reduced since the pandemic began, Cheng's journey on the PITAS project has allowed him to realize the need for the conveyance of physical information in the digital age. And if a lockdown does happen again, PITAS can help people be more prepared to get through the isolation.
"I think that's a lesson this pandemic has taught us," he said. "Digital information may not be enough in many ways, especially to bring users closer. We will keep pushing the boundaries of this project to make it more reliable and more realistic so users can bring in this physical information."