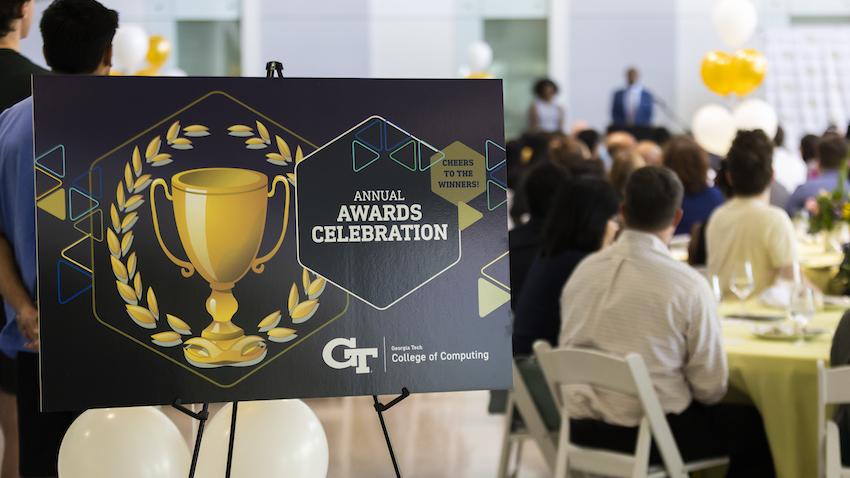 Power of People Recognized at College, Institute Awards Ceremonies
College of Computing Dean Charles Isbell has a saying that summarizes everything anyone needs to know about the College: "Our strength is, and always will be, our people." 
To recognize its meritorious people from the 2022-2023 academic year, the unit hosted its 32nd Annual College of Computing Awards luncheon on April 20.
Between the luncheon and other award presentations elsewhere at Georgia Tech, the School of Computational Science and Engineering (CSE) exemplified Isbell's words, showing that people make all the difference when it comes to leading technological research.
This was most evident through School of CSE Assistant Professor Srijan Kumar, who took the James D. Lester III Endowment Award, which is one of the most prestigious College awards and presented for noteworthy research in internet phenomena.
The Lester Award was an exclamatory end to a monumental year for Kumar. The award presentation comes just a month after Kumar received an National Science Foundation (NSF) CAREER Award and the National Academy of Science named him a Kavli Fellow for the second time in back-to-back years.
Kumar is just as much a caring mentor and educator as he is an accomplished researcher. In September 2022, he received a Georgia Tech Center for Teaching and Learning (CTL) Thank-a-Teacher award for his CSE 6240 course in web search and text mining.
Kumar was not the only School of CSE person recognized at the College's award luncheon. Fellow CSE students, faculty, and staff that received awards included:
Ph.D. student Ruijia Wang- Outstanding Graduate Head Teaching Assistant Award
Ph.D. student Agam Shah- Rising Star Doctoral Research Award
Alumnus Nilaksh Das (M.S. CSE 2017, Ph.D. CSE 2022)- Outstanding Doctoral Dissertation Award
M.S. student Alex Yang- Donald V. Jackson Fellowship Award
M.S. student Yingchen (Eric) Ma- Marshall D. Williamson Fellowship Award
Qi Zeng, an undergraduate student advised by Assistant Professors Spencer Bryngelson and

Florian

Schäfer

- Outstanding Undergraduate Research Award
Pratham Meta, an undergraduate student in Associate Professor Polo Chau's research group- Outstanding Second Year Leadership Award
Professor Srinivas Aluru- Outstanding Faculty Leadership Award
Postdoctoral Scholar Daniel Gibney- Outstanding Postdoctoral Research Award
Robert Donaldson, a teaching assistant in Chau's CSE 6242 Data and Visual Analytics class- Outstanding Instructional Associate Award
Communications Officer Bryant Wine- Outstanding Staff Impact Award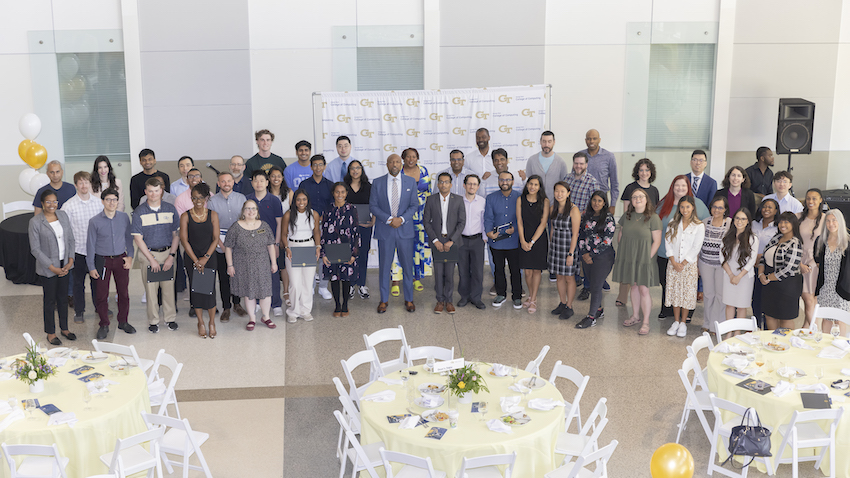 The College of Computing awards luncheon was not the only venue on Georgia Tech's campus where School of CSE people received awards and recognition this year.
Kevin Li, an undergraduate student in Chau's research group, received the Provost's Academic Excellence Award. Li also received the G.D. Jain Outstanding Senior in Biomedical Engineering Award.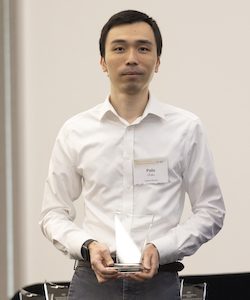 With a number of students from his group earning awards, Chau was also recognized for his noble efforts this year leading and molding students.
Chau received the Senior Faculty Outstanding Undergraduate Research Mentor Award at Georgia Tech's Faculty and Staff Honors Luncheon on April 21. The College of Computing also recognized Chau at its awards presentation for reaching ten years of service.
Another Institute award presented to CSE faculty was the Faculty Honors Class of 1940 W. Roane Beard Outstanding Teacher Award. Georgia Tech awarded this to Lecturer Max Mahdi Roozbahani.
School of CSE faculty also received awards off-campus from organizations closely aligned with relevant research fields.
The most recent and prominent of these was an Amazon Research Award, presented to School of CSE Assistant Professor Yunan Luo. This award will help Luo advance his research in computational biology and medicine, while also developing machine learning (ML) and artificial intelligence (AI) applications for use in other fields. 
School of CSE Associate Professor Elizabeth Cherry was part of a research team that received the 2023 Georgia Clinical & Translational Science Alliance Award. School of Physics Professor Flavio Fenton, a CSE programs faculty member, led the group in research to better understand arrhythmias in human hearts.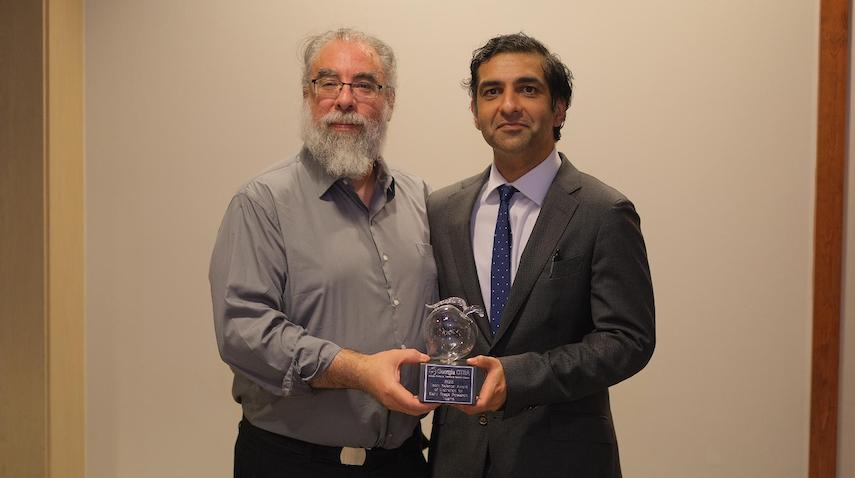 C. David Sherrill, a Regents' professor with joint appointments in the School of Chemistry and Biochemistry and the School of CSE, received the 2023 Charles H. Herty Award. Awarded by the Georgia Section of the American Chemical Society, the Herty Award recognizes research, education, and service activities in the Southeast by a chemist.
While awards presentations commonly occur at the end of spring semester throughout Georgia Tech, numerous School of CSE students and faculty received notable awards earlier in the year.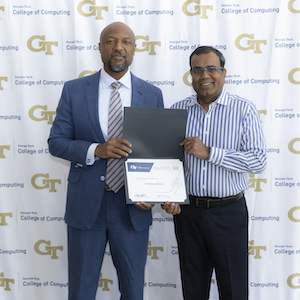 Professor Srinivas Aluru joined Kumar as School of CSE faculty who received a CTL Thank-A-Teacher award in September 2022. Aluru received two of these awards for his CSE 4220 Introduction to High Performance Computing course.
A research team that included School of CSE faculty, students, and alumni were finalists for the Gordon Bell Prize, presented at the International Conference for High Performance Computing, Networking, Storage, and Analysis in November 2022. These included Professor Rich Vuduc, Ph.D. student Vijay Thakkar, and alumni Ramakrishnan Kannan (Ph.D. CS 2016) and Piyush Sao (Ph.D. CSE 2018).

School of CSE faculty and students also received distinguished fellowships in 2022-2023 worthy of recognition.
In November 2022, School of CSE Assistant Professor Anqi Wu was recognized as a DARPA Riser. She followed this up in March 2023 receiving the Sloan Research Fellowship.
ML Ph.D. student Zijie (Jay) Wang also received a fellowship in March, the prestigious Apple Scholars in AI/ML PhD fellowship. Wang was one of only 22 young researchers from around the world to the receive the fellowship.
Last but certainly not least, School of CSE Ph.D. student Gaurav Verma received a Snap Research Fellowship in December 2022. Only 12 computer science students from around the world, including Verma, received this fellowship.
"It is an honor to celebrate the accomplishments this year by all our students, faculty, and staff. Our award recipients have much to be proud of," said Haesun Park, School of CSE Regents' Professor and chair. "We are privileged to have so many esteemed colleagues, students, and staff in our School."