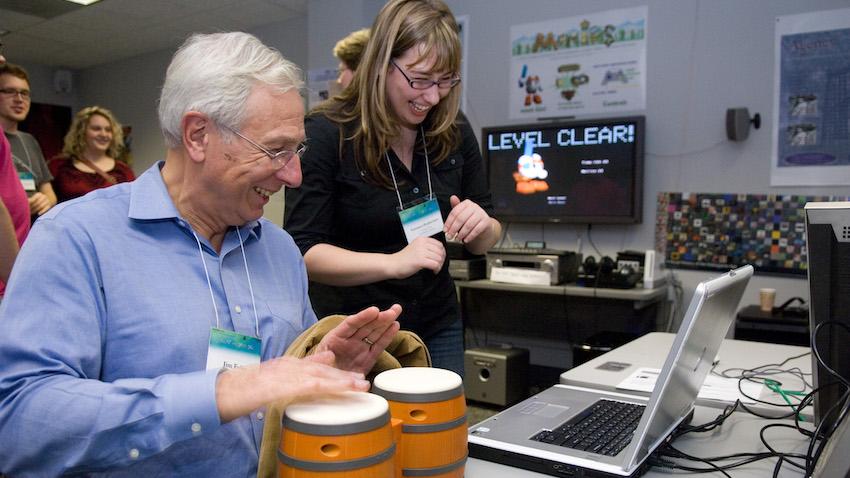 Professor Emeritus and GVU Founder Reflects on 50 Years of Attending SIGGRAPH
Jim Foley stepped off the train in Los Angeles, ready to receive one of the biggest honors of his career.
A train fanatic since he was a boy, Foley wanted to enjoy the occasion and talked his family into taking the train to travel to the 1997 SIGGRAPH conference. After all, this SIGGRAPH differed from all the others he had attended. He was accepting the Steven Anson Coons Award for lifetime contribution in front of 48,000 people.
But once they arrived at their hotel in Los Angeles, there was a problem. Foley had booked the rooms for the day before he arrived. The hotel, believing he was a no-show, canceled his reservation.
"Fortunately, Scott Owen, a Georgia State professor who was the conference organizer that year and also happened to be from Atlanta and lived about two blocks away from me, heard our plight and pulled some strings," said Foley, Professor and Fleming Chair Emeritus and founder of the GVU Center at Georgia Tech.
"I don't think we would have been out in the street, but there were so many people at SIGGRAPH that year all the hotels close to the conference were full."
Foley has too many memories to count from attending SIGGRAPH over the years. But if there's anyone who should tell the story of SIGGRAPH from its inception in 1974 to its most recent conference in August, he would be an ideal candidate. SIGGRAPH celebrated its 50th edition this year, and Foley has been to all but one of them.
"SIGGRAPH started in 1974 at about 600 people," Foley said. "Back in the beginning, it was more about computer-aided design and two-dimensional drawings of circuits and floor plans for houses and printed circuit boards. That all changed when memory became inexpensive enough to store and display a color image in real time."
Foley and the GVU Center became household names at SIGGRAPH in the 90s. In 1990, Foley published a second edition of Computer Graphics: Principles and Practice, one of the most widely used computer graphics textbooks with more than 500,000 copies sold in 10 languages. After launching the GVU Center in 1991, Foley attracted top faculty, top students, and more funding to Georgia Tech.
"We got to be very well known in computer graphics," Foley said. "GVU became well known. In 1996, U.S. World & News Report had graphics interaction as a category, and we were number one ahead of Brown and MIT."
With the rapid output of Aladdin, Beauty and the Beast, The Lion King, Toy Story, A Bug's Life, and other animated films in the 90s, Disney and Pixar Studios became a mainstay at SIGGRAPH.
At that same time, GVU became a recruiting hotbed for Disney and Pixar Studios, which hired Georgia Tech graduates to work on the biggest titles in animation. Among those graduates are Wayne Wooten (The Incredibles, Cars, Ratatouille)and Heather Pritchett (Mulan, Tangled).
The only year Foley could not attend SIGGRAPH was in 2011 when he traveled to Vietnam with the National Academy of Engineering to interview students applying for fellowships in the U.S.
"I was very sad because up until then I had a perfect attendance record," he said. "As it stands, there's only one person, a friend of mine, who has a perfect attendance record, the only one we know of. Two people we know of have all but one year of perfect attendance. I'm one of them."
Foley traveled to Los Angeles to attend his final SIGGRAPH in August. He gave one final speech and said goodbye to colleagues he had been attending the conference with for decades.
"It was very emotional," he said. "The most emotional time was my talk. I talked about how I went to Michigan as an electrical engineering major, and I took a graphics course that changed my life. If I hadn't taken that course, I have no idea what I would be doing, but I am so glad I took that course because that really charted my course into academics."
Computer graphics is a continually evolving field of research, but the experience that SIGGRAPH can provide doesn't change, Foley said.
"It has provided students the opportunity to mingle with computer graphics professors and industry researchers," he said. "Unlike the typical academic conference of all researchers, this is a conference where researchers could understand the real-world problems that practitioners have, which could help inform the researchers' agendas."
Faculty Papers Recognized Among the Best in SIGGRAPH History