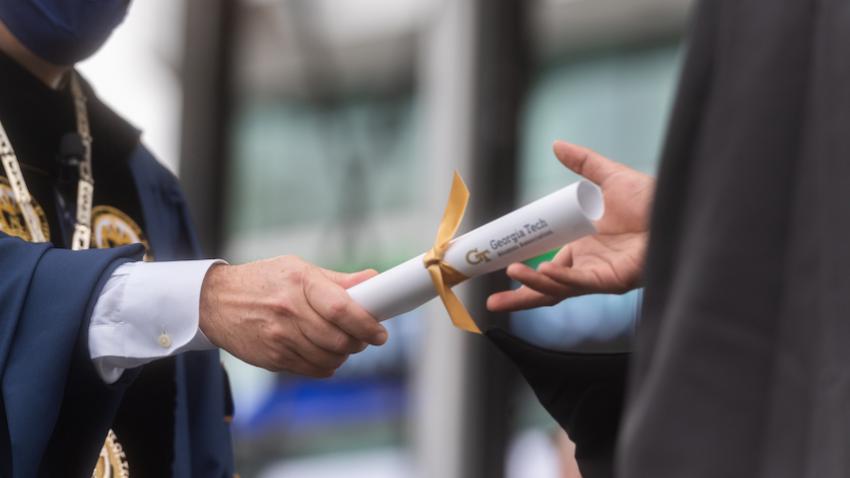 School of CSE Celebrates 2022 with Fall Convocation Ceremonies
This weekend, Georgia Tech will celebrate thousands of graduates who, at the turn of a tassel, will transcend from students to alumni. The School of Computational Science and Engineering (CSE) will participate in Fall 2022 Commencement festivities by conferring 23 graduate degrees, Dec. 16, at Bobby Dodd Stadium.
Donning her gold, velvet robe and tam for the first time, Xiaojing An (Ph.D. CSE 22) will walk across the stage at the doctoral ceremony, set for 10 a.m. While attending Georgia Tech, An studied under School of CSE Professor Ümit V. Çatalyürek where she specialized in research on high performance sparse computation and data tiling.
An's next step is to work at Meta where she will apply knowledge and experience attained through her Ph.D. studies.
"My favorite memory from Georgia Tech is hanging out with my amazing friends in the lab," An said. "They all have great vibes, positive attitudes, and they were all super nice and supportive. They made my Ph.D. experience so much happier."
Georgia Tech will bestow 22 total graduates with Master of Science in Computational Science and Engineering degrees at the 3:00 p.m. ceremony. New CSE alumni include:
Riya Bakhtiani (MS CSE 22)
Sasha Bakker (MS CSE 22)
Kevin Cai (MS CSE 22)
Jongseok Han (MS CSE 22)
Christopher Hillenbrand (MS CSE 22)
Julien Jaber (MS CSE 22)
Zhe Ji (MS CSE 22)
Zongen Li (MS CSE 22)
Ziwen Lin (MS CSE 22)
Mengyang Liu (MS CSE 22)
Bichuan Mo (MS CSE 22)
Sarath Mutnuru (MS CSE 22)
Hanting Su (MS CSE 22)
Abhijeet Tomar (MS CSE 22)
Kethaki Varadan (MS CSE 22)
Zhaoding Wang (MS CSE 22)
Shuran Wen (MS CSE 22)
Ziheng Xiao (MS CSE 22)
Chengde Xu (MS CSE 22)
Shuhan Yang (MS CSE 22)
Along with these 20 graduates, two Ph.D. students completed their M.S. degrees as they continue studying in the School of CSE's doctoral program.
Patrick Lavin (MS CSE 22) will continue research on computer architecture simulation in high-performance computing. He is advised by School of CSE Professor Rich Vuduc and School of Computer Science Senior Research Scientist Jeff Young.
Apaar Shanker (MS CSE 22) studies under Regents' Professor Surya Kalidindi, who holds a joint appointment between the George W. Woodruff School of Mechanical Engineering and the School of CSE. Shanker's research focuses on developing artificial intelligence tools for automating and accelerating materials discovery. 
Tech no longer holds summer graduation activities, so nine School of CSE graduates that completed degrees this past summer will have the opportunity to participate in the Fall 2022 Commencement.
While "getting out" of Tech is the crowning achievement for many of these graduates today, bright futures still lay ahead.
These graduates will move on to work in industry, academia, and national labs, embodying the School of CSE as a diverse, interdisciplinary innovation ecosystem composed of award-winning researchers. This graduating class represents the next generation of leaders who will solve future problems in science, engineering, health, and social domains.
"Georgia Tech is a highly respected school in computer science and technology, thus opening more opportunities for students," An said. "Tech has also prepared us through both theoretical and practical courses and provided us with resources for research and study to help us become better researchers."