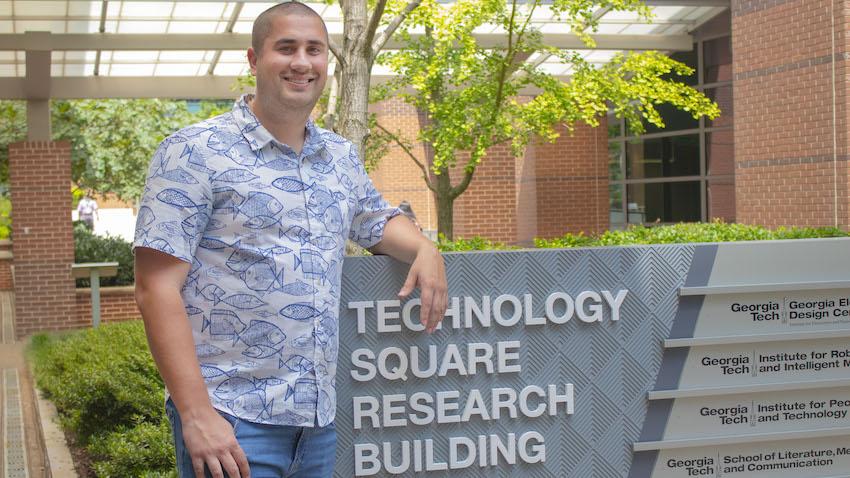 Stewarding the Land with Technology: Q&A with New Associate Professor Josiah Hester
Josiah Hester believes battery-free devices are the future of computing, and the quicker we get there, the better.
Hester is the new Catherine M. and James E. Allchin Junior Faculty Chair at the College of Computing. He's also a new associate professor in the School of Interactive Computing and computer science. Hester spent five years as an assistant professor at Northwestern University, where he directed the Ka Moamoa Ubiquitous and Mobile Computing Lab. 
Hester focuses on developing sustainable, battery-free technology, including health-wearables and interactive devices. Through his lab, Hester developed a "FaceBit" smart face mask that can monitor someone's heartbeat and is powered by a person's breathing.
He also co-developed a battery-free handheld gaming device nearly identical to the original Game Boy, except that it's powered by small solar panels and energy produced by mashing the buttons on the console. Hester will be moving his Ka Moamoa Lab to Georgia Tech from Northwestern.
In February of 2022, Hester received a Faculty Early Career Development Program Award from the National Science Foundation. In 2021, he was named to the Brilliant 10 by Popular Science, and he received the Most Promising Engineer or Scientist Award from the American Indian Science Engineering Society, which recognizes significant contributions from the indigenous peoples of the North America and the Pacific Islands in STEM disciplines.
What interests you about working at Georgia Tech?
I'm really looking forward to collaborating broadly with Georgia Tech faculty and students around sustainability and health, areas that Tech has global leadership in and strong institutional support.  
What will your research consist of?
I lead a research lab exploring energy-efficient computing in the context of global-scale applications. I work toward a sustainable future for computing informed by my Native Hawaiian (Kanaka maoli) heritage. We mainly try to figure out how to make ubiquitous computing and sensing devices like wearables, smart devices, and sensor networks run forever with a lower impact on the planet and the humans using or tending to these devices. I call these sustainable computational things. A core problem we tackle is designing computers that harvest energy from the sun, motion, and other sources instead of relying on a battery, which is toxic, short-lived, and unsustainable, so that these devices can be useful for decades.
Recently, we have been investing a lot of time into applying these techniques to large-scale sensing for sustainability and conservation with a $5 million grant from the National Science Foundation. By partnering with indigenous knowledge holders, conservation organizations, and academics across political science, ecology, and environmental sciences, we can develop holistic approaches to managing precious natural resources for generations. 
What inspired you to pursue this field of research?
My work sits in the space where computing becomes physical. This means that we can use computing and intelligent systems to start addressing actual problems in the physical world. I wanted my work to matter to communities and people living now, so we find research problems in real-world constraints. As a Native Hawaiian, I was raised to believe that we had an unbreakable bond to steward the land (Aloha ʻĀina). Since the beginning, computing has been focusing on performance at the expense of energy and power. We cannot continue in this manner. I was inspired to figure out if we could do better, sustainable, battery-free, long-term. What happens if we design for those features instead of performance alone? Thankfully, many others have the same inspiration, and we really see change focused on longer-term computing. It is an exciting time for the field.
What do you hope to accomplish in your research?
We are trying to show that an alternative, more sustainable, and more equitable version of computing is possible. Right now, wearables, the internet of things, and edge computing favor only the few that can afford them. I interpret sustainability broadly, where devices should be low cost, easy to program and use, low burden, and last forever — or at least longer than your average cell phone. It's a big goal, and we have a lot of work to do, but I'm excited that so many at Georgia Tech are already partnering with us to make it happen. 
What are you looking forward to about teaching your students and how do you plan to work with them?
I am looking forward to partnering with my students on cutting-edge research and learning from each of them how they interpret sustainability, access, and the burden of computing. I hope I can equip them to tackle new challenges around health and sustainability in their communities.