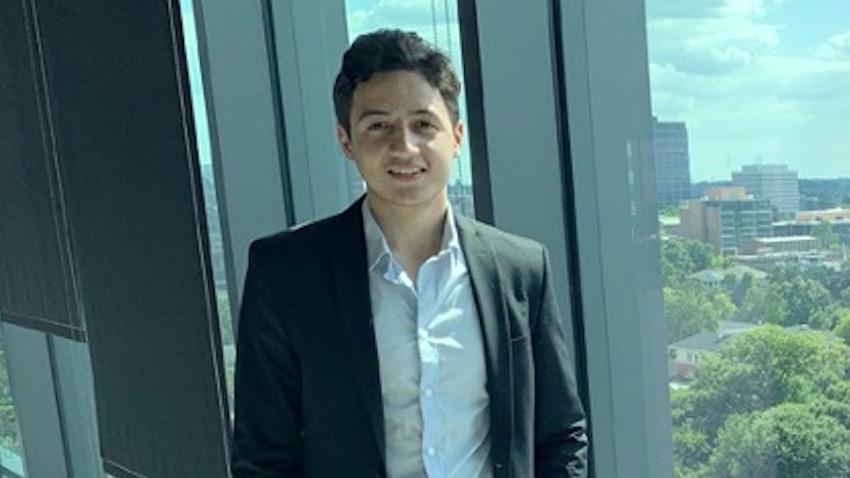 Student Achievements Highlight Entrepreneurial Culture
Frustrated by not being able to find a study partner for a looming final exam, computer science (CS) major and budding entrepreneur Malek Amiri knew there had to be an easier way.
"I just wanted a quick way for students to connect with classmates so they could find someone to study with. So, I thought, 'Ok, this app should be a thing,'" said Amiri, now a third-year CS major.
n fall 2018, Amiri turned this seemingly simple idea into Huddler, a mobile app that lets Georgia Tech students instantly connect with and create study groups for all undergraduate and graduate-level courses.
Although it hasn't become a startup company quite yet, Huddler is doing well in the App Store, moving toward an Android version, and ready to expand to other universities across the country.
Amiri is one of many students whose recent achievements are highlighting the College's flourishing entrepreneurial culture.
In fact, whether working individually or as part of a team, CS students are in the entrepreneurial mix across campus. This year's InVenture Prize at Georgia Tech finals is a good case in point. Of the six finalist teams vying for the grand prize in March, four had members majoring in CS. One team was made up entirely of CS students.
"Computer science has become crucial to advancing science and engineering across the board so it makes sense that there were so many CS majors participating in this year's finals," said Monica Sweat, College of Computing senior lecturer and director of the Division of Computing Instruction.
Team Nix, featuring two CS majors, didn't win the InVenture Prize, but it did earn the People's Choice award for its e-cigarette device that automatically tapers nicotine levels. Today, Nix is in business and taking pre-orders for its product.
The team got its start in a new section of the junior capstone design course, which the College helped launch in fall 2018. Known as Create-X Capstone Design, the new section is dedicated to entrepreneurial projects that pair CS majors with engineering students to solve problems and potentially start companies. "Not all projects become monetized or mature into a startup," said Olufisayo Omojokun, GT Computing senior lecturer and College lead for establishing the Create-X Capstone Design section.
"The underlying goal, however, is to foster entrepreneurial confidence within the students so that when they are out in the real world, they'll have the tools and skills to overcome the initial hurdles of realizing future ideas and solutions." The new capstone section is one of many resources for students in the Georgia Tech entrepreneurial ecosystem, which includes:
The Advanced Technology Development

IPaT Industry Innovation Day/GVU Center Research Showcase

The Georgia Tech Research Corporation (GTRC)
These, and a host of other resources, are avail able to connect student entrepreneurs with seed funding, peer networks, and technical, business, and commercialization guidance. Perhaps most importantly, these resources help students identify and connect with faculty mentors.
Early in his undergraduate career, Aditya Vishwanath (BS CS 2018) was able to connect with Assistant Professor Neha Kumar and her lab, contributing to a number of projects that bring low-cost virtual reality (VR) education to students around the world.
Following successful projects with school children in Atlanta and Mumbai in 2017, Vishwanath capped off his work at Georgia Tech leading a large-scale validation study to determine the effectiveness of using VR in the classroom.
Nearly 350 Cobb County high school and middle school students participated in the project, which let students explore plant and animal cells from the inside using their smartphones and inexpensive cardboard VR viewers.
Seeing the need and potential firsthand, Vishwanath – now a Knight-Hennessy Scholar at Stanford University – and his partner, Amrutha Vasan (BS ISYE 2018) founded Inspirit, a mobile platform for hosting VR-based learning content for the classroom.
The company is now based in Silicon Valley. It recently earned investor funding and is currently producing 30 additional hours of STEM VR content for its K-12 catalog, which is available by monthly and yearly subscription plans.
"I can't imagine that I would be where I am
today without having a faculty mentor like Dr. Kumar. Just knowing that I could rely on her experience and expertise was a huge advantage and helped me to better understand where we could take this company," said Vishwanath