Students Partner with Discovery Education to Develop New AR Education Tool
When it comes to expanding immersive technologies in the classroom, little progress has been made in creating interactive ways for high school students to learn higher-level math.
It's a problem that three Georgia Tech graduate students studying human-computer interaction (HCI) are addressing by designing a new augmented reality (AR) tool.
What started as a master's project turned into a potential breakthrough when Doris Amouzou, Madeleine Paulsen, and Tymirra Smith approached Discovery Education with their idea for an AR learning tool for higher-level math subjects such as geometry, trigonometry, and calculus.
Having already developed AR applications such as Sandbox AR and Timepod Adventures, Discovery Education took interest in the idea of enhancing immersive learning for an underserved subject and offered to partner with the group of students.
"The most exciting part of this project is being able to explore something that not only we were curious about, but we found an industry partner that was equally curious, and they've been an excellent resource, and they've helped guide us," Paulsen said.
Lisa Katz, vice president of research and analytics at Discovery Education, said the organization's partnership with the students was a timely one, and it is the first time it has partnered with an HCI program like the one at Georgia Tech.
"Further exploration into content applications of immersive technology in the classroom is top of mind for Discovery Education in 2023," Katz said. "Through the partnership with Georgia Tech's HCI program, we collaborated on research protocol development and joint national studies that gathered information on interest and aptitude to use immersive and interactive technology in the classroom."
Amouzou, Paulsen, and Smith are advised by Carrie Bruce, research scientist at the School of Interactive Computing and assistant director of the MS-HCI program, and Kantwon Rogers, a computer science Ph.D. student and instructor. Their project will map out a design for an AR tool that serves as an accessible and safe space for learning, reduces anxiety, and engages learning interests for complex subjects.
Amouzou said the initial version of the group's AR tool will be geared toward learning the unit circle, which is a circle with a radius of 1.
"The unit circle is this concept that bridges students into learning higher education math. It's a concept that teachers have found to be difficult for students to grasp, but it is the foundation to understanding precalculus," Amouzou said.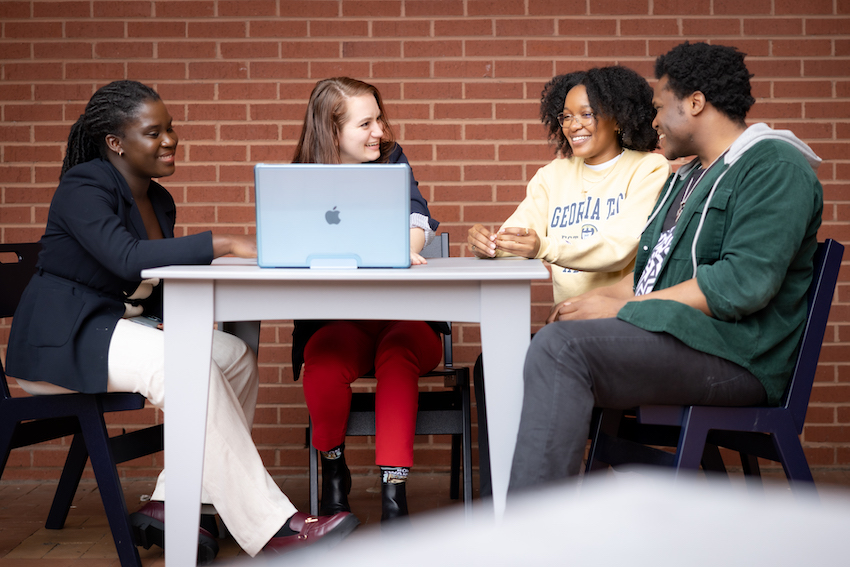 To get an idea of how to build the tool for a modern classroom environment, the team worked with public, private, and homeschool student groups in the metro Atlanta area and organized focus groups.
First, the student researchers found that digital resources help teachers close the gaps in student understanding and that geometrically teaching the unit circle helps them better conceptualize it.
While AR learning technologies improve engagement, previous studies show that they've struggled to make significant improvements in learning outcomes, a trend that Amouzou said the group would like to break as they design their AR tool.
One reason for that might be because most tools fail to be explainable, Amouzou said. The feedback the researchers received from student interviews and surveys points to a consensus that students prefer to know why the material is being taught. Explaining why students need to learn the unit circle is just as important as teaching how it works.
"It's very difficult for some people to see math in their own world," Amouzou said. "But math is everywhere. Maybe our tool can help them see that a bit more and explain how math is all around them."
The best way to do that has been through incorporating 3D models to teach the concepts, which students said was the most helpful way to understand the material.
"Running these math concepts that are three-dimensional and very visual concepts with a visual tool could be really powerful in helping students gain a deeper understanding," Paulsen said.
The group also interviewed teachers for their project and found many yearn for supplemental material to support traditional learning methods. According to Discovery Education's latest annual survey, 66 percent of educators used more supplemental resources than they did in their previous year of teaching.
Some teachers told the group they already use digital tools as either a warm-up method or as homework assignments. But the real hope is to have a tool that will foster independent learning.
"Since this is something that they will also be using in the classroom, getting their insights is important," Amouzou said. "All the teachers agreed that using digital tools in the classroom helps bridge the gap in student understanding."
With a foundation for the design in place, the team will share its findings with Discovery Education and hope to see continuing support as they begin the development phase.
"In terms of the life of this project, it's to be determined, but it's something that helps them explore the processes they have in place — their design methods, their research methods, and then where they can take it in the future," Paulsen said.
"Connecting with those leaders and their organization has been a phenomenal way for us to envision what could be next. But that's up to us with what we design and what they think about our design. We're excited to see where it could go."