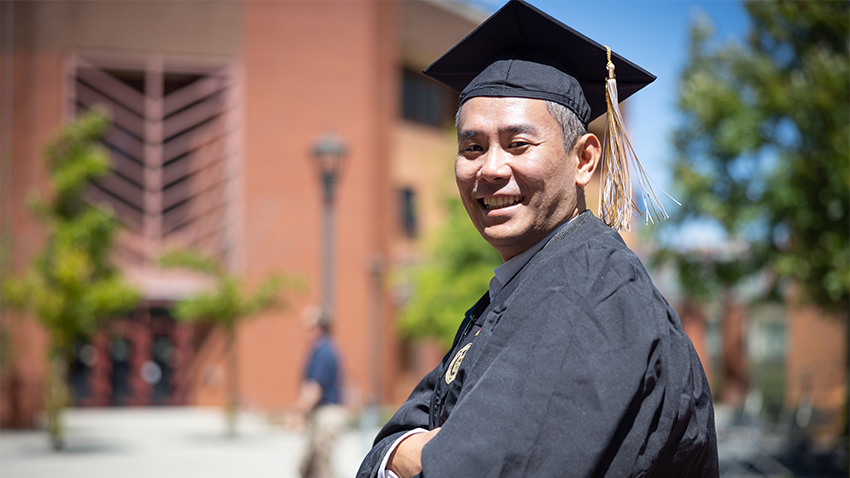 Tibetan Student Earns Degree, Heads Back to the Global Cyber Hotspot
He travelled 7,704 miles from Dharamshala, India to Atlanta and spent two years fine tuning his cybersecurity capabilities so that when he returns to the Central Tibetan Administration (CTA), also known as the Tibetan Government-in-Exile, he can continue protecting the online assets of the exiled government.
Tenzin Chokden's cybersecurity journey began when he was hired by the CTA's Tibetan Computer Resource Centre (TCRC) in 2013, placing him in one of the biggest hotbeds for cyber-attacks in the world. He and his colleagues were the underdogs in a fight between their exiled government and attackers located in the People's Republic of China.
"The resources they have what we have is unparalleled," said Chokden. "Our government has limited or mismatched resources and it is easy for people to lose hope, but what keeps us going is not the technology, it is fighting for what we believe in. It is presenting our identity and our culture even in cyberspace."
It is important to understand that the CTA faces a wide range of cyberattacks on a regular basis. Government employees and journalists are extensively trained in the best cybersecurity practices to keep their citizens' information safe. In the past, advanced persistent threats like 2009's GhostNet saw China-based cybercriminals send malware laced emails to targeted Tibetan officials. The effort successfully corrupted around 1,300 computers in more than 100 countries.
This large and existential challenge is what Chokden faced every day during his eight years working at TCRC. He expects to face similar problems once he returns home this summer. For his practicum at the School of Cybersecurity and Privacy (SCP) he is doing a security assessment that will act as a foundation for his job with the exiled Tibetan government.
"The practicum project I am working on will help me step back into my role after spending two years away while I earned my master's," said Chokden. "I actually thought about doing a Ph.D., but my scholarship program requires that I return home for a period of time."
If he were to pursue an advanced degree, Chokden wants to study the impact of advanced persistent threats that China-based hackers launch against Tibetans and other impacted people groups around the world. He wants to continue his work at Georgia Tech and invite other researchers to the CTA to study the attacks his government faces.
Academics who actively study the cyber conflict between Tibet Government in Exile and the People's Republic of China are far and few between. The Citizen Lab, a research group at the University of Toronto's Munk School of Global Affairs, is one of the only groups outside of Tibet that study suspected Chinese incursions on Tibetan digital networks.
"Anything you can think of in espionage and cybersecurity happens in Tibet," said Jon Lindsay, Georgia Tech associate professor and co-editor of China and Cybersecurity: Espionage, Strategy, and Politics in the Digital Domain. "We are practically sending Tenzin to an active threat environment."
He adds that Tibet has long been the epicenter of cyberattacks and advanced persistent threats. This might make researchers looking to venture into this field hesitant out of fears that Chinese based hackers would begin to target them in retaliation.
Image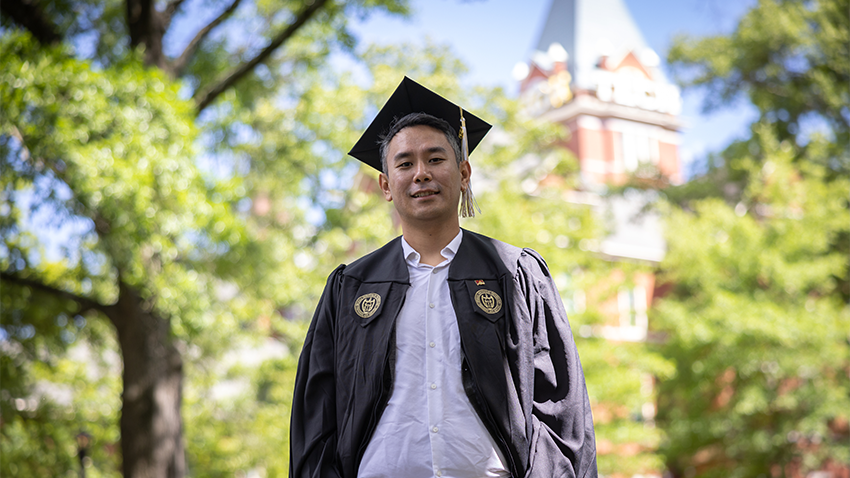 (Photos by Kevin Beasley/College of Computing)
However, Chokden expects retaliation from online threat actors, which he says comes with the job. To him, the fear that comes from being targeted by such a powerful entity is a unique experience.
"When I tell you about this, you hear from the perspective of a third party," he said. "But if you go there and feel the firsthand experience of the Tibetan people and other marginalized groups, you feel the magnitude of what it is like to be targeted and you may feel more invested."
The new Georgia Tech alum views his return to the CTA as another new challenge, similar to the one he undertook when he landed in Atlanta two years ago. Chokden recalled feeling like an imposter when he first arrived on campus but was quickly welcomed by his professors and classmates. Without the invaluable support of Assistant Professor Brendan Saltaformaggio, Professor Mustaque Ahamad, and Regents Professor Sy Goodman, he would not have been able to succeed during his time at Tech.
"We have some of the best professors in the world. They believed in me and my ability" the graduate said. "It is to the vision of His Holiness the Fourteenth Dalai Lama, a refugee leader who has led the Tibetan Freedom Struggle with peace and compassion, and love, of my family and friends, that I have come this far in life. To live in truth even in technology."
Chokden walked the Commencement stage in early May and received his Master of Science in Cybersecurity. The master's degree is interdisciplinary with the College of Computing, the Ivan Allen College of Liberal Arts, and the College of Engineering. Both traditional and online students are represented in the below list.
Saumya Agarwal
Brantley Heron Alvanos
Gary Alan Andersen
Hsinhsian Appulingam
Shanmugam Arthanari
Grant William Austin
Adetoyese M. Bakare
Betul Denise Benzer
Olavo Borges De Oliveira Filho
Vishnu Harsha Boyapati
Jason Lamont Boykin
Bradley Mark Bryant
Michael Joseph Cataletto
Tinomutenda Chikate
Tenzin Chokden
Andrew William Chung
Michael Thomas Cole
Thomas Blake Conner
James David Davidson Jr.
Chelsea Janae' Davis
Endale Asefa Defersha
Keval Chandreshbhai Desai
Sandesh Nathan Devarapalli
Erick Omar Duran Nunez
Aarushi Dwivedi
Philip Ogaga Egbetho
Nasryn El-Hinnawi
Dominic José Eldridge
Zachary Allen Fink
Casey Lawrence French
Davit Gabrielyan
Unique R. Glover
Jake Ronald Robert Gord
Adrija Goswami
Michael Douglas Grasso
Wanda Guo
Kaitlyn Nicole Hart
Steven R. Hart
Elizabeth Loegel Holland
Yizhi Huang
Crystle Johnson
David Arthur Johnson
Lee Johnson
Christelle Joseph
Shreejeet Prashant Kadam
Rajeew Sandaruwan Kaluthanthri Patabendi
Han-Chung Kang
Zinet Kemal
Beyza Umran Kepir
Anderson Kunho Kim
Mihaela Larisa Kirkland
Tony Kirkland
Michal Krupa
Omega M. Kwanga
Kinman Lam
Telia Renee Lecompte
Jerome Christopher Lovato
Keith Kenneth Lunden
Sahibzada Ali Mahmud Todd R. McKeever
Rajat Mehra
James Alexander Michael Mertz
Daniel Michaud-Soucy
Avani Modak
Idiris Abdullahi Mohamed
Dawood Fakhruddin Mohammed
Oscar Monge
Vaibhav Nagar
Faina B. Nakhimovsky
Tuan Vu Ngo
Jimmy Trong Duc Nguyen
Bhavinkumar Balubhai Patel
Ricardo Posada
Gayathri Rajakumar
Subhiksha Ramanathan
Vivek Ravindra Ramcharitar
Andrew S. Reina
Gabriella Riffle-Gonzalez
Mehran Safizadeh Shabestar
Quentin Lee Samuels
Matthew Adam Schwager
Alexandria Segovia
Joaquin Andres Serna
Mehul Shah
Sneha Janani Shekar
Anusha Shenoy
Sateesh Krishna Shiradwade
Yuliya Sergeyevna Slesareva Godoy
Alexander James St. Pierre
David C. Steckbeck
Apostolos Stergiou
Timothy Scott Sutton
George Henry Mawuli Tamakloe
George Ison Thekkedath
David William Tyler
Vipul Pramod Ujawane
Ganesh Devendrappa Vanahalli
Michael Christopher Vanover
Suresh Velagaleti
Yathiendra Vunnam
Joshua Weintraub
Melaku A. Weldesenbet
Wade Vincent Wells
Thomas Preston Westbrook
Thomas Craig Woodard
Jingli Yan
Xiaoyi Zhu