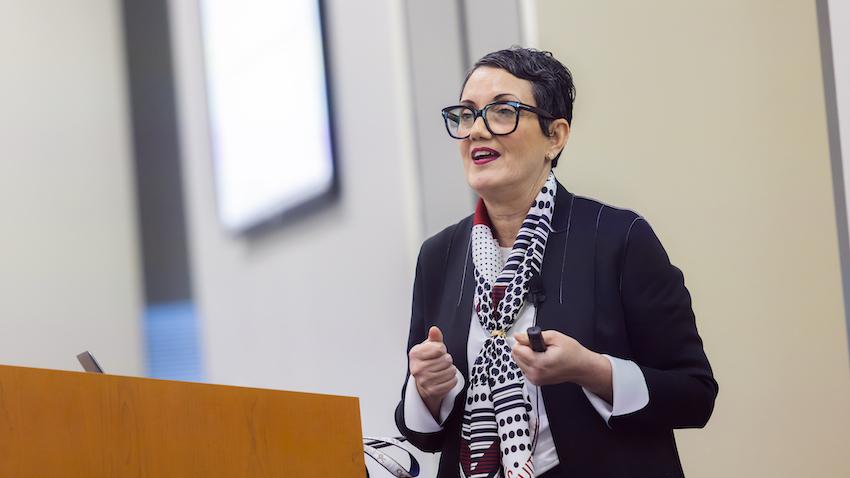 UX Design MOOC Among Top 250 Most Popular Online Courses Ever Created
In 2014, Georgia Tech paved the way for high-quality online education when it created the Online Master of Computer Science in Computer Science (OMSCS), offering the first affordable, fully online master's degree in the nation.
OMSCS has since produced nearly 6,500 graduates, and as of 2021, it had more than 11,500 students enrolled, making it the largest online master's program in the U.S.
Along with supporting OMSCS, Georgia Tech also uses massive open online courses (MOOC) to offer people a taste of some of the Institute's best programs without having to enroll. For instance, people can take a free introductory course that's part of the Master of Science in Human Computer Interaction (MS-HCI) curriculum, one of the Institute's flagship programs.
Introduction to User Experience (UX) Design is taught by Rosa Arriaga, an associate professor and associate chair for graduate affairs at the School of Interactive Computing. The course is based on the Introduction to Human-Computer Interaction course (CS6750), a required course for MSCS-HCI students at Georgia Tech.
Since Arriaga launched the MOOC in 2017, more than 340,000 people have enrolled, with about 10 percent completing the course. Earlier this year, Class Central listed Introduction to User Experience Design as one of the top 250 most popular online courses ever created.
[RELATED: Top-Ranked Online Courses Reaching Students from Around the World]
The course is offered through online education platform Coursera. According to the company's statistics, Introduction to User Experience Design has prompted 12 percent of students who complete the course to start a new career, while 24 percent received a tangible career benefit, and 16 percent received a pay increase or promotion at their job.
"Over the years, this course has continued to have a lot of appeal," Arriaga said.
"Coursera offers courses for people who can't go to Georgia Tech, for people who can't go to Harvard, can't go to the University of Washington — they can actually take these incredible classes for free."
According to Coursera, Arriaga's course gets about 2,000 new enrollees per week, and she said she gets frequent emails and messages on LinkedIn from people who have completed the course, thanking her, and telling her how much the course has helped them.
"I get these messages from all over the world," Arriaga said. "Some people have invited me to give talks. People are always telling me they took the course from me and really liked it."
The course is not offered for credit, but those who complete it can purchase a certificate of completion from Coursera.
Raising Brand Awareness
Georgia Tech has five courses on Class Central's Top 250 list, which means each has a minimum enrollment of 160,000. Arriaga's UX intro course is the second-most popular course offered by Georgia Tech behind Speak English Professionally: In Person, Online, and Over the Phone, which has an enrollment of just over 832,000 and is taught by the Georgia Tech Language Institute.
While these courses don't count toward a credit in degree program like the OMSCS, Arriaga said there are plenty of benefits for the users and the Institute. She said her course is targeted toward people who think they may have an interest in HCI. Students are under no obligation to complete the course, so Arriaga said having a 10 percent completion rate says something about the course's value.
"If you start a class and you find out it's not at all what you thought it would be, then it's a good thing you didn't finish it," she said. "For the people who were interested, they do complete it."
And they've learned more about the HCI program at Georgia Tech and what the Institute has to offer. It's just one more way for Georgia Tech to put its brand out there, Arriaga said.
"It's very gratifying to know you've put something out there that has so much visibility. It's also visibility for Georgia Tech. At the end of the day, even if people don't finish my class, they've already thought of Georgia Tech as this place that has these fantastic opportunities."