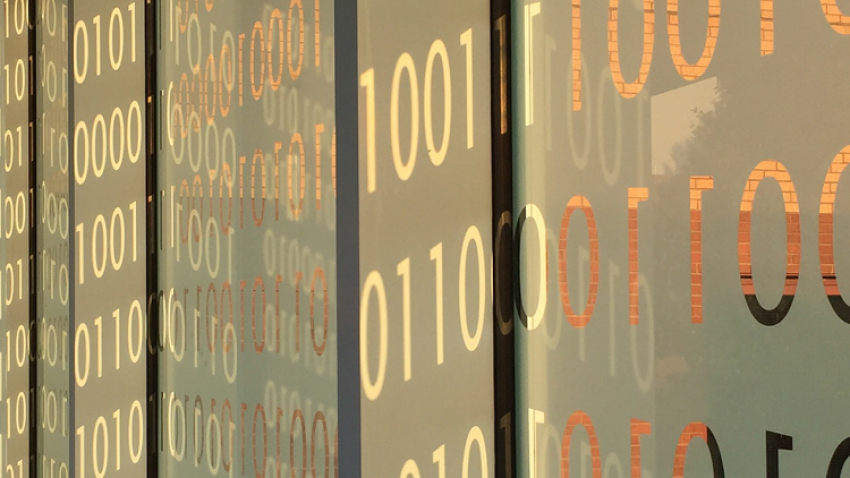 Joseph Anz Goes from Mars to OMSCS
Joseph Anz is no stranger to balancing multiple projects. The Online Master's of Science in Computer Science (OMSCS) student was only 16 when he started working at NASA's Jet Propulsion Laboratory (JPL).
Computing was a natural fit for Anz, who once hacked his TI-84 graphing calculator to solve high school calculus problems. His teachers took note, challenging him to create programs for his homework. They also encouraged him to take college-level computer science (CS) courses in his sophomore year. By that summer, he was interning at NASA.
As it happened, Anz's internship coincided with NASA's development of the Mars Rover Curiosity. As part of the team responsible for publicly promoting Curiosity, Anz created websites and wrote articles on the rover. His contributions were acknowledged when NASA etched his name on one of the rover's microchips.
"It was extraordinary to be part of Curiosity's development, and to watch it launch and successfully land," he said. "That's one of the reasons why I'm still at NASA. To be super young and get to partake in big historical milestones at my workplace has really given me a sense of community and belonging."
Eight years later, Anz is an enterprise applications software engineer in the JPL, where he develops in-house products for the lab's 6,000-plus engineers and scientists. His projects have included everything from cost-estimation tools to creating a modeling environment for spacecraft construction.
Finding OMSCS
Now, he's set to achieve another big accomplishment: getting an OMSCS degree in interactive intelligence in just 18 months.
Anz always knew he wanted to get a graduate degree to complement his undergraduate education in CS and engineering at the University of California, San Diego. Yet, he didn't want to lose the community and work he had at the lab. Fortunately, OMSCS offered Anz the chance to do both.
[RELATED: OMSCS: Five Years a Cyber Pioneer]
"When I get home, I don't want to just spend my time on Netflix," he said. "I want to try and jump-start my career and actually study and grow."
Anz is one of many OMSCS students currently working at JPL. His former supervisor, in fact, introduced him to the program. Having a real-world community to get advice on which classes to take or homework help was one of the main reasons Anz chose Georgia Tech's program.
Succeeding in OMSCS
Still, Anz credits his self-discipline for his ability to power through two courses a semester, a rate that is much faster than most students'. He usually works weeknights from 10 p.m. to midnight or catches up on Saturdays. He admits it's not easy, but he likes the challenge.
"The key for me is time management and setting deadlines," he said. "I am very disciplined and self-driven, and that's the requirement for being successful in an online program because you don't have people watching you."
All the late hours add up, though. Anz has been able to apply his classes directly to his career and see the impact. In particular, he credits OMSCS Associate Director of Student Experience David Joyner's emphasis on conducting user research to drive application requirements and design.
[RELATED: Careers, Grad School, Kids: One Family's Story of How They Make OMSCS Work]
"OMSCS really helps in my career because I am developing applications for different audiences, like scientist and engineers," he said. "Having classes that touch on topics like health informatics and machine learning for stock trading helps me engage with different audiences."
When Anz isn't working or studying, he practices barista skills and listens to music. Ultimately, he hopes what he learns through OMSCS can help him bridge his passions for creativity and computing.
"My emphasis has always been making people happy and fostering interaction with my audience - that's what brings me joy," he said. "I want to develop meaningful and cool applications for the users."