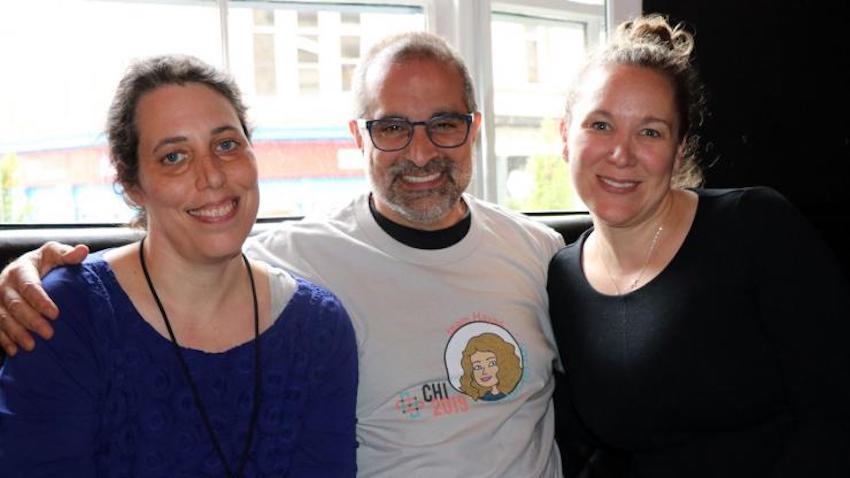 Two Georgia Tech Alums Receive Prestigious Awards at CHI 2019
Two former Georgia Tech students were recognized by the CHI community this week in Glasgow, U.K., one for her overall contributions in human-computer interaction at the conference and another for her long history of promoting social action within the community.
Jennifer Mankoff, one of Professor Gregory Abowd's first of 30 Ph.D graduates in 2001, was inducted into the prestigious CHI Academy this week, and Gillian Hayes (2007), also advised by Abowd, was awarded the Social Impact award.
Mankoff, who was Abowd's third ever Ph.D. graduate, joined an exclusive community that includes eight Georgia Tech faculty members. Most recently, Professor Amy Bruckman was inducted a year ago.
Mankoff noted the mentors, like Abowd, she had along the way to give her that opportunity. Abowd provided the introduction for Mankoff at the awards ceremony for the CHI academy. She credited her research community and the CHI community for giving her the freedom to pursue the kind of research that she was passionate about.
"The openness to let people be able to work on whatever they're passionate about and see that has value is something that's been important to me over the years," Mankoff said. "More than once, I've shifted to another area that I wasn't working in before and maybe a lot of others weren't either. It's a sign of how open the community is."
Seated at a reunion party for the Abowd "family" – academics who were part of a lineage that began as doctoral students in Abowd's lab – she noted the importance of having a vibrant community like that.
"We were very lucky to be there at the beginning, helping to form his group and to learn from him and all the energy he brings to this group," she said. "It's one of the strongest networks I have at CHI."
Hayes received her Social Impact award just 12 years after Abowd received his own in 2007. She said it was an especially proud honor to have the distinction of following in the footsteps of her advisor.
"The way he has instilled in us an ethos of being able to give back, being able to bake in community outcomes with our research outcomes and define good, interesting research problems that also really solve real-world problems, and work in partnership with communities," Hayes said.
Hayes, whose 30-minute talk at the conference focused on ways in which the community needed to do better in thinking about issues of accessibility, access, racial and gender inequities, and much more, said she thought the CHI community was leading the way as a standard-bearer for diversity, inclusion, and service.
"But we still have a long way to go," she said.
Her talk, she hoped, would be a call to action to the rest of the community.
"This is our time, and we can control our destinies and we can create truly community-driven innovation," she said.