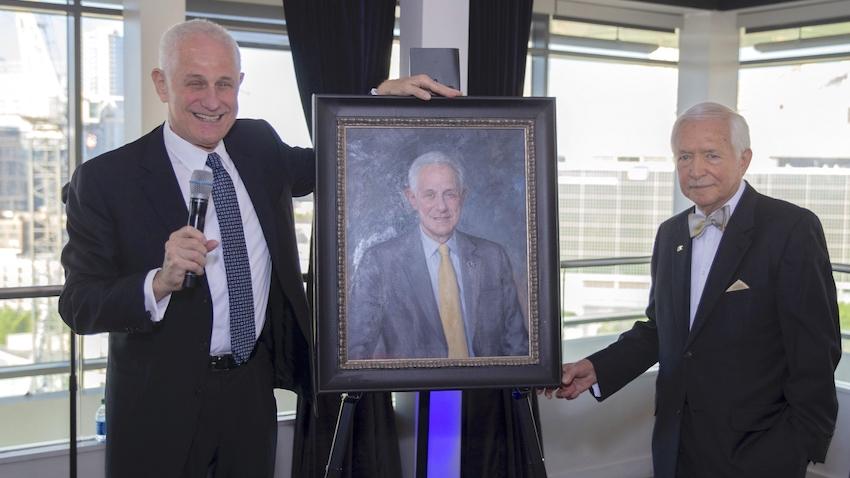 Suitable for Framing: Galil Portrait 'Captures Something Real'
Good news! Although Dean Zvi Galil is stepping down on June 30, you will still be able to see him every day in the College of Computing hallway.
A new portrait of Galil now hangs just outside the dean's suite in the College of Computing Building. The framed oil painting of Galil joins portraits of his John P. Imlay Jr. Dean of Computing predecessors, founding dean Peter Freeman, and Richard DeMillo.
The painting was unveiled on May 3 as part of the College's Hall of Fame induction ceremony. Freeman, who served as master of ceremonies for this part of the event, spoke about Galil's lasting contributions to the GT Computing community just before the unveiling of the portrait for Zvi and the 125-plus guests in attendance.
The painting, approximately 24 inches tall and 20 inches wide, is by renowned portrait artist Sergei Chernikov. He also painted DeMillo's portrait so, according to LaDonna Cherry, the College's creative services manager, it made sense to work with Chernikov on Zvi's portrait.
"I've always admired Sergei's portrait of DeMillo. He has a classic sensibility and a real talent for using color and light to identify and animate something real about his portraiture subjects," said Cherry, art director for the project. "I think that this is certainly true of Zvi's portrait."
[RELATED: Charles Isbell Named Next Dean of the College of Computing]
Work to get to the unveiling began in August 2018. That's when Birney Robert – College event coordinator and project leader – received approval to engage Portrait Associates, a local firm representing artists available for a commission from across the country, to identify an artist for the project.
Once he agreed to pick up the commission, Chernikov was provided a few photos of Galil taken by the College's staff photographer, Terence Rushin. These images served as a starting point for a series of sketches and color studies. With feedback from Robert and Cherry, Chernikov refined these early works over the next few months until he was ready to proceed with the final portrait.
[PHOTO GALLERY: Find Your Favorite Zvi Pics!]    
"Zvi means so much to the College community that we wanted to make absolutely sure that this portrait was done right," said Robert, who holds a bachelor of fine arts degree.
"I'm happy to say, I think Sergei nailed it!"