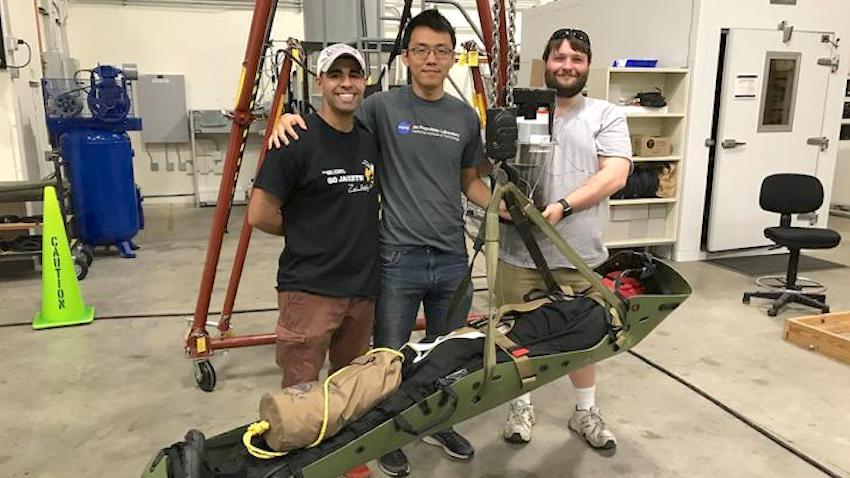 Grad Student Finalist in National Collegiate Inventors Competition
A project that grew out of personal experience with one of the trickiest parts of military medical airlifts is now among the 10 finalists in the Collegiate Inventors Competition (CIC) organized by the National Inventors Hall of Fame (NIHF).
College of Computing alumnus and current computer science master's student Mahdi Al-Husseini has developed a tool that improves safety during helicopter rescue operations.
Working with his first-year Tech roommates Joshua Barnett and Anthony Chen, Al-Husseini has produced a prototype stabilization system for helicopter hoist operations — the rescue or medical evacuation procedures that usually happen under the worst of circumstances.
"Patients often must be evacuated over water, above sloping terrain, and in hostile territory," said Al-Husseini, now a U.S. Army officer and helicopter pilot who flies medical evacuation missions.
"Helicopter hoist operations are some of the most dangerous work Army aviation crews perform."
Usually, aircrews must lower a stretcher-like basket called a litter to carry a patient. Then the patient is lifted through the air to the helicopter cabin. But it's no simple task.
"The rotor blades of a hovering helicopter force a turbulent downwind deflection of air known as downwash. Downwash, in conjunction with low-wind conditions and poor helicopter control, can cause a hoisted load to rotate quickly — up to several full revolutions per second.
"In addition to psychological trauma and disorientation, uncontrolled spin like that can result in physical injury or even death," Al-Husseini said.
The team's solution is the Stabilizing Aerial Loads Utility System, or SALUS (pronounced SAL-us, and derived from the Latin word for safety). It's a reaction-wheel stabilizer that stops the litter from spinning out of control. The team is close to signing a research and development agreement with the military for a battery of tests, including testing on a UH-60 Blackhawk helicopter.
The team has been working from opposite sides of the continent since they all finished their bachelor's degrees at Georgia Tech in 2018. Barnett and Chen are pursuing doctorates at Stanford University while Al-Husseini, who also earned bachelor's degrees in biomedical engineering and public policy, works full-time in the Army and is finishing his master's degree in Atlanta. Despite the physical distance, they have developed a proof of concept and five ever-more-advanced prototypes in a year.
"We developed SALUS to allow hoist operators to focus their efforts on the already risky process of extracting a patient," Al-Husseini said.
"Soldiers complete their missions with valor knowing that, should they be wounded, medical evacuation crews will expedite their treatment and facilitate their return home. SALUS seeks to support those efforts as seamlessly as possible."
The SALUS team is presenting its proof of concept to a panel of NIHF inductees and officials from the United States Patent and Trademark Office (USPTO). The event is set for October 30 at USPTO headquarters in Alexandria, Virginia.
Along with SALUS, one other Georgia Tech invention, SecURO, is among the 10 CIC finalists this year.
Edited from an original story by Joshua Stewart published to the Georgia Tech News Center.