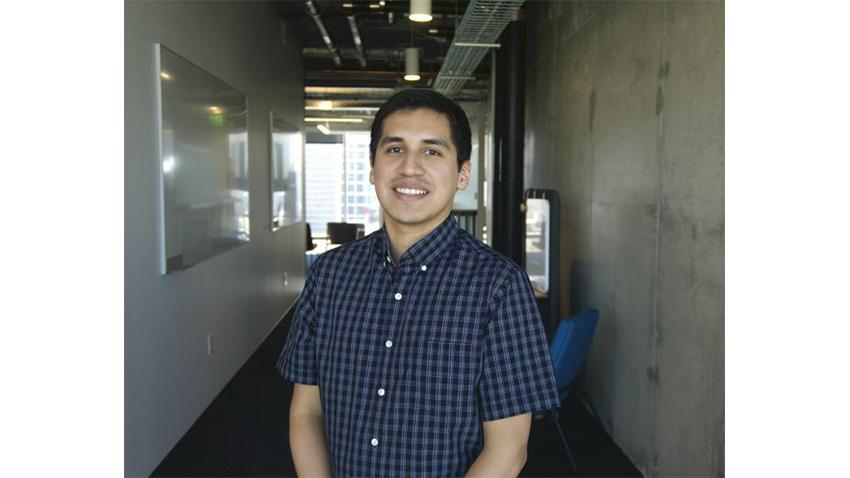 Meet CSE: Alexander Rodriguez is Creating Data-driven Solutions for Public Health Problems
The School of Computational Science and Engineering (CSE) offers a uniquely interdisciplinary pool of student researchers who specialize in bridging software and hardware together with real-world applications ranging from bioinformatics to cybersecurity and more.
Today, we'd like to introduce you to Alexander Rodriguez, a CSE Ph.D. student specializing in machine learning, network science, and time series mining with an emphasis on data-driven solutions motivated by urban computing, community resilience, public health, and e-commerce. 
Currently, Rodriguez's research has applications in a wide range of highly impactful areas including influenza and Covid-19 forecasting. Recently, his Covid-19 forecasts have been featured by the Center for Disease Control and Prevention (CDC). 
[RELATED NEWS: Forecasting the Covid-19 Pandemic in the United States]
Hometown: Lima, Peru
Undergraduate Degree: Mechatronics Engineering
Current Program: Ph.D., Computer Science
Despite studying mechatronics, a field closely related to robotics, why did you decide to come to CSE?
When I was in my undergrad, I discovered the field of artificial intelligence (AI), and did a small AI project for robotics. I then found that machine learning (ML) was more closely related to the products and solutions I most care about. I was particularly interested in the fact that it provides methods with potential to make large impact in several disciplines in science and technology.  In this regard, the school of CSE at Georgia Tech provides a great interdisciplinary environment for ML research that fits my interests. 
What is important to you in your machine learning research?
To address impactful problems for society, enable new discoveries, and facilitate performance needed for particular applications. For example, we have to provide highly accurate disease spread forecasts as they will be input to high level decision makers determining public policies. We aim to develop machine learning tools to enable us to have greater accuracy in these predictions. Because of this and other examples, our ML group's research provides a way to have a larger impact on society, and that is one of its allures for me.
Can you tell us a little bit about the specific research fields you are currently working in?
Related to disease forecasting, we are active participants in forecasting initiatives organized by the CDC for the past several years, like yearly flu forecasting projects. As Covid started, they naturally invited us to take part in forecasting Covid-related metrics such as mortality and hospitalizations. We worked in trying to incorporate domain knowledge into data-driven frameworks for forecasting. The goal is to enable experts to combine historical data with their expertise and key observations.
I also worked on critical infrastructure networks. We studied how to infer what the complete state of the network is given partial information. This problem is important because in real disaster scenarios, such as when we need to restore electrical power to hospitals in the aftermath of an earthquake, we need to quickly understand what the situation is with the network. To do this quickly and effectively, we usually need to infer the extent of damage using information coming from only a few nodes so that officials can plan recovery actions. We have worked on developing algorithms for that purpose.
How did you become interested in these particular fields? 
I was working in data science for community resilience while getting my master's degree at the University of Oklahoma. When I started working with Aditya Prakash, he had previously worked in critical infrastructure, and got interested in my past work. Therefore, we decided to pursue a related topic – about inferring network states – and it was the first project we did together
Aditya had already been working on epidemic forecasting, and I was also interested in that area of work because it not only can model the spread of a disease, but it also serves to understand other phenomena, such as how information is spread across information networks and also how failures spread in critical infrastructure systems. Understanding those fundamentals can allow us to make an impact in similar applications and I wanted to explore that with Aditya.
Why did you decide to come to Georgia Tech for your Ph.D.?
For me, I had a few offers from other Ph.D. programs, and my selection criteria was mostly dependent on my future advisor. I talked with several professors I was interviewing with, and I chose Aditya because I believed he was a good mentor. When he told me he was coming to Georgia Tech and invited me to come with him, I got excited about the opportunity and pleased for the chance to continue working with him.
I also knew Georgia Tech is a great institution with a lot of resources. To work in or near a major city means you are more likely to be in contact with greater global projects and presented with more opportunities to work with researchers and industry in other areas. I was very glad that he invited to come.
When you're not busy with research or forecasting, what do you like to do for fun?
One thing that I enjoy, that people may not necessarily expect from a Ph.D. student, is dancing. Because I come from South America, I grew up dancing Salsa. I really like it and it is very relaxing for me. I also dance cumbia which is popular in Peru, and Argentina. For this, I might go to events organized by one of the university student clubs called GTSalsa.