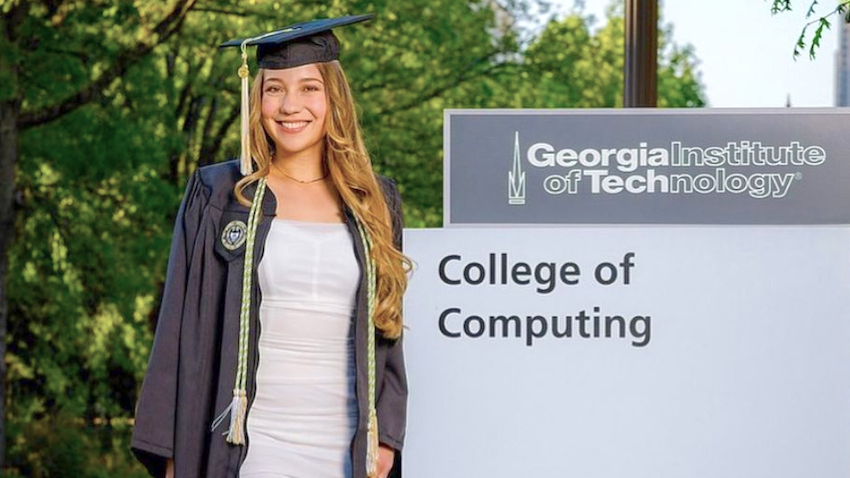 Survey Says CS Majors Have Highest Median Starting Salary at Tech
As a Dacula High School senior, Sabrina Seibel says that computer science (CS) just didn't click for her.
But with an established reputation for pushing herself – she was the kicker for her high school's varsity football team – Seibel says she decided to pursue CS anyway "because I felt it really challenged me."
Last week, she earned a Bachelor of Science in Computer Science degree from Georgia Tech.
Seibel credits her ultimate success to the resources that the College of Computing provides to students. Taking advantage of tutoring, teaching assistants, career services programs, and entrepreneurial opportunities, she says one day everything finally "clicked."
"The College of Computing gives its students a strong technical background and comprehensive education that set me up for success," said Seibel (BS CS 21).
Other new alumni echoed this sentiment. "Being a student in the College of Computing allowed me to learn not only the foundations of computer science but also how to apply them," said Joshua Suber (BS CM 21). Having just earned a bachelor's degree in computational media, Suber is heading to Carnegie Mellon University to work on a master's degree in human-computer interaction (HCI).
Like Suber, several new alumni from the class of 2021 are moving on to graduate programs at Georgia Tech, Cornell University, Stanford University, and other institutions.
Most, however, including Seibel, have accepted jobs with Fortune 500 firms and other leading tech companies. According to a recent survey, the median starting salary for Georgia Tech students graduating with an undergraduate CS degree is just shy of $101,000.
At $100,981 – up from $93,000 in Spring 2016 – CS currently has the highest median starting salary of all majors at Georgia Tech.
The findings are from the Georgia Tech Career and Salary Survey for 2019-2020, which is the latest information available. The survey indicates that more than 89 percent of responding Georgia Tech graduating CS majors had job offers, while 87 percent had accepted positions. The median starting bonus for new Georgia Tech CS grads is $15,750.
Seibel has accepted a job offer from Google. Google is one of the top companies hiring Georgia Tech CS graduates. This year, Amazon, Amazon Web Services, Microsoft, NCR, and Salesforce all hired more than one new CS alumni, mostly as software designers or software engineers.
Seibel is joining Google's Experiments Infrastructure team in New York City as a software engineer. Part of her job on the team – which is in charge of the rollout and analytics for new features being added to products like Gmail and Google Drive – will be to identify and fix issues before they make it to the company's customers.
Although a job search can be intimidating, Seibel says that the college started helping her to prepare as far back as her first year at Tech. With an active corporate affiliates program boasting dozens of top high-tech companies and organizations, and two College career fairs each year, Seibel had lots of opportunities to meet directly with recruiters.
"Given these experiences, I quickly became accustomed to what would've been high-pressure situations and became comfortable in interviews and eventually, in industry," said Seibel.
Anna Bonatz (BS CS 21) also attributes her success on the job market to the College's career services programs.
"I decided to schedule some mock interviews and sessions to talk about perfecting my interviewing and networking skills. This ultimately helped me land my job at Deloitte as it prepped me early for the multiple interviews and case studies that I had to complete," said Bonatz, who is starting at Deloitte as a consultant.
She added, "My time in the College of Computing has been challenging but immensely rewarding. Every person I have met has pushed me to be my best and learn as much as I can while finding the joy and creativity within computing."