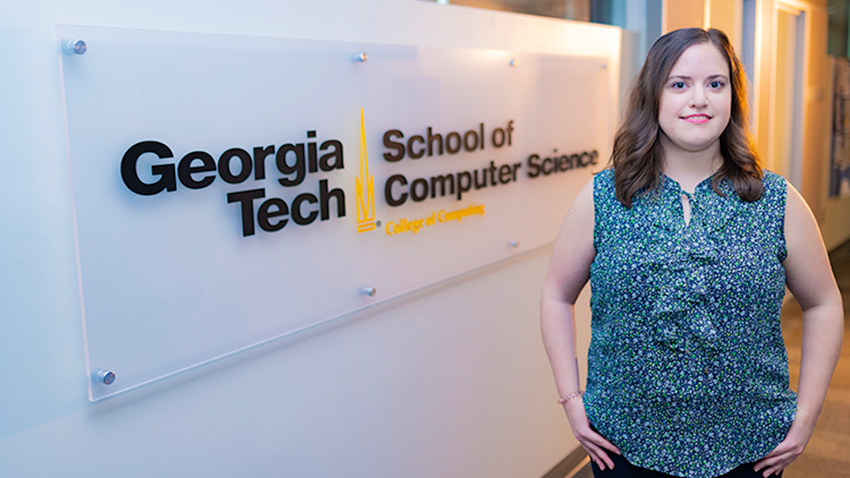 School of Computer Science Ph.D. Graduate Gets Tenure-Track Faculty Position
Thaleia Dimitra Doudali spent her Ph.D. working at the intersection of systems and machine learning in the School of Computer Science (SCS). Now she's bringing this expertise to Madrid Institute for Advanced Studies in Software Development Technologies (IMDEA) as a tenure-track assistant professor.
"I really wanted to stay in academia so I could work on cutting-edge research and problems I am excited about, and lead my own research group," Doudali said
Doudali will build from her research on memory systems, using machine learning to optimize resource management. IMDEA is a world-renowned research institution that builds cost-effective and high-quality software.
The Spanish location also lets Doudali establish herself in the European research community she started in when she completed her undergraduate education at the National Technical University of Athens (NTUA).
"I am not just going to be a professor but part of a community, collaborating with researchers and industry partners, attending conferences, reviewing papers, and having even more exposure to cutting-edge ideas," she said.
Thriving at Tech
Research collaborations have always been important to Doudali, who chose SCS for her Ph.D. for this reason.
"Georgia Tech is a great place to do research because it's big, very diverse, and you have a lot of support," she said.
A big part of the support Doudali had was her advisor, SCS Associate Professor Ada Gavrilovska, who introduced her to heterogeneous memory systems research. This area builds novel systems that use new memory hardware technologies with maximum application and resource efficiency.
Doudali's dissertation contributed system-level mechanisms to manage heterogeneous memory resources with machine learning methods. It provided the design foundations for the practical use of machine learning and lays the grounds for future use of machine learning and computer vision methods for resource management.
Her work has received numerous accolades: a best paper award finalist at the 28th International Symposium on High-Performance Parallel and Distributed Computing (HPDC 2019) and a Rising Star Award for Doudali.
Along with guiding her research, Gavrilovska also advised on Doudali's career track. Although Doudali did several industry internships, including VMWare, AMD Research, and Dell EMC, Gavrilovska was very supportive and encouraging during Doudali's academic job search.
"Having a female role model has helped me immensely," Doudali said. "She was always very good at letting me improve my technical and soft skills and encouraging of service work. It's very important to work with someone who is not only a great researcher, but a lifelong mentor."
A Legacy of Service
Doudali hopes to pay it forward as a professor herself by mentoring students. Service has been an important part of Doudali's career at Georgia Tech. In fact because her Ph.D. visit day convinced her to attend SCS, and she volunteered on visit day every year during her time at Tech.
"When you have a nice experience, you want to recreate it for future generations," Doudali said. "It was one of the early signs of me wanting to go academia because I really like to mentor students and give advice about Tech and Atlanta."
After discovering this passion, Doudali decided to be more involved than just one day a year. She helped found the SCS Graduate Student Association to advocate for and bring the school's graduate students together. Although Doudali will be graduating before the group can be official, she will help with alumni relations. 
Doudali also held multiple roles at Georgia Tech's Hellenic Society for Greek students. Throughout her years on campus, she has helped organize events to bring together students and professors of Greek heritage.
She credits this service with helping give her the soft skills that made her excel in the academic job market: communication, organization, and collaboration.
"Even if you want to focus on research, it's always useful to talk to people and socialize to see what other people are working on and having another opinion on your work, while making friends and enjoying your free time," she said.
Doudali is excited to bring everything she learned at Tech to her new role.
"I am excited for this new chapter in life and I will always cherish the great friends and moments I had while at Georgia Tech."