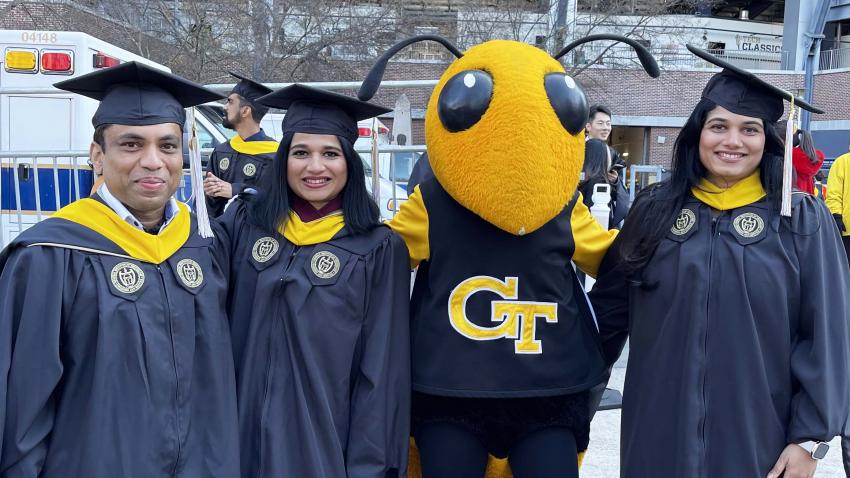 All in the Family: OMSCS Grads Reflect on Completing Program Together
For some graduates of the Online Master of Science in Computer Science (OMSCS) program, a love for computer science is all in the family.
Several recent graduates completed their degrees alongside partners and relatives. Amazingly, one family alone includes four graduates with machine learning specializations.
Sets of siblings Remya Mahadevan and Priya Mahadevan Swarna, and Abhilash Divakaran and Harish Divakaran, earned their master's degrees parallel to one another. Having known each other prior, Priya and Harish got married during the course in January 2022. They say their shared experience in the program with each other and their siblings brought them all closer together.
Despite having varying career paths within the information technology (IT) industry, they say the OMSCS program met each of their unique career goals.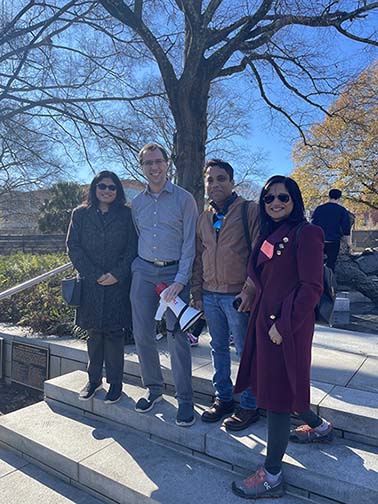 What made you all choose OMSCS?
Priya: As a group, we decided to pursue careers in Information Technology and had previously considered pursuing master's degrees in computer science. However, logistical, financial, and quality concerns prevented us from following through on this plan. In 2018, Abhilash introduced us to OMSCS, a program he had enrolled in a year prior. Upon researching the program, we determined that it was an ideal fit for our goals.
What was it like going through the program together?
Priya: Going through the OMSCS program together was a truly rewarding experience. We were able to provide motivation and support to one another, which helped us stay on track and achieve our goals. We had our own family study group for the more challenging courses. The competitiveness between us proved to be a positive that pushed us to work harder and strive for excellence in the program.
What did you like about OMSCS?
Priya: We were impressed that OMSCS courses are highly relevant to the current job market with offerings such as AI, ML, cybersecurity, etc., which are in high demand by employers and one can choose to align with their specific career goals and interest. Also, for individuals like us who balance career, family, and education, the flexibility and affordability of OMSCS is a game changer.
Priya, Remya, and Harish attended Commencement in Fall 2022 together. Abhilash completed the course in Fall 2022 and attended Spring Commencement this month. They are the first in their family to receive master's degrees from a U.S. university.
Priya works as a technical delivery manager in financial services in London, Remya works as an IT manager in the data management space in financial services, Harish is a contractor for Meta, and Abhilash is working for VMware.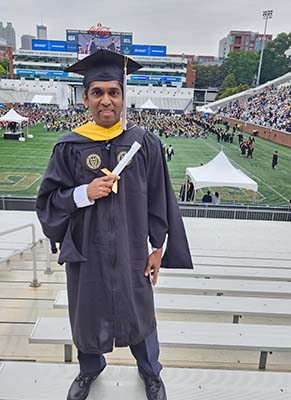 Also familiar with going through OMSCS with a partner are husband and wife Michael Migliacio and Lisa Walkosz-Migliacio. They say embarking on the program with a partner, whether as a couple, as parent and child, or even as roommates, is helpful.
While completing the program, they were also raising their son and benefited from the program's flexibility.
Were there benefits to pursing the degree at the same time?
Lisa: Overall it was an amazing experience. Having someone else going through the program along with me that understands both the value and the nature of the program really helped me keep grounded and focused. A computer science master's degree is very rigorous. We both agree that having a second pair of eyes looking at syllabi and assignment instructions/requirements has been extremely helpful.
Michael: Group projects were also a lot easier, because we could work with each other, which limited required meetings and potential time zone difficulties with other students. We have a small child as well as full-time jobs, so scheduling was something we continually had to work through and prioritize. Making those plans together was a huge time-saver. The asynchronous and online nature of the OMSCS program itself helped with this too, since we didn't have to worry about finding extra childcare resources for when we would be required to go to a specific location at a specific time to attend class or take exams in a traditional master's program.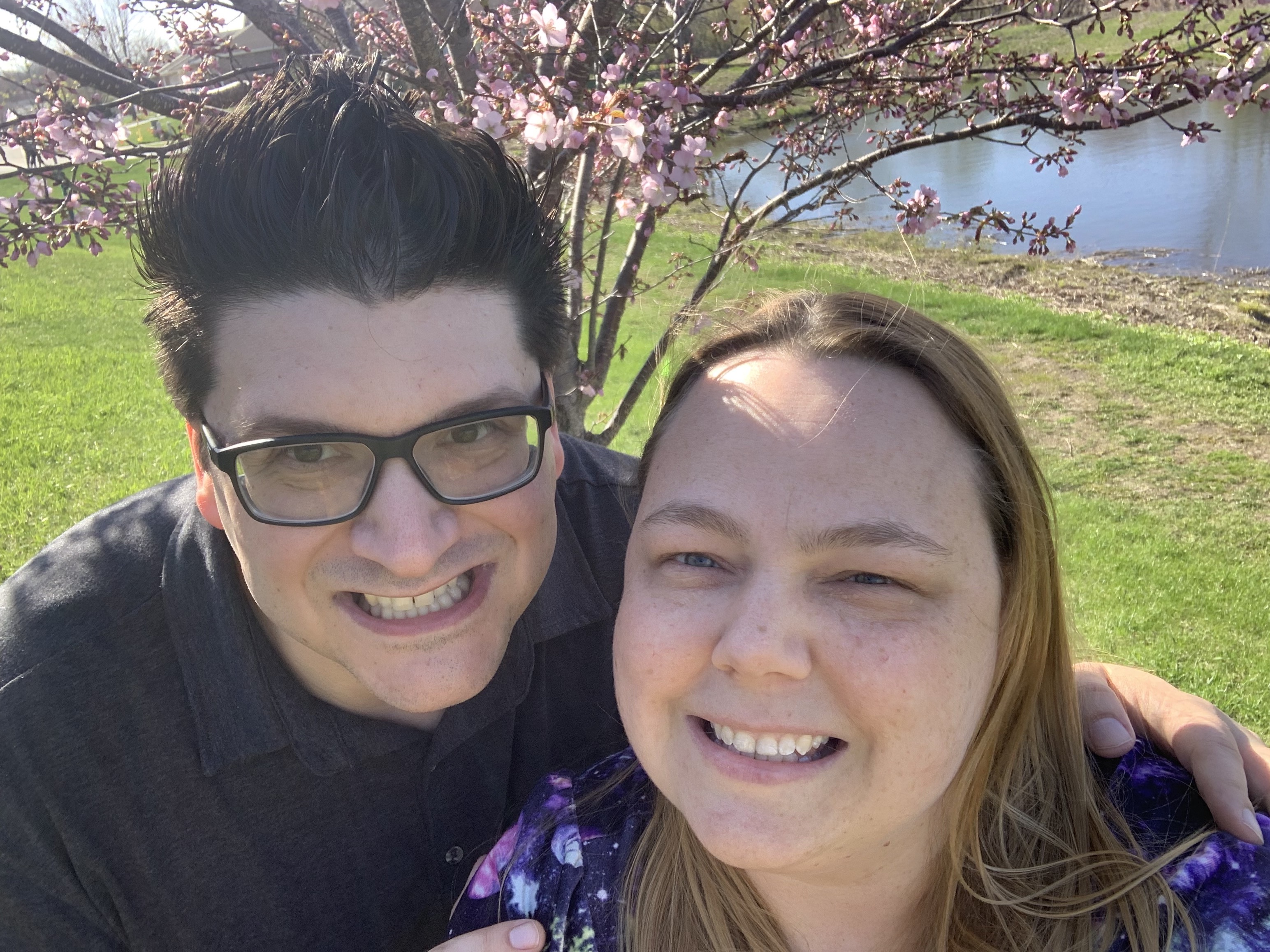 What opportunities did OMSCS provide for both of you?
Michael: We participated in different projects in which we helped educators at Georgia Tech explore new research concepts. We both acted as team leads for our corresponding projects which consisted of an intelligent tutoring system with interactive code editor (Lisa) and an Esports-focused gaming augmented reality app (Michael).
Do you have advice for other couples or family members thinking about pursuing degrees at the same time?
Lisa: It's a great idea for two people who are in the same household to go through the program together. Because of the online nature of this program, having someone in close proximity to motivate you, give you support, and understand the challenges that go along with pursuing a graduate degree from Georgia Tech is worth its weight in gold.
Michael: When studying, lean on your partner to complement your strengths. Lisa and I approach problems very differently so discussing material together would often lead to fun "Eureka!" moments as we worked through some of the program's bigger challenges.
Lisa and Michael graduated in the spring of 2022 and now work for the Target Corporation as lead engineers.  
Although both families agree that earning degrees together was beneficial, they highlight the importance of progressing at your own pace when pursuing with a partner.
"You don't have to take the exact same course load as another person you are looking to enter a program with, but if possible, starting with the same or similar courses for the first couple for semesters will help both of you find your rhythm for online learning and boost your confidence before you decide to branch out," Michael said.
More information about the OMSCS program can be found here.