Alumnus' Company Tops $1 Billion in Sales, Recognized Among Fastest Growing in Tech
A mobile commerce company co-founded by alumnus Henry Shi (OMSCS 14) has been recognized as one of the fastest growing tech companies in North America.
SnapCommerce ranked as the No. 5 fastest growing technology company in North America by the Deloitte Fast 500 for 2021. The company has more than 20 million users, $1 billion in sales, and grew by more than 32,000% between 2017 and 2021.
Shi and his co-founder Hussein Fazal launched the company in 2016 as SnapTravel while Shi was working at Google and enrolled in Georgia Tech's Online Master of Science in Computer Science (OMSCS) program.
The SnapTravel mobile app service used AI-driven chatbot travel agents to find and book discounted hotels and flights for its customers. From there, the company quickly evolved beyond travel with a broader e-commerce offering and payment capabilities.
At first, Shi says that their customers were people that needed to save money, not because they want to, but because $5 or $10 for them could be the difference between taking a trip or not.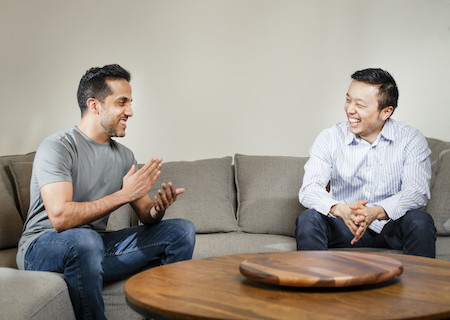 "Our mission is to provide access so people can enjoy more of what life has to offer regardless of income or circumstance," says Shi. "We offer our customers a simple mobile experience where they can get discounts, build credit, and earn rewards, which you typically can't get if you have a lower income."  
As SnapCommerce, the company estimates that it has provided its customers more than $100 million in direct savings. Shi attributes the company's growth to solving core customer pain points.
"We've built a really strong offering that solves a lot of pain points for our customers by providing something of value in a more sensible and affordable way," Shi. "I think that's what OMSCS is too. It's something that's more valuable in a much more accessible, affordable, and scalable way."
To provide this value for their customers, Shi says the company is highly data driven. It leverages millions of market, product, and customer data points gathered each day to inform its algorithms. The company, which has raised more than $100 million in investor capital, relies on these data streams in all aspects of the business.
"We are super data driven in terms of our decision making, our analytics, at every level of the company we look at the data. We make sure it's sound, we iterate, and then we let the data decide whether something is working or not." Shi says.
Despite the Company's growth, Shi says it hasn't been without challenges.
SnapCommerce now has 150 employees, so much of his time is spent managing, hiring, and delegating. "A lot of my job is defining what success looks, understanding how we can achieve our goals, and making sure people are going in the right direction and that we are all aligned."
Another challenge to the company's continuing success was the pandemic. Hit hard initially, Shi says they were determined to weather the storm and return to profitability.
"We continued to push forward and managed to increase revenue and be profitable within 60 days. This allowed us to get to the next level and to think much bigger about what we could do and offer."
Part of thinking bigger for Shi includes the possibility of taking the company public. "It's extremely difficult to predict the market, so for now we are focusing on being ready when the time is right by growing our company and growing our impact," says Shi.