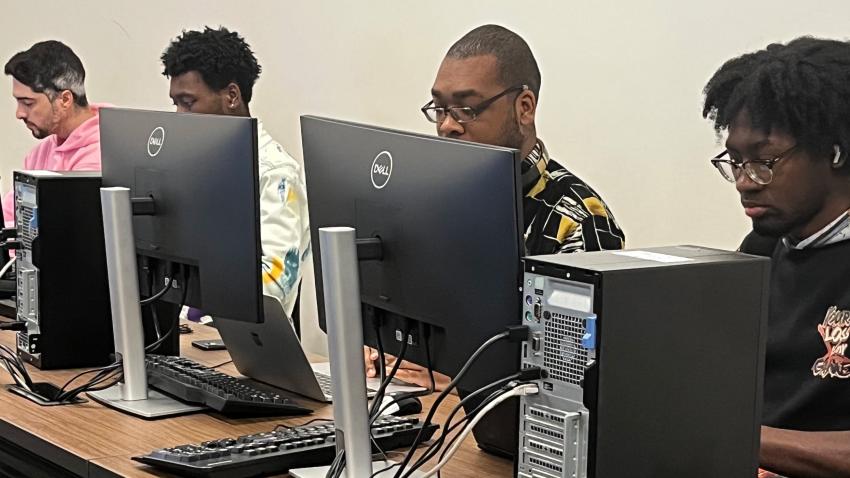 Computing in the Community: Using Code to Celebrate the History of Hip-Hop
As Atlanta was rounding out its celebration of the 50th anniversary of hip-hop earlier this year, Georgia Tech's Sababu Barashango saw an opportunity. 
Barashango is a fellow with the Constellations Center for Equity in Computing at Georgia Tech. His job is to broaden access by bringing computing education to the community. So, when he heard about the 1st Annual Hip Hop Arts Conference, he recognized the chance to share his knowledge about how hip-hop culture and computing connect. 
The conference was held on Oct. 14 at the Emma Darnell Aviation Museum & Conference Center in Atlanta. Barashango held a workshop at the conference that introduced attendees to EarSketch. Developed at Georgia Tech, EarSketch is a learning platform that teaches coding through music.  
"The EarSketch workshop was important because it introduces coding in a manageable and tangible fashion for community members who otherwise would not learn programming because of fear, stereotypes, myths, or other reasons," Barashango said. 
Barashango says he chose EarSketch because it is a platform born from music and programming. 
"It integrates the artistic and the logical. Having the support and contributions of several artists makes it relatable and inclusive to students who enjoy any genre of music," Barashango said. 
Ciara, Jay-Z, and Pharrell are a few of EarSketch's music partners. These and other artists contribute songs, clips, and other materials that students can re-mix as they learn Python and JavaScript. 
Along with Barashango's workshop, the conference featured several hip-hop dance legends who taught dance workshops. The mix of workshops created a synergy that allowed attendees to make music, learn about coding, and then learn about movement and percussion. 
Presenting coding workshops at conferences is one-way Barashango works to broaden access to computing and computer science (CS) education. Constellations Fellows primarily teach CS in low-resource schools and provide professional development training for teachers. 
Constellations Fellows began partnering with five Atlanta Public School district schools in the fall of 2018. In April, Constellations announced its Computing Equity Project to extend the fellow's support to other parts of the state.