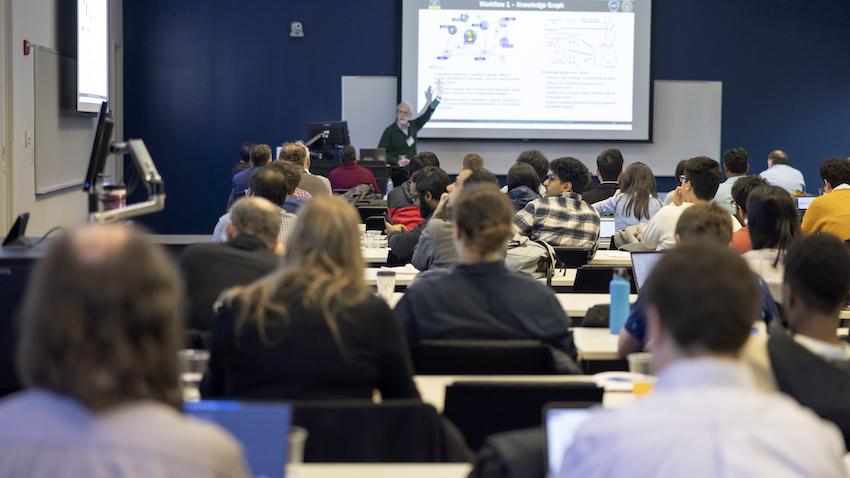 CRNCH Summit a 'Place to Generate Innovative and Disruptive Ideas' for the Future of Computing
The Center for Research into Novel Computing Hierarchies (CRNCH) recently hosted its annual CRNCH summit. Just in its fourth year, this event has quickly become one of the top forums for discussion about the future of computing once Moore's Law – the industry-wide trend of doubling transistors in a microchip nearly every two years – can no longer be sustained.
CRNCH Summit 2023, held Feb. 2-3, included a diverse program featuring research scientists and others working across the software and hardware stack.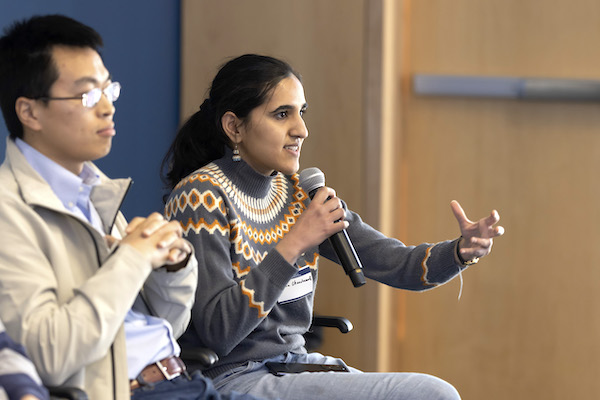 "The CRNCH summit serves as a gathering spot for both software and hardware researchers to collaborate on designing the future of computing platforms. It's a place to generate innovative and disruptive ideas in the realm of technology," said Hyesoon Kim, co-director of CRNCH and School of Computer Science (SCS) professor.
This was the center's first in-person summit since 2020, and organizers said it was the most successful one so far, with around 100 attendees on both days of the event.
The summit's two keynote speakers were James Hoe, an electrical and computer engineering professor at Carnegie Mellon University, and Jeffrey Vetter, a corporate fellow at Oak Ridge National Laboratory. Their keynotes focused on reconfigurable computing clusters and neuromorphic software and hardware design, respectively.
The event featured several other speakers covering a range of topics, including novel devices, quantum and neuromorphic computing, and graph analytics related accelerators. These speakers included Samantika Sury, VP and Chief Hardware Architect at Samsung; Siva Rajamanickam, a researcher at Sandia National Laboratories; Bill Harrod, program manager of IARPA; and Fabrizio Petrini, Senior Principal Engineer at Intel Labs.
The event also gave Georgia Tech faculty an opportunity to showcase their research. SCS Chair Vivek Sarkar presented the IARPA-funded project on Flow-Optimized Reconfigurable Zones of Acceleration (FORZA) led by Georgia Tech. SCS Associate Professor Celine Lin presented her research on deep learning-powered intelligence. Several School of Computational Science and Engineering faculty also took part in a panel on artificial intelligence.
[RELATED: Gallery of Odd and New Technology Holds Future of Computing]
Another highlight of the summit was a student poster presentation session. Thirty-one students showcased their current research projects, many of which are making use of resources from CRNCH'S Rogues Gallery. Several students showcased their research from field programable gate arrays (FPGAs) provided through the Rogues Gallery.
"The summit is a great way to bring together people from these different areas to share ideas, collaborate, and broaden your experience with post-Moore computing. It's also unique in that it's the only post-Moore computing workshop like this that we know of," said SCS Research Scientist Jeff Young, who is also director of the Rogues Gallery.