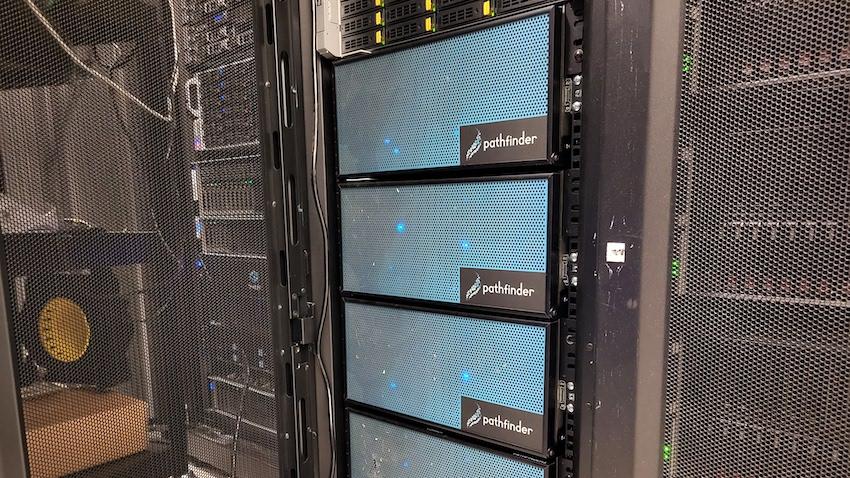 Gallery of Odd and New Technology Holds Future of Computing
Ever since the 1970s, the number of transistors on computer microchips typically doubled about every two years. What was once a predictable trend, called Moore's Law, is now increasingly untenable with current technologies, which would inhibit further development of today's computers and smart devices.
Georgia Tech's Center for Research into Novel Computing Hierarchies (CRNCH) is taking this dilemma head-on, in part, through a computer version of Frankenstein's lab. Dubbed the Rogues Gallery, CRNCH showcased this collection of unique hardware at the 2023 CRNCH Summit to illustrate how it is ushering the next generation of computing.
Founded in 2018, the Rogues Gallery is a collection of unique computer hardware acquired from vendors, research labs, and startups. While these components could unlock the future of computing, they are either so new or rare that few individuals know how to effectively program them, and the full capabilities remain unknown.
To better understand these components, the Rogues Gallery allows students, faculty, and industry collaborators to access its hardware collection to experiment within a managed data center. The Rogues Gallery also operates as CRNCH's testbed that researchers across the globe can use through remote access.
To share this interesting and helpful resource, CNRCH leadership organized the 2023 summit to bring together computing stakeholders and raise awareness of novel architectures, like the Rogues Gallery. The summit also presents an opportunity to share the Rogues Gallery's current state and future direction.
"The Rogues Gallery has seen substantial uptake within Georgia Tech and with researchers from across the U.S. and around the world," said Jeff Young, a research scientist at Georgia Tech and director of the Rogues Gallery. "We just finished our first big deployment of hardware through an NSF program, and we're planning on future acquisitions, training, and community engagement to help drive growth and evolution."
One example of the hardware deployment Young refers to is a crown jewel within the Rogues Gallery: the Lucata Pathfinder system. Georgia Tech became the host of the nation's largest, publicly available Lucata Pathfinder system when it arrived in July 2021.
The system is a prototype computing platform designed to run deep analytics on large graphs. Here, Rogues Gallery researchers are working to explore the limits of the Lucata Pathfinder using large data sets with applications related to community detection, graph-based genome assembly, and graph neural networks.
According to Lucata, Pathfinder uses migrating thread technology to deliver 16 times the performance at one-tenth the power of comparable systems. The system can accelerate analytics on graph databases of over 1 trillion nodes with no data pruning required.
Along with the Lucata Pathfinder, another highlight from CRNCH Summit 2023 was a poster presentation session where some students showcased research from field programable gate arrays (FPGAs) provided through the Rogues Gallery. FPGAs are essentially microchips designed to be configured by the consumer.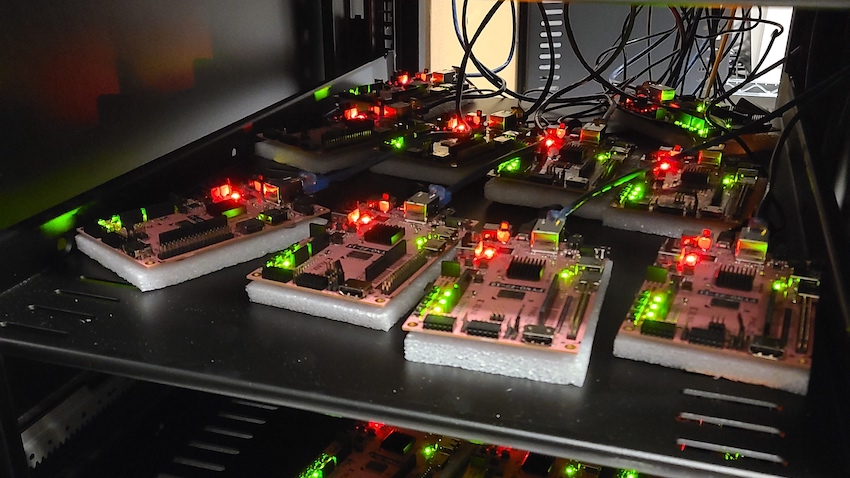 By developing software on FPGAs, students apply lessons learned in the classroom while also helping find solutions to post-Moore computing. In fact, students shared their FPGA research at CRNCH Summit 2023 during a poster session.
Since 2021, over 200 Georgia Tech students have used a remotely accessible, 64-node FPGA cluster housed in the Rogues Gallery for processor design and artificial intelligence applications. Due to the low cost and high customizability of FPGAs, this technology is a promising starting point for the next generation of computer engineers.
"The most exciting thing about the Rogues Gallery is its flexibility to respond to requests from faculty at Georgia Tech and researchers," Young said. "When we started the testbed, we never anticipated deploying a full remote FPGA cluster for classes, but the COVID-19 pandemic meant that we had to evolve the way we taught specific classes."
Optimizing Rogues Gallery hardware for remote access is one of the keys to making it a source for meaningful computer research across the globe, not just Georgia Tech. Today, the Rogues Gallery supports over 100 users spanning the U.S. and Europe.
As the need for new post-Moore resources, research, and education grows around the world, the Rogues Gallery aims to keep pace using its variety of unique and well-supported hardware, software, tools, and training.
"We see the Rogues Gallery as a democratizing agent for exploring novel architectures," Young said. "We are providing an avenue for new related codesign developments in software, tools, and applications that will help us to create the 'next' computing paradigms that will be important in the next 10-20 years."