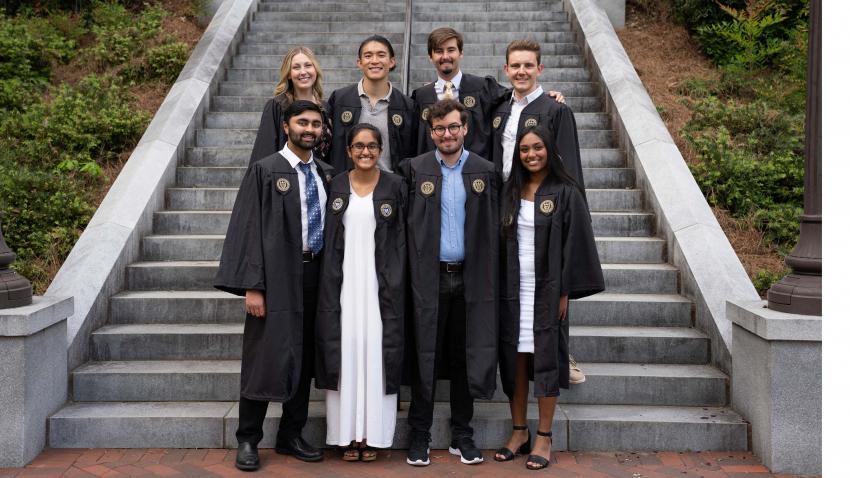 Donor to Match Contributions for TA Scholarship Fund
An anonymous donor has committed to match new contributions in support of the School of Computing Instruction's (SCI) Undergraduate Teaching Assistant Scholarship Endowment.
The donor will match every contribution dollar-for-dollar, up to $25,000, now through the end of the year. This is expected to result in a $50,000+ impact for the scholarship, which was established by SCI Associate Chair Mary Hudachek-Buswell in 2022.
With SCI teaching all required computer science (CS) courses to every student in the Institute, teaching assistants (TAs) are an integral part of student, and course, success. They help review and explain course content through recitations, office hours, program demos, and other tasks to assist in course management.
Nearly 400 TAs support SCI faculty each semester.
"TAs are the most hardworking group of people and I wanted to honor them," Hudachek-Buswell said. "I wanted to support undergraduate TAs, who do not get paid during their first semester of work."
To create the endowment, Hudachek-Buswell signed a contract with the Georgia Tech Foundation (GTF), establishing an account to collect funds for the scholarship. The contract obligates her to raising $25,000 for the scholarship within five years. 
Two CS alumni, both former SCI TAs, were the first to contribute. With the new anonymous donor's gift, the amount raised could exceed the original $25,000 goal. Hitting this mark would allow the scholarship to become permanent through the terms of the GTF contract. Every $25,000 raised in endowment funds will generate $1,000 in scholarship support for TAs enrolled in the College of Computing and supporting SCI faculty.
The goal is for the first scholarship to be awarded in Fall 2023. Any funds raised in excess will be added to the endowment, allowing the fund to grow and generate additional TA scholarships.
"It is well known in SCI that Mary has built a supportive family culture in her CS1332 undergraduate teaching assistant (UTA) team, which regularly has 40+ UTAs each semester," SCI Inaugural Chair Olufisayo Omojokun said.
"By founding this scholarship, she's going well beyond her core TA group to make a caring impact across the entire College's UTA population. It's been an honor to see this scholarship grow from a phone conversation she and I had last year to a real thing that will be providing impactful financial support to TAs over the years."
RELATED: Faculty Day in the Life: Mary Hudachek-Buswell
Gifts to the SCI UTA Endowed Scholarship program are tax-deductible. More information and an online form to donate to the SCI Undergraduate Teaching Assistant Scholarship Endowment can be found here.
For any additional questions, or to make a gift larger than $25,000, please contact Senior Director of Development Lana Simkins at lana.simkins@cc.gatech.edu or 404-894-8383.