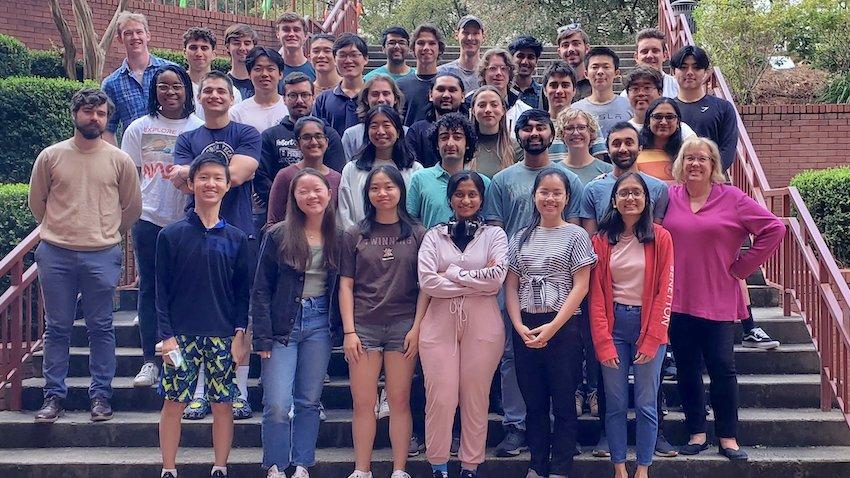 New Endowment Recognizes Teaching Assistants' Dedication to Fellow Students
An alumna now working at Microsoft is the first to contribute to a newly established scholarship endowment.
The endowment recognizes the contributions that teaching assistants (TAs) make to the success of Georgia Tech's School of Computing Instruction (SCI).
The $25,000 SCI Undergraduate Teaching Assistant Scholarship endowment was started by SCI Interim Associate Chair Mary Hudachek-Buswell. Once fully funded, the endowment is expected to award a financial scholarship of as much as $1,000 each year to one or two TAs enrolled in the College of Computing and supporting SCI faculty.
Although the word "endowment" might bring wealthy benefactors to mind, endowments such as this are really funding challenges.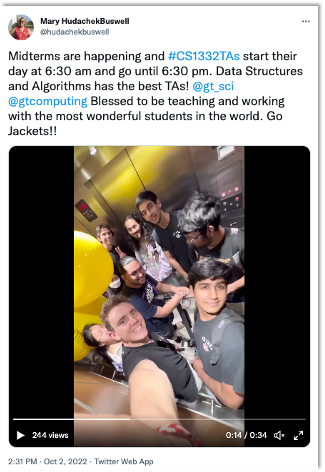 "I'm not wealthy, but I want to honor the School's TAs because they all work so hard. They sacrifice a lot to provide dedicated service to the College community, and they are extremely committed to making life better for their fellow students," said Hudachek-Buswell.
To create the endowment, Hudachek-Buswell signed a contract with the Georgia Tech Foundation (GTF), which allowed an account to be established that can collect funds for the scholarship. The contract also obligates her to raising $25,000 for the scholarship within five years.
Whatever funds are raised will go into GTF's general fund if the goal isn't met. That said, two donors have already contributed to the endowment.
Adrianna Brown (CS 20), a software engineering with Microsoft in Seattle, was the first to donate. Not only did the former head undergraduate teaching assistant contribute, but she also worked to have Microsoft match her donation to the scholarship endowment. Brown has also challenged her fellow GT Computing alumni working with Microsoft to contribute as well.
Shortly after Brown's donation, Chad Turner (CS 18) became the second alumni to step up for future TAs in the School of Computing Instruction. Turner worked as a TA for nearly two and a half years supporting Hudachek-Buswell's classes. He's now a software engineer with Facebook in Atlanta.
As undergraduates, Turner and Brown were among the 1,000 or so TAs that work to support SCI faculty each year by making copies, grading papers, answering student questions, and much more. Their service is vitally important because just 20 SCI faculty members and five part-time instructors teach all of the 1000- and 2000- courses that are required for all Tech undergraduates, as well as several upper-level courses.
[RELATED: Faculty Day in the Life: Mary Hudachek-Buswell]
Once the $25,000 goal is met, the scholarship recognizing TAs will become permanent. "Any funding beyond $25K will allow us to award additional scholarships to more TAs each year," said Hudachek-Buswell.
More information and an online form to donate to the SCI Undergraduate Teaching Assistant Scholarship endowment are available.