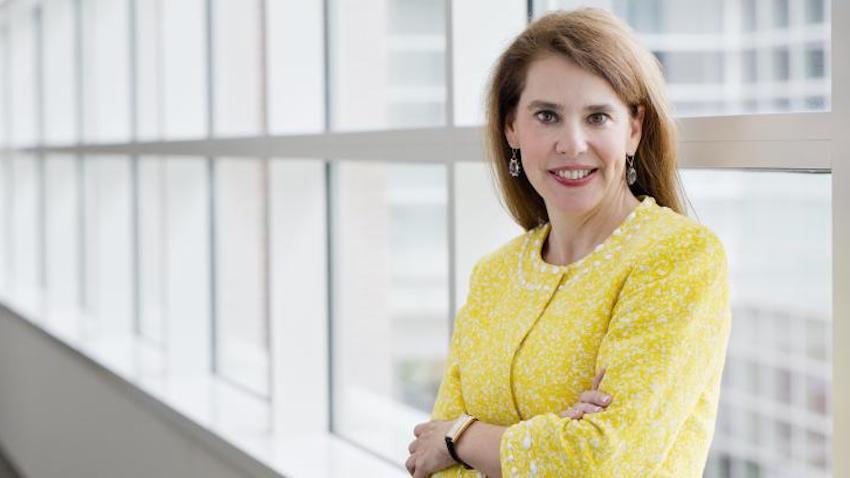 Faculty Q&A: Professor Annie Antón Discusses How Leadership, Mentorship, and Heritage Has Helped Shape Academic Career
College of Computing Professor Annie Antón has accomplished much in her academic career. She served as the chair of the School of Interactive Computing at Georgia Tech from 2012-17. She is the founder and director of ThePrivacyPlace.org, a research center devoted to issues of privacy protection in information systems. She was also selected in 2016 to serve on the Commission on Enhancing National Cybersecurity by President Barack Obama.
Her contributions to the fields of computer science, cybersecurity, and education overall are clear, and they all began with mentors of her own. From her research to her leadership, Antón has been a force for change throughout her career.
She spoke with the College about her Cuban and Spanish heritage, how she has been inspired by others throughout her career, and how she aims to continuing impacting future generations of computer scientists.
Why is it important that we celebrate Hispanic Heritage Month? 
As an American of Cuban and Spanish ancestry, this month provides an opportunity to reflect upon my ancestors who left Spain in search of a better life for the next generation in Cuba, and my own parents who fled the Communist Castro regime in search of the freedom that many Americans sometimes appear to take for granted:  freedom of speech, freedom of religion, the right to life, liberty, and the pursuit of happiness.
As a leader both in the field and at Georgia Tech, how important is mentorship to improving diversity within the field of computer science?
I wouldn't be where I am today were it not for the great mentors that I had as a student at Georgia Tech and throughout my career.  In particular, I had four computing mentors as a student with whom I still consult to this day:   Peter Freeman, Colin Potts, Mike McCracken, and John Stasko.  I point this out because as a Cuban-American, my best mentors at Georgia Tech were all men.  These men had no idea what it meant to be the daughter of Cubans in exile.  Or to sometimes be the only woman in your computing class.  However, they all believed in me, believed that I had something to contribute, appreciated my different perspective, and respected my cultural differences without ever challenging them in any way.  These four men advised me and gave me opportunities that led me into a tremendously rewarding career.   
I had many mentors, but I'll point out that Mike McCracken gave me an opportunity to work for him when I was about to drop out of the master's program at Georgia Tech.  That opportunity kept me in grad school.  Peter Freeman later encouraged me to stay for a Ph.D.  Clearly, keeping me in school to obtain an M.S. and then a Ph.D. changed the trajectory of my career in ways that I can't even imagine but that I'm sure would not have been as rewarding as the path of a professor.
How do you define successful leadership?
Leadership is action, not position.  Action inspires, whereas position alone does not.    A successful leader has integrity that is above reproach, truly listens, treats everyone with respect, and seeks to find consensus where many only see differences.  Successful leadership requires an understanding that it's all about the people you lead rather than about yourself.
What are the biggest challenges to successful leadership?
It's difficult to answer this question without thinking of the most difficult day of my career – the day when, as school chair, I had to deliver bad news to my colleagues and to our students because one of our beloved colleagues had unexpectedly passed away.  There's just nothing worse than a day when you have to deliver this kind of bad news.  
Why did you personally choose to pursue computer science?
I think I personally chose to pursue computer science because I took two computing courses at Mercer University and loved them.  Upon completing my second course, the department chair, Professor Tom Hall, told me that I should change my major to computer science and that I should transfer to Georgia Tech.  He saw something in me that I hadn't seen in myself.  He believed in me in a way that I had never experienced from another teacher or professor.  He, too, changed the trajectory of my life and career early on before I came to Georgia Tech. More abstractly, I think I chose computer science because of the instant gratification that you get from writing a program that solves a real problem.
Beyond awards and job titles, how do you measure success?
For me, success is really measured by impact.  When my students come back to visit and tell me they've decided to pursue a career in privacy and/or cybersecurity as a result of taking my privacy course, that's success!  When my Ph.D. students have successful careers in industry or academia and are paying it forward with mentees or students of their own, that's impact.  When faculty I've hired or mentored, get promoted and are inspiring students of their own, that's impact. In summary, when happy, successful, people whom I've had the opportunity to help in some small way along the way contribute to society throughout their impactful careers, that is the greatest measure of success in my mind.   
You've already accomplished quite a bit, but is there a "next big thing" you'd like to achieve in your career?
In my new role as ADVANCE Professor of Computing, my "next big thing" is my initiative to transform our Georgia Tech Reappointment, Promotion, and Tenure process so that it is truly transparent and better aligned with national best practices.   It has been extremely gratifying to work with my fellow ADVANCE professors and the Provost's Office this semester on this effort. This is something that I've cared deeply about for nearly 20 years because I would not have received tenure without the transparent RPT process that in place when I went up for tenure.   Ultimately, transparency leads to diversity, which brings us back to the theme of this Hispanic Heritage Month!